"The smell of good bread baking, like the sound of lightly flowing water, is indescribable in its evocation of innocence and delight...
[Breadmaking is] one of those almost hypnotic businesses, like a dance from some ancient ceremony. It leaves you filled with one of the world's sweetest smells... there is no chiropractic treatment, no Yoga exercise, no hour of
meditation in a music-throbbing chapel. that will leave you emptier of bad thoughts than this homely ceremony of making bread."
― M.F.K. Fisher, The Art of Eating: 50th Anniversary Edition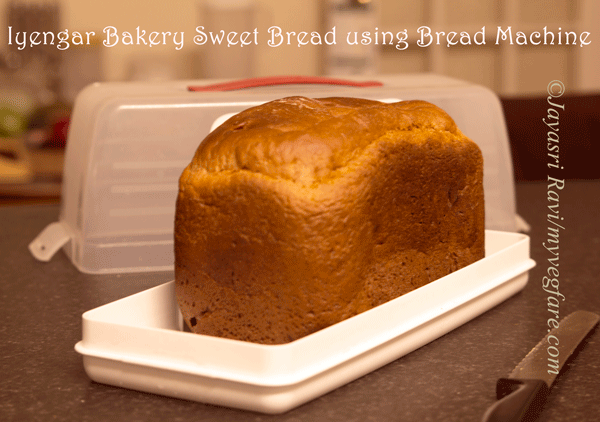 I am no good with words so I can't come up with amazing analogies as said by MFK above, instead, I only have one word to describe my feeling whilst baking bread, that it's Awesome!
I love baking cakes, but baking bread just gives you a different feeling, the hard work of kneading, stretching and pulling (not to mention, waiting!)All for that moment when it comes to life as it rises in the oven and the whole house smells of freshly baked bread, ah…  This Bread I first posted here when I baked it by hand check the link here
This post has been in my draft from August, This recipe is requested by ones of my readers. This reader wanted to know if I could bake this bread in my Bread machine. Koolash, first of all I would like to apologise for posting this very late, I tried making this bread before I left to India, using whole meal flour but, forgot to measure the Ingredients.  After I came back from India, I noticed that I have lost one of my Bread machine blades, so I had to wait for two weeks till it arrived, so after overcoming all the setbacks I was ready to bake; not once, not twice but three times! I've had to bake this bread thrice believe it or not!
The first time I made it I added the ingredients, exact measurements and all, but I forgot all about it and left to do some shopping… when I came back bread was ready and good, but I wasn't happy as I did not see the progress which I always like to watch through the little window. So I baked it again, this time on standby to watch it bake, which wasn't the best idea since I got scared as I watched it rise in the bread machine, so thinking it might go over the top and worrying it might ruin my machine, I simply switched off the machine and took the bread out, it still had 10 minutes left in the timer so baked it in my Gas oven for the remaining 10 minutes. Surprisingly, it turned out very well; I even gave it to my friends. The bread was huge.
For the third and last time, I made my bread machine work extra hard. This time I altered the recipe a bit. The bread reached the top of the tin this time too but instead of taking it out I waited on it and all was well, the bread came out beautifully, so here I am finally posting this recipe for you! I took a quick photo of this and offered it to my friend, who a few days back had a little baby boy so, I took this bread too, along with some other goodies I had made, and they just loved it!
So, let's get to the recipe and see how I made this bread using my bread machine.  I don't have a hi-fi bread machine, and I usually just use it till the dough cycle, since usually I don't have to worry about my bread rising.
Please note that I have made slight changes to the original recipe.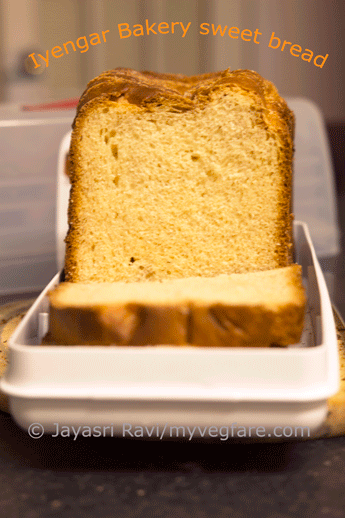 INGREDIENTS:
575grm White Bread Flour
150grms Sugar*
75ml Oil
2 ½ tsp Yeast
1 tsp salt
50grm Milk powder
125ml Milk
125ml + 3 tbsp Warm water
METHOD:
Follow the Instructions according to the Manual of your Bread machine; basically all bread machines have the same method.
First add all the liquids as it is important for the yeast not to touch the liquids.
Then mix all the dry Ingredients thoroughly except the yeast, add the mixed dry ingredients to the tin on top of the liquids.
Add the yeast and set your Bread machine to "normal bread mode" or similar and switch it on.
My machine says it takes around 3 ½ hours for the whole process.
Once it is done, take the tin out of the machine. After about 5 minutes remove the bread and place onto a cooling rack (if it's a bit stuck give it a little nudge it comes out clean)
NOTES:
Baking in a Bread machine is very easy, no kneading ( Kneading is what I love, methodically stretching & pulling just like an Aerobic dance with music), which of course you miss! However, an important thing you should definitely note is; Please do read your bread machine instruction manual.
The first time I used my bread machine I was a bit scared, now I know how it works. If you know how your bread machine works, after its dough process, that is, after its second kneading you can take the dough out by pressing the "switching off/on" button, for just a brief second as it allows such things. So that if you want, you can remove the blades and put the dough back into the tin, spread it out and allow it to continue its process.
Before the machine starts its baking process, it doesn't mind if you open the lid every now & then, however, once it starts baking please do not open the lid as the bread might collapse (of course I haven't tried, but that's what the manual says!)
About this Bread:
This is a sweet bread so it comes out really dark in colour, but if you do not want it too dark you can reduce sugar content.
Please note that if you are baking by hand in your gas/electric oven cover it with a kitchen foil or it will look like it is burnt.
Even though it has so much sugar in it, it doesn't taste very sweet, I have added some Tutti-frutti and sometimes dried fruits in them as well
Because of the sugar and milk powder the dough will be bit sticky than the usual bread doughs
Hope all the information I have given is sufficient to make this beautiful bread, if you need any more clarification please contact me I will try to solve it ASAP.  Bake and Enjoy with a hot Cuppa / Chai  / Milk Or just munch on it and also tell me how much you liked it.
One more Image of this lovely Bread