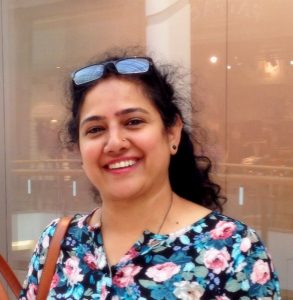 Hello and welcome,
I am  Jayasri – As every other food blogger says, I am also the  Author, writer, cook, Recipe creator and photographer and all other roles behind this blog, I am based at Bristol, UK.  Born and brought up in Bangalore, the Silicon city of India.  Happily married, mother of 3 kids, my eldest is 21 and my twins (Boy & Girl) are 18 year olds. I love my city and can call myself a true Bangalorean (Bengalooru).
A little more about me...
I work part-time, I am a very talkative, easy going and friendly person, Love reading, I was once a voracious reader especially detective novels started with Hardy boys, Nancy drew to Sherlock Holmes, Agatha Christy to Poirot! Thought I should become a lawyer! But that was all day dreams. I am dreamer by day, as my Dad says a jack of all Master of noneJ.  My interests involved in many things like painting and drawing , crochet, reading , cooking, collecting recipes from magazines and papers (yup! From my school days! ), My new obsessions are as most food bloggers have, love reading cook books, and a bit of health freak, I read a lot about health & wellbeing and love to explore my new gadget my Camera, got it as a present for my Birthday last year (As I kept moaning so much they bought me that as a present).
My love for cooking started from a very young age; I was a Sous chef when all the three ladies Mom, Aunt and Grand mom (Amma, Paati and Perimma) used to cook, But I have to be truthful my Mom's Sister/Aunt (Perimma) was my true inspiration whole family adored her cooking I miss her, she is no more, I owe this to her. After marriage My MIL and her extended family had an  influence in my cooking,  my sister after marriage moved to North India; because of her I learnt North Indian recipes too, My extended family & friends also have brought new dimension into my cooking,  I am still learning and love to continue learning...
My daughter is the main cause for this venture, she loves food just like me only with a slight difference I love cooking and she loves eating (I too eat of course), she loves to try out every cuisine and she is my inspiration for every new recipe I make or create. Her new love is Japanese right now! My Hubby (R) is also behind this journey he is a great foodie, my best critic, inspiration and also a wonderful cook. His love right now is Italian and Mexican food! My twins make me cook more authentic Indian food which is their all-time favourite!
Recent passions compiles of a few things, when I moved to UK 10 years ago I started Baking, now it has become a passion.  From the day I started cooking I kept looking for different Ingredients and spices from different parts of the world, I love to Learn & explore every cuisine, whatever fancies me I cook and bake.  But, everything from scratch.  Brought up in a saatvik household (no onion no Garlic),   Eggs were banned in our kitchen, Parents brought me up as a pure vegetarian, and I am still a veggie by choice. I Love to use fresh produce as much as possible, Frozen and tinned (use it only when I have no choice), Unprocessed, GMO Labelled (when using soy products), Reading labels and look out for vegan and vegetarian products.
So, what's My Veg Fare ?
An e-diary showcasing my Journey through the spices and condiments in my everyday life.  It might be spicy or sweet, either way I enjoy every minute of it.  I Love cooking and baking from every cuisine, we love to eat anything Vegetarian and Vegan. As I had developed an interest in cooking and baking I started exploring new cuisines and enjoy creating them in my kitchen.
What's My Veg Fare for you?
Definitely Lot of Veggies, You can expect homemade food from scratch, Authentic to modern, Regional to International, Healthy cooking and baking bites.  My Veg Fare is all about Ovo-Lacto Vegetarian recipes, means you will find vegetarian, vegan, Dairy and Eggs in our recipes.
Why Eggless in baking?
As I already told you, I am vegetarian & saatvik by birth, use of eggs was out of my kitchen, After moving here baking was very interesting, Did I tell you I come from a bakers family!, probably that was the gene in me .   When I first started baking I had assumed that cakes and bakes cannot be made if there was no eggs in them, and I used to use them in my baking.   I slowly realised that I could bake by substituting eggs in some baking recipes, I have been trying to replace it ever since and my family and friends love my bakes and enjoy them, so here I am with lot of Egg-less recipes for like-minded people,   hoping I might not disappoint  you my dear readers .
Of course you still find Eggs in My Veg Fare, as I still bake cakes and some savoury Recipes using them. So, I won't disappoint people who loves eggs in their recipes.
I never thought I could bake one day; I just used my oven to store my cutlery! They slowly had to find another place when I started baking. First I used to bake store bought pizzas, chips and things like that.., But when I started to learn baking which turned into my passion soon, I was baking everything from scratch, no more store bought stuff . You can now see creativity in my baking recipes and also can see a lot of Healthy baking in my blog, with fresh fruits, different flours, dry fruits and seeds etc.., Hope you enjoy your stay here.
Why Blogging?
This all started a few months after moving to UK; I was ignorant that there was something called Blogging and people blogged recipes, One day my Hubby introduced me to the world of blogging, I found this as an interesting concept for recording my creations other than writing it down in a book, that's how I got hooked to this, My family especially my kids were into this, one fine evening we sat and created a blog, as my kids say it would be useful for them when they start cooking seriously! And Lo! Here I am blogging with my everyday cooking. Hope it helps them. I use to blog my recipes here:  http://samayalarai-cookingisdivine.blogspot.com .
Why a website now?
Oh! Yes, why not?, Friends and family encouraged me and  also helped me doing this, with all their support  I decided to move into my own domain and here I am with a different name, but as they say Old wine in a new bottle, My concept of cooking and baking has not changed but just a name, easy to remember. What do you think? Do you like the new look, It's still under construction, as I have to learn the geeky stuff which is all Greek to me.
What's in Healthy cooking & baking?
I always did and will do healthy cooking, which most of my friends and family know about me, I have always been against processed food, It became an obsession, particularly after my kids were born, I was very keen on good Home-made, unprocessed and healthy food everything from scratch, My interests in cooking healthy food is a journey on searching new Ingredients for a healthy living in all different cuisines. Coming to UK my obsession for baking changed to Healthy baking.  Hope you like it.
I don't do any dieting and not advice anybody to do it either, I always think keeping healthy is to eat freshly cooked meals and make everything from scratch by yourself, which helps for you to know what you are eating.  How much and how little we can use the ingredients, the interest involved in creating your own meal will not be mechanical but slowly turns into a therapy, love and passion, slowly you become creative and conscious of what you are eating and start searching for a healthy life style.
Ok, your next question would be about my bakes, I don't say all my bakes are healthy as you know I use different flours and even reduce fat in it, it cannot become healthy as it has loads of sugar, My family won't eat if I bake or cook a dessert without sugar in it!, So, I can't say it as very healthy right?, But, they are definitely a treat every now and then as they are guilt free at least with flours!
Recently I was presented a camera (canon 60D) by my Family, which has changed my blogs look from a few months, till now I had been using my mobiles, Nokia 95 and iphone were my best gadgets, I still love my iphone and use it in my step wise photos. Digital Camera with a manual mode has brought a new life to me & my blog, I have got addicted to this new gadget, which I am still experimenting with leaning the tricks of the trade but has given a new dimension to my life.
I also blog at: http://aisoraclicks.blogspot.com and   http://panacea-healingforthoughts.blogspot.co.uk
Thank you for taking your time to visit my page and reading so patiently, I would love to hear from you and of course your valuable comments, they mean a lot to me, and is an inspiration too.., Your feedback is very important to me please do write to me through e-mails, Facebook, Twitter, Pinterest, Google+, Flickr through whatever way you find easy, Keep coming often and make my day, Thanks to you all...
One last thing whatever I do here has a lot of hard work involved in it.  It may be cooking or baking, taking photos and writing the content is a stressful job.  Everything in this website is my own please do ask me before you like to use any of my content and don't forget they are copyrighted.
If you have any queries regarding any recipes and help concerning them or if you want to request a recipe Please do contact me at Jayasri.myvegfare@gmail.com  Jayasri(dot)myvegfare@gmail(dot)com.  I will try my best to answer to the best of my knowledge ASAP, but I would take 2 to 3 days sometimes a week, Please bear with me don't ask me the reason as I too sometimes wonder 24hrs is too short for me.
Hope you enjoy browsing through my Recipes, Have a good day!
Jayasri