Kids, kids, kids, My life revolves around my kids, Everyday I try to please them, please myself when I serve food for them, please them..?, sometimes It's like a big question mark, if I cook everyday Authentic Indian food suddenly their likes changes into dislikes. They love variation in their everyday food, I keep telling them this is not a restaurant, and you know what they say, ''Of course mum, we know, but this is Mum's kitchen, she loves us and will cook us whatever we like''. howzthat ?.
My passion for cooking all started of as a teenager as I loved trying out new dishes, I made my first Ice cream when I was in my year 10, we had to our own new house and we had bought a new fridge-freezer, while I was in year 10, I wasn't living with my parents at that year. Moving back to our own house means new place, finding new friends was very slow, so I used to indulge myself in cooking and creating!, I was so thrilled when I made my first Ice cream using the Mixie, It had turned out so well. I used to cook lot of North Indian cuisines, and my sisters friends and my cousins were best guests, Actually, I had kind of become a famous cook, everybody loved having food apart from the authentic food mum always cooked, when I cooked my relatives used to ask me as if I am an expert on how I prepared and the expertise in cooking them. In those days I used to cook like in restaurant style with no restrictions or compromises with Oil or Coconut and the dish would always turn out perfect.
Now a days, I have become too aware of lot of things I use in my cooking, so I try to avoid lot of them or use them in limited quantities, but when cooking or baking to kids, I try not to be too restrictive as it is the age for them to enjoy eating something unhealthy now and then :).
Coming back to the recipe, definitely not a unhealthy one, I have used brown bread not a white one.
Check out, Kids loved it...
Sorry about the Clicks it is my daughter who has taken the photo, I should buy her a camera, you can't really see the potato slices it is behind the mushrooms :).
POTATO SLICES WITH SAUTEED MUSHROOMS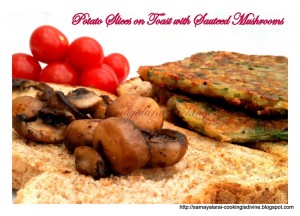 INGREDIENTS FOR THE POTATO SLICES
I will not be able to give you exact measurements as I just made this in an impulse so please use the ingredients to your taste.
3 Medium Sized Potatoes
1/4 Cup Sun flower seeds
1 onion finely chopped
1 tbsp Coriander leaves
1 tsp finely chopped Green chillies
1/4 cup Grated Cheddar cheese (optional)
1 or 2 tbsp of Corn flour as required (or an Egg if you prefer)
Oil to toast as required
Variations: Instead of Green chilies use Pepper powder/Chilli powder or you can omit it.
you can even use coriander powder, cumin powder, chat powders just gives it more kick to the recipe.
METHOD:
Using a pestle and mortar crush Sunflower seeds, clean and chop Green chillies and coriander leaves, Chop Onions, Grate Cheese if you prefer to use it.
Next cook the whole potatoes (use firm potatoes such as New potatoes and they don't become mushy when cooked) and Peel the Potato skins then grate the Potatoes using the large holes.
Mix all the above in a big bowl, with required salt (I have asked you to grate potatoes in the end as the potatoes change colour if they come in contact with air).
So, keep everything ready grate the potatoes in the end and mix them all well together.
As you know when you grate potatoes they give out water, So add Corn flour as needed just to give them a binding, and make it into ball.
Now pinch plum sized balls out of it flatten them into a square as I wanted to use it in the sandwich as you can see in the photos.
Put it on a Girdle/tawa/pan with a few spoons of oil (2 to 3 tsp) toast them both sides pressing them until they change colour and become golden brown and well cooked.
Now your Potato slices are ready, they can be consumed just like that or sandwich them between two buttered toasts and serve them with Sauteed Mushrooms.
FOR SAUTEED MUSHROOMS:
I have used Chestnut mushrooms, In a wok, add a knob of butter, if you don't mind eating with stalks to the mushrooms or remove the stalks and saute them until soft, the juices come out, then sprinkle some salt and pepper if preferred or just serve them with toast.
you will really like it 🙂
Hope you enjoy this as my kids did...
I love to send this to Dish it out ''Mushrooms and Onions'' event - of Kalyani from itsnotmadrasi who is hosting this event started by Zesty palette-Vardhini
I am also sending this to serve it grilled of Kriti's kitchen. and after a long time I am sending this to Hearth and soul