To all my dear friends and readers a very happy Makara Sankranthi, I wanted to post with my Chakkarai Pongal ( Sweet Pongal), but as always I am very late with everything, thank God!, I am at least posting this Indian Cooking Challenge recipe on time !!, This recipe of course is for Inidan Cooking Challenge, this time challenged by Srivalli of our spicing your life, who has challenged all the members to make this Halwa, which has been passed down to Simran of foodiezone by her mom!!, That's the best part of the challenge, some dishes which are handed down by elders, which are always more tasty and have lot of tips , which gives the best result.
MOONGDAL HALWA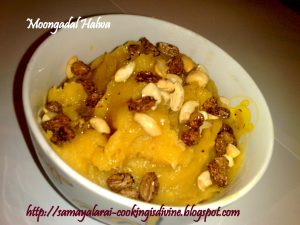 Srivalli had posted 2 recipes, I tried only one recipe which is used with Khoya, I am posting that recipe here.
INGREDIENTS:
Split Moong dal (Green gram dal) – 1 cup
Sugar – 3/4th cup
clarified butter – 1/2 cup
Khoya – 1/2 cup
cashew nuts and raisins for garnishing
Soaking time: 3 to 4 hours
preparation: 15 min
cooking time : 30 -45 minutes
METHOD
Lightly roast the 1 cup Moon dal, wash, soak and be ground to fine paste adding very little water. Take a thick bottom pan, heat 1/2 cup Ghee and fry Moong dal paste till it turns brownish and realease the ghee, Add Sugar and Khoya.
Stir fry until both the sugar and knoya are well absorbed turn off the heat, then mix in cashewnuts and raisins.
My Verdict: I tweaked the recipe little bit I wanted to make it the above said way as I love khoya, but I had no Khoya, and I had only 3/4th cup Moong dal as I had only so much left, because of snow I was not able to go to Asian shops, So, I used 3/4th cup of Moong dal, 3/4 th cup sugar, and 340gms Sweetened Evaporated Milk, and other Ingredients as suggested, I fried Moong Dal as said in the recipe and soaked it for around 2hrs, usually they become soft very soon within 2 hrs, then grinded it softly without any water, but added little bit of evaporated milk to make it into a soft consistency then poured the remaining milk and ground dal mixed well and started stir frying until it starts thickening then added the sugar until they were well absorbed, and stir fry it until it turned into halwa consistency and garnished with cashewnuts and raisins, with a pinch of cardamom powder and nutmeg powder.
We all enjoyed it very much, thank you valli and Simran for the recipes.