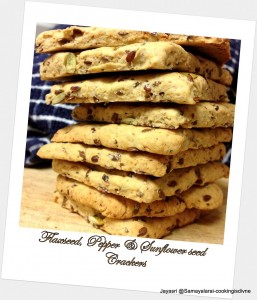 Days are becoming gloomier and the rain making the days much lengthier telling us winter has stepped in :(, The other day we had this heavy rain fall poured suddenly when we were Windsor Castle, with loads of Hail stones, giving us shivers around shoulders and palms, Weather turned so cold, I cursed myself not taking gloves and rain coat nor an Umbrella. I usually never go out without my umbrella. In UK it is one of the most important thing we need to carry as we never know what the next few hours of weather we would be having :)), some of my plants have found their way into my conservatory, we had a horrible frost as well, worried they might kill my plants. what have you done ? Do you have some precious plants you don't want them to die, what plans do you have to protect them.
Oh! wondering why I am here today, as I am not blogging regularly these days as I already told I have been really busy as my Mom is visiting me, and blogging is lagging the attention it needs.
An other month and An other SRC already. this month Suzanne my hostess assigned me to Le Ann's blog who blogs at Highlands Ranch Foodie. Ranches, Cow Boys, Texas, Cattle Ranching was all those things I used to read when I was a young girl in books and wondered Wow what a life. Reading Le Ann's blog I found that she lives in a place which used to be a place where they had cattle Ranches and she talks about it in her space. She says that she loves preparing authentic Mexican food and recipes that reflect the flavours of the west.
I was looking for something to bake, and this recipe caught my eye I have also book marked an other two recipe, I loved this one as it was Healthier and made with Linseed/Flaxseed, my daughter loves eating cheese and this would be a perfect one for her munching tidbits. I just made little changes to the Original recipe.
FLAX SEED, CRUSHED PEPPER AND SUNFLOWER SEED CRACKERS
Adapted from : Highlands Ranch Foodie
Preparation : 15 minutes
Baking time : 20 minutes
Yields : 9 Crackers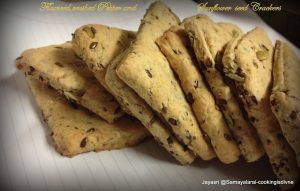 INGREDIENTS:
3/4th Cup Whole wheat Atta
1/4 cup Oats powdered
2 tbsp Butter
1 tsp crushed pepper
1 tsp salt
2 tbsp ground Flax seed meal
2 tbsp whole Linseed / flaxseed
1/8th tsp baking soda
2 tbsp thick yogurt/curds
2 tbsp water
METHOD:
In a large bowl take all the Ingredients except water and mix them well enough until they are well blended, to this add water as needed and make it into a nice firm dough.
In a baking sheet spread the dough in a rectangular shape, top sunflower seeds on then then as a topping, using Roller pin roll them once again with the toppings.
Cut them into 9 equal pieces with the help of a pizza cutter, keeping them apart, separate them out and bake them for about 20 minutes in a preheated oven just 10 minutes before.
Remove them on to a cooling rack, they just slide off easily and here you are with your crackers.
Enjoy topping it with some cheese and some salsa.
Make it Vegan : By substituting butter with oil and yogurt with just water :))