It's Monday Morning, I had Muffins and a Quick Bread to go for a Morning Breakfast, wholewheat and Clementine juice blended in Baked goodies.., what else do you need for a healthy eating... and for cravings too.., Coming to this particular recipe I have to say a few things first - Never compare my blog with hers she is an amazing photographer, with beautiful clicks, mouthwatering recipes.., lovely write ups.., I was mesmirized with those beautiful photos, I jumped from recipe but ended up making these as my girl loves anything citrus, I had a few recipes which caught my attention were
this
, as I had only baked with blueberries but not with lemon in it, then these
goat cheese biscuits
, then
this
one, with different flavours and a healthy one too.., I have book marked all of these to try out soon...
You must be wondering why so much introduction.., well for two things, always give credit to the blogger who tried and tasted this recipe and blogged about it...., and with lovely clicks made it more interesting for us right ?, so the other reason is it is SRC time..., Yup..., Love
The Secret Recipe Club
started by Amanda and the other fabulous girls who are with her to help her run this club so smoothly.., Thanks to Amanda,
Angela
,
Jane
,
Suzanne
and
Tami.
This month Suzanne paired me with
Dash of East - Melissa
, Check out her blog.., beautiful girl, wonderful photographer, web and graphic designer... as she says speaks through photographs and her recipes and her lovely write ups..., Here I have adapted the recipe for making it eggless, and made a few changes and I have halved the recipe. Check out the Original recipe here, I am planning to make this again with Eggs, so I would understand the bread more.
EGGLESS CLEMENTINE QUICK BREAD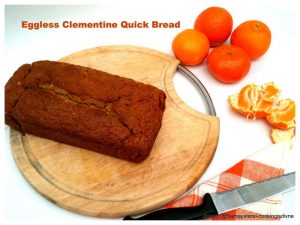 Adapted from Dash of East minimally she has in turn adapted from Marta Stewart
INGREDIENTS:
115 gms Plain flour
75 gms Rye flour
60 gms Soya Dairy free butter
1/4 + 2 tbsp Cre'me Fraiche
1/2 tsp Baking powder
1 tsp Baking soda
1 tsp Vanilla extract
1/2 + 2 tbsp Soft Brown Sugar
1/4 cup Silken tofu
1/4 cup milk
2 tbsp zest of Clementines
1/4 cup Juice of Clementine (I used 2 clementines with its segments)
1 whole clementine segments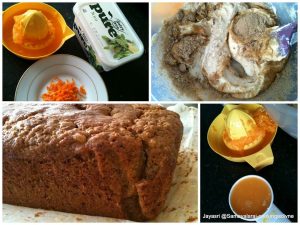 METHOD:
Preheat the oven 10 minutes before baking to 350 degree F/Gas Mark 4
Juice of two clementines with its segments in a manual juicer
Take both the flours, BP, BS and salt. Sieve everything together 2 to 3 times and keep aside
I took cre'me Fraiche, silken tofu and soya dairy free butter and milk and blended in my mixie (Indian Mixer)
In a large bowl take the blended wet ingredients together to this add Sugar and mix well together.
To this add the extracted juice, segments, zest of the clementines and vanilla extract blend them all together.
Take all the Dry ingredients in a bowl, make a well in the center pour the liquid mixture in parts to the flour until well combined in a circular motion and lifting it from the beneath.
As this is an Eggless one, try not to handle the dough too much.
Bake this for 35 to 40 minutes depending upon your oven temperatures, after 30 minutes check the bread by tester to check if the bread comes out clean, leave an other 10 to 15 minutes (Judge) and again insert a tester to check, if it comes out clean that means your bread is done.
Take it out and leave it on the wire rack for 15 minutes, until it is completely cool.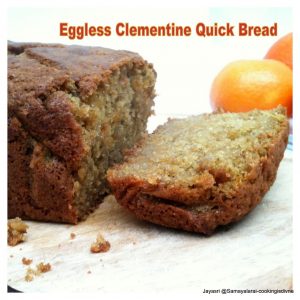 You can even make a clementine syrupy glaze this is how you need to do it
Take 1/4 cup clementine juice and 1/2 cup of sugar in a sauce pan bring it to boil, in a medium heat, reduce heat and let it simmer for 3 to 4 minutes.
Once the bread comes out of the oven and on to the rack, prick the bread all over, brush this syrup all over the bread, as the bread is still warm it absorb the syrup. Once it is cool, place it on the wire rack top side up and brush the syrup all over the bread and serve it.
My verdict and notes:
I have replaced a few things from the original recipe, as I had no heavy cream I used Cre'me fraiche, If you plan on making this bread with eggs this recipe calls for 1 Large Egg as I have halved the recipe
The Bread was super soft, It was not very sweet, I loved the crust :), it was very tasty.., May be next time I can make a few changes, I did not do any glazing..,
My kids loved the crust, they wanted me to make it more sweeter, and they told me the bread inside was very soft.
Check out on the other bloggers for the rest of the recipes from our Lovely club:
This recipe is featured on Recipe Lion if you like this post.., click to the page to like the post as this prize is for only US and Canada residents only.., If I win I will send it one of my readers.., just leave me a comment when you have done.., so I would know to whom I should send to...., I will do an random selection....