Hi everybody, updated on August 26th:
As I haven't received a single entry for this event from Parita's world I have decided to extend the event till the 31st of August, Hope to see if anybody is willing to participate
Hi everybody, Just now I announced by Only Event of Pari, I am back with my own project of "Bloggers Marathon", which I had left unattended from few months, I want to start it back again so I could cover at lot of bloggers as much as possible, Looking at the blogs growning it seems light years for me to stop this event!!.
Coming back to the event, My own event and my favourite event and of course one of my favourite blogger, is a very happy thing, can you believe, I had kept this in my draft from April before I went to India!.
I love her blog, and her as a person, she has a fabulous blog, again like my T and T, She is a blogger who bakes a lot, and if you love to bake, here is one blog you will love. I love to say I baked my first cake from her blog and so immensely enjoyed by the whole family and did I tell you I made this cake twice and sent it to H's office who also enjoyed it so much and my H loved it so much, he kept saying it was Gorgeous, and I loved it so much because of the flavour and fruit in it, It is one my favourite cakes, I never posted this cake, but surely will make again and post it soon, at least for this event, I even tried my first Eggless cake from her blog, which gave me a boost to all my Eggless bakes, I love her blog and I hope you all love her blog too…, A pure vegetarian blog with lot of lovely recipes, try out some of her recipes and send it to me.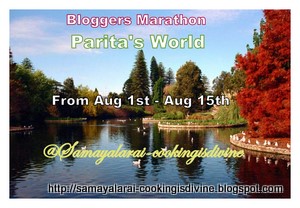 As always we have to follow little rules:
As you all know that this is a
"
ONLY
ORIGINAL RECIPE EVENT"
and you know what it means the recipes from her blog should be hers/her family members/books, But, the
Recipes she has tried out from any other blogs are not allowed
as you know I want to cover every blogger out there in this marathon, that is why I do not want recipes tried out from other bloggers.
I do not want any recipes to be tweaked, stick to the Original recipe as much as possible. Do not try to change unless you have problems finding Ingredients and also you can are allowed to change veggies or fruits in the recipes.
Send me any number of entries Fresh or Archieved, but just do not forget to Link the post to my Event Page, and the Logo displayed in the post is mandatory, which will help spreading the Event Announced.
This is a fortnightly event :

August 1st – August 15th
Your Name
Your Blog's Name
URL link of the recipe post
Picture of the recipe (300px)
Only Vegetarian Recipes Accepted (well as parita's blog is Vegetarian blog no need to worry)
Egg allowed.
Non Bloggers can also participate, in which case you have to just mail me your recipe and a click of the same to
cookingisdivine@gmail.com
, I will post it for you on your behalf.
Please do not forget this is a "ONLY ORIGINAL RECIPES EVENT"., any quires please contact me…
Hop on to her kitchen and browse through her blog for some wonderful recipes….
C u soon… take care.