Hi everybody, I know I have been posting just cakes all the time!, as I want to finish my T and T project, I have to do this!, So soon I can post the round-up from PAB's blog, Did you read it right ?, Had a lovely time baking this cake and the drawings, It was fun spending time with the kids with this!, we all enjoyed baking and eating :), I had an eye on her signature from a very long time, and really wanted to try it out, and I did it. Only we wee bit got carried away and the left over we squeezed it all over the cake! 🙂

It's always just the weather makes me sore to do anything, well, by the way today, we have lot of sunshine, I have just decided I will enjoy it till it lasts. You need to check out her blog

HERE

for beautiful photos of this really yummy cake and of course her signature too…

BAKING QUARK MOUSSE CAKE WITH ROASTED BALSAMIC STRAWBERRIES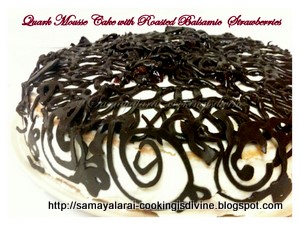 FOR THE SPONGE CAKE
Make 2 sponges (this recipe is for one 7.5'' cake)
3 Eggs
½ Cup sugar
½ Vanilla Bean scrapped (I used 1 tsp vanilla extract)
½ Cup Plain Flour
Line 2 X 7.5'' round tins with Baking parchment
preheat the oven to 180 °C/Gas mark 4
In a Clean large bowl beat the eggs with sugar and vanilla extract until thick and mousse like, then Gently fold in the flour in making sure you don't lose volume, (she says she dumps the flour in one go, as she makes this so often like her basic cooking!, but I did not do like her as my baking mostly eggless
J
, so I added the flour gradually, 2 tbsp at a time to make sure it mixes thoroughly and doesn't lose volume).
When completely incorporated turn the batter gently into the prepared tin, and bake until done for about 20-25 minutes or until the tester comes out clean.
Once baked take it out of the oven, cool on racks for few minutes, then turn out from tins gently and allow it to cool completely before the filling.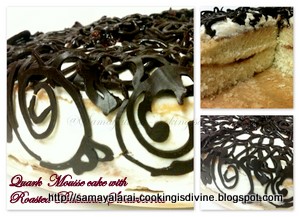 This was another fabulous filling which she got inspired by BBC Good Food
200 ml low fat cream (I used full fat)
½ cup powdered sugar
1 vanilla bean scraped (I used 1 tsp vanilla extract)
Beat the quark cheese with powdered sugar and scraped vanilla bean until smooth, then taste and adjust sugar if required, whip the cream to soft peaks, and fold into the whipped quark cheese. Add the roasted balsamic strawberries (you can reserve ¼ cup for topping), and gently fold in to mix thoroughly.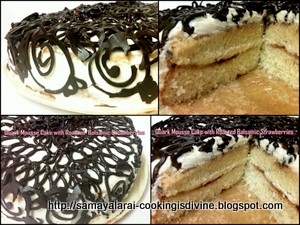 100ml low fat cream
2-3 tbsps powdered sugar
Whip cream with sugar to medium peaks
¼ cup sugar
½ cup water
Juice of 1 Lime
Boil for 5 minutes till sugar melts. Add the lime juice. Allow to cool.
Slice the sponges horizontally into two. Brush each layer with lime-sugar syrup as you work. Sandwich the layers with the quark mousse, and cover the sides with it too.
And what did I do her Signature recipe adding Lace Border!!!, Wow it came out so well, my kids got carried away, they did not want to stop as it was chocolate, and we tasted it so that's it
J
, we scribbled it all over the cake, that's it you are not able to see the strawberry topping on it!!, or do as she has done, cover the top with whipped cream and top with some jellied roasted balsamic strawberries.
Finish the top and edges off with chocolate shavings or whatever you fancy
Chill well before serving so that the flavours mature and Mmmm.., tastes very good, which you will love!
MY VERDICT:
of course my kids and family LOVED IT….. Mmm…..,
J
J
J
hahahaha
They just loved it, and both the fillings in both the cakes were so very delicious!!