Avarekaalu or Avarekaayi is known as Hyacinth Beans or Val Beans, is a versatile legume which is used in savory and sweet dishes in India! A simple dal made with this is amazing and tastes awesome if you love these Beans.

Hi, everybody, It's amazing how soon 2017 ended, and here we are in 2018 already!! wishing you all a very Happy New Year and wishing you all the new year brings you joy, peace, and prosperity. I know I had been away from blogging as my health was playing up and I traveled a lot last year! Last few months I was mentally stressed out with my son's career! and now I am over the moon as my son got his admission to medicine which has brought all the happiness back. All his hard work paid off he is happy lad now, as his dream is shaping up.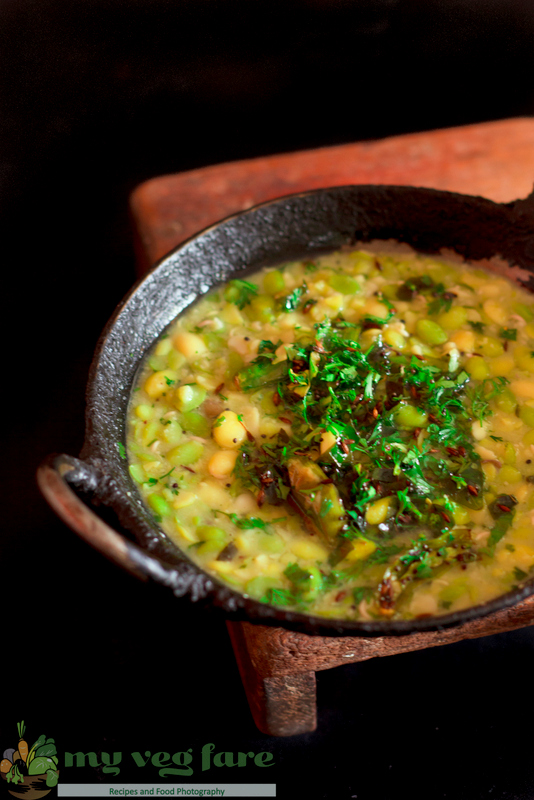 Coming back to this recipe, Avarekaalu is one of the favourite winter veggies in Karnataka. If you want to enjoy this you need to be there! we even have an avarekaalu mela in Bangalore!. It's an experience in itself, when the market is flooded with these beans, right from buying to cooking we enjoy every bit of it.
Buying the best ones is, you need to smell them the ''Sogadu'' So-ga-doo (probably essence would be the word) what it is called, to check the purity of the beans which tells you how fresh it is,  some people rub it in the hand to check the smell of it. You can get the smell even if you are further away from it actually. The fresh and tender ones are my favourite as they can be used in Akki Rotti and Sundal(salad)!! Avarekaalu is like you name it we make it kind of veggie!
Vendors are crafty must be careful when we buy sometimes we end up with fewer pods of the beans! We usually buy bagful definitely not less than 2kgs at least! usually, we all sit together to remove the pods from the beans, chatting and planning what to cook.  As kids and even at this age till today I get terrified about these beans are the little pests which crawl out of them.  So, you should definitely look out for them! They are like little caterpillars sized but green in colour! sometimes you find them inside the beans as well.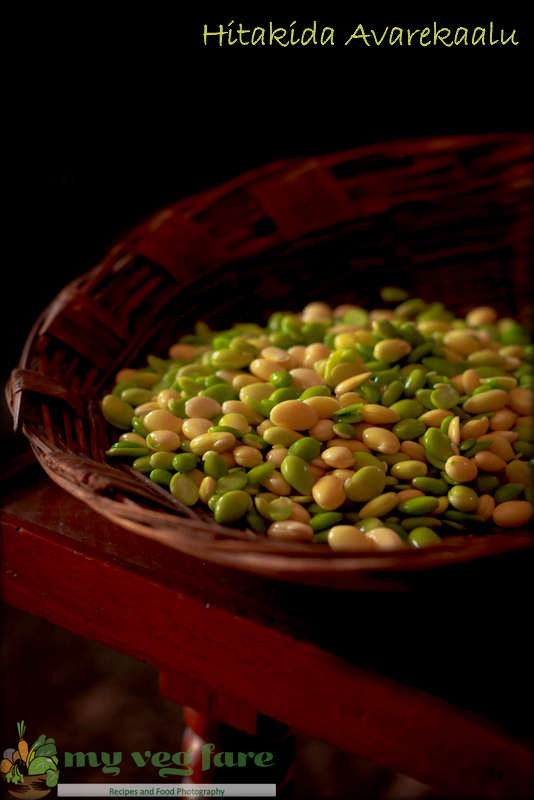 ARE YOU INTERESTED TO KNOW MORE ABOUT IT HYACINTH BEANS?
These are seasonal and sold during the winter month December - January and usually appears in all festival dishes, one such festival my mom makes every Sankranthi / Pongal is this Avarekalu Tovve also known as Hyacinth Beans Dal, which is a very simple recipe.
Avarekalu has an outer skin this is soaked for a few hours or overnight and in the morning if you pinch it between your fingers the pod comes out and this is called Hitakid (Pressed) bele / (Pitakupappu)! and the skin separates out. In Karnataka and Andhra loads of dishes are made out of this!
Dehusking the beans from the pods is a little bit tricky, keeping them soaked in water helps you to press the beans easily! once you get the hang of it, it won't take long for you to do it.  But, it's an elaborate process needless to say, once done you can even freeze it in airtight freezer bags and use it whenever you want.
It's definitely worth it as the dish really tastes awesome.  In Bangalore, you can see people selling dehusked avarekaalu in liters and it's easy to buy from them as well.  I have given a few variations in the notes you can make with this dal, this also goes well with Indian flat bread like Chapathi, phulka etc..,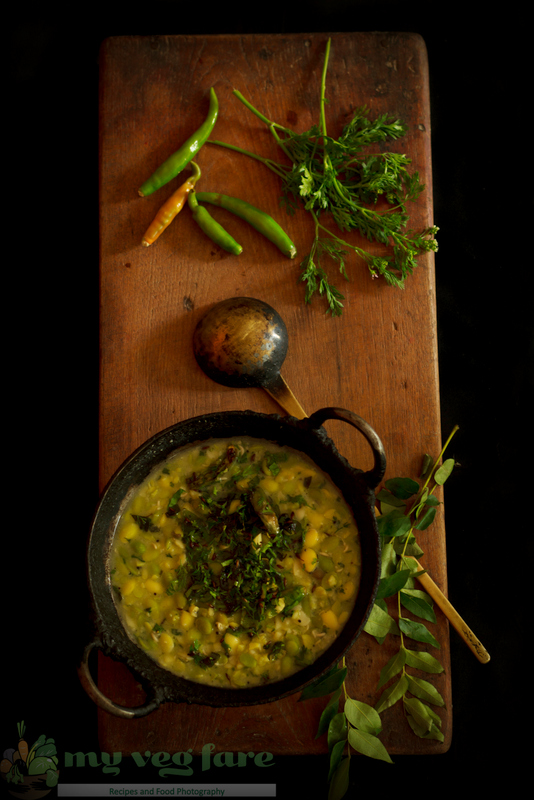 Let's get back to the recipe
WHAT IS TOVVE?
Tovve is a word used in Kannada one of the South Indian Languages, is nothing bu DAL! Dal is usually made with Lentils, either Tuvar, Bengal Gram, Urad (Black Gram) or Moong (Yellow Lentils).  They are cooked very softly or cooked to perfection and can be mashed up later, it's just how you like the texture! you can even thin it down or keep it thick.
HOW TO MAKE IT?
Very simple, As I have not used the usual Lentils/Dal, this is very simple you can cook it directly with the required amount of water in a thick bottomed vessel or can cook it in a pressure cooker for just one whistle.
WHAT IS SEASONING?
Seasoning a Dal is very simple, and here I have seasoned in a simple south Indian style, as we Indians season in many different ways.  Here I have seasoned it by using  Oil, which you can replace with Ghee or clarified butter, when warm it is tossed with Mustard seeds, Bengal gram Dal and Black gram Dal and for mild spicy, the dal use green chili or Dry Red Chili as you prefer.  Don't forget to add curry leaves if you can find them if not you can skip, but it takes your dish to the other level.
WHAT ELSE ARE WE GOING TO ADD?
We can add grated ginger, finely chopped coriander leaves and a dash of Lime or Lemon juice gives a magical charm to the Dal.
WHAT TO SERVE IT WITH?
Serve it with Rice, Roti, Naan, Bread.  Serve it in a bowl with a salad on the side loaded with veggies! If you do not rice you can choose any other alternative like cooked Quinoa, Bulgar wheat, millets or any other you choose to eat instead of rice!
Here I have some more dal recipes for you... 
HAVE YOU MADE IT?
Excellent! Glad you tried it! I hope you enjoyed the recipe if so, don't forget to share on our social media.  You like clicking photos why not take a quick pic of the dish share it on FB, Instagram, Pinterest, twitter using our hashtag #myvegfare or tag @myvegfare we are thrilled to see a recreation of this recipe.
Avarekaalu Tovve / Thove (Hyacinth Beans / val Beans Dal)
Avarekaalu Tovve is served instead of a dal without any dals in it! spiced up and is served with hot rice and ghee for starting an elaborate meal like in festivals.
Ingredients
2

cups

Fresh Hyacinth Beans / Avarekaalu

3 to 4

tbsp

freshly grated coconut

4

stalks

Chopped coriander leaves

salt

as required

pinch

Hing (Asafoetida)

water

as required
Seasoning
2

tsp

oil

1

tsp

mustard seeds

1

tsp

channa dal

1

tsp

Urad dal

3 to 4

Green chillies

1

tsp

cumin seeds

1

stalk

curry leaves
Instructions
Once the beans are taken out of the pods wash and soak it in water for few hours or over night.

In the morning discard and clean the soaked pods again in fresh water and drain them. Sometimes you can just keep them in the water as it helps when we dehusk the skin from the beans.

once the beans are dehusked, take them in a thick bottomed vessel add 1 and 1/2 quantity of water of the measure of the beans and cook in a low to medium flame, it won't take long for it to cook.

Keep an eye on it and stir now and then just to check if it doesn't get stuck to the bottom, if water is decreasing top it up with extra water for it cook until well done.

Once the avarekalu is cooked with a masher, mash few beans don't mash them all just a few this helps in thickening of the gravy.

Once done, switch of the stove. In a wok heat oil add mustard seeds when it splutters add chopped Green chillies and saute for a minute or two.

Then add cumin seeds and rest of the ingredients under seasoning and fry for a minute or so, until the dals change colour. Add this seasoning to the cooked Avarekaalu.

Add required quantity of salt, Hing and freshly grated coconut mix well and switch on the stove, if it is too thick thin it down with little water and allow it boil for a minute so, they are well combined and the dals get spiced up. Garnish with chopped coriander leaves and serve it with hot rice a dollop of Ghee
Notes
This is made just with Avarekaalu usually, If you want you can add Tuvar Dal or any other Dal of your choice.  But, cook the dals and Beans separately otherwise Avarekaalu will become very mushy.
You can pressure cook Avarekalu but it will become very mushy and you will not enjoy the dish as you won't get a bite of the beans at all.
As amma makes it usually during the festival we don't add onion or garlic, if you like you can season them with onion, garlic, and even tomatoes.