Rainy days and sun peeping now and then behind the clouds, doesn't tell you that it is summer time here, Poor kids not happy about their summer hols at all, Days seems to just crawl for me, of course I seem to get little lazy as mum around, she is cooking and I tend to other things these days, particulary my little garden.
Weather Forecast says it is going to be 2 days of sunshine from tomorrow, fingers crossed.
Around these things it is
Blog Hop Wednesday
again, it is so quick and you wouldn't believe it right ?, Last time I was a little late in posting as I had nobody at home and felt very sad to cook or bake. This time it is nice to have everybody at home, and I am immensely happy because mom is going to enjoy different cuisines too.
Radhika of Tickling palates assigned me to
Suchi-Kitchen Karma
, I was really happy, I have a special love for Bengali Sweets I think I have mentioned it n number of times in my blog. I have made a few Bengali sweets and some Bengali cuisine too..
Suchi has some lovely recipes, loved her write ups and she lives in UK!!, discovered a blogger right here, thanks to radhika. Hope I will meet her some day. She has beautiful photos to make it more interesting, Totally loved her blog, As always when I go to a blog, particularly Indian blogs I always look for bloggers background that is where they come from and I search for all the authentic recipes. Looking for all the vegetarian recipes in her blog this recipe got stuck to my mind, I kept going back to the same recipe again and again because I had never tried this recipe before.
Urad Dal is the main Ingredient in this recipe -
Urad Dal
as it says a Dal and as all of you know Dals, Lentils and pulses are rich in proteins.
Urad Dal
is available in dehusked, husked, split husked and gotta ( dehusked round ) varieties, I use it in all ways using in Dosas, Idlis and many other ways. But I never used it in cooking it like a Dal.
Urad Dal
has lot of good things in it, It is used in different ways according to the region you live in India, for postpartum food in women. That is it is consumed after child birth, it has low glycemic index so it is said it is good for diabetes, It is said that Proteins are well observed with citrus so using lemon, lime, tomatoes etc.., helps in the better absorption of the proteins consumed.
As she was saying that in Bengal they make this during summer with Aloo posto which helps the body in cooling effect. She says that this is an acquired taste, she also says that this dish is not usually served warm and with a dash of lime juice and with no turmeric while cooking.. Ok let me come to the recipe now....
I made a little change in this recipe, I used one cucumber with this, as I really didn't know how my family would like it with just Urad dal, Once they know the taste, I could do this without any veggies, turned out that it was delicious. one of my kids was not too really into it she said, but as suchi says it is an acquired taste, making this often they might get used to this taste, and definitely I am going to make it again and again.
As she had no recipe for
Aloo posto
I took the recipe from
Hamaree Rasoi of Deepa's.
KOLAI ER DAL / BENGALI URAD DAL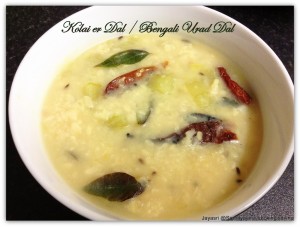 INGREDIENTS:
1/2 Cup Urad Dal/ Black gram split Dal
1 whole cucumber
1/2 tbsp Panch poran ( I used panch poran as it has fennel seeds in it)
3 to 4 Red chilles
1/2 '' crushed Ginger
curry leaves
A pinch of Hing/ Asafoetida
1 tbsp oil
salt to taste.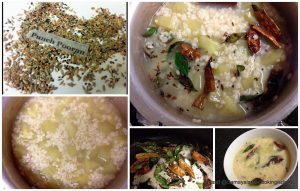 METHOD:
Soak Urad Dal around two hours, peel and chop cucumber into cubes.
Cook Dal and cucumber in a pressure cooker with 2 cups of water in a low flame for at 3 to 4 whistles just to make sure that the dal is well cooked.
Then In a pan heat oil and make tadka with Panch poran , Red Chilles and curry leaves. saute add this to the cooked Dal.
Add Crushed Ginger, Hing / Asafoetida and salt to the Dal and cook for few minutes until everything is well combined.
Serve it with hot rice or pulka.
ALOO POSTO / POTATOES IN POPPY SEED PASTE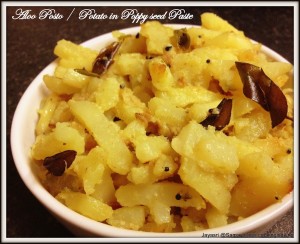 INGREDIENTS:
7 to 8 Aloo / Potatoes
2 tbsp Poppy seeds ( actually used 4 tbsp )**
4 to5 Green chillies
1/2'' ginger crushed
1 tsp Kalonji seeds / Onion seeds
curry leaves
2 to 3 tbsp Oil
1 tsp Ghee
Salt as required
1/2 tsp red chilli powder ( I omitted )
How to make posto Bata ( Poppy seed Paste ) : Soak poppy seeds in water for few hours or over night, this helps in making it into a nice paste. As little water as possible grind it with the chllies and ginger.
** I had only 2 tbsp poppy seeds so I had to just use that but if you are making use 4 tbsp poppy seeds.
METHOD:
Cut Potatoes into small pieces, Heat oil add onion seeds and curry leaves, I crushed ginger and chillies into paste fried them for a minute then add chopped Potatoes, add finely ground poppy seeds paste, add some water mix everything very well, close a lid and cook until well done.
serve it with Kolai er Dal or with rice or pulka.
Notes: Check out suchi's blog for the perfect recipe, as I have made few changes, I did not crush fennel seeds as my family do not like the taste of it too much so instead I used Punch pooram as tadka / seasoning.
Thanks to Suchi and Deepa for these two lovely recipes, so we had a lovely Bengali cuisine and thanks to Radhika for giving this opportunity. My family loved both the recipes, the posto was well consumed because of the potatoes :))
Enjoy...