Hi all, Few days back, I had said I will post recipes everyday, and tried my best to do it too.., But alas!!, I was no Julia, the only common I have with her is our names starting with "J" :), well, everything would be smooth in life, isn't it?, Hubby away for few days, children falling sick one by one!!, work, work, and toggle around everything!!, Oops! I am quite tired, and I wanted to participate in everything!!, I keep making things but they never seem to reach the post!!, I still haven't made my DB Challenge!!, My husband completely and conveniently forgot all my ingredients list. So, I have to shop tomorrow and start it and I am so very interested in doing it, well, coming back to the recipe I made this for two events. One for JFI-Fennel and The Combo event.
AUBERGINE AND CANELLINI BEANS GRAVY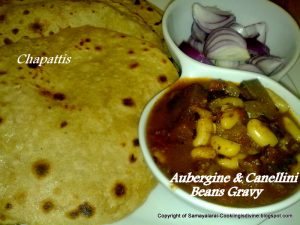 1 Large Aubergine
200 gms Soaked cooked Canellini Beans
1/2 cup Soaked cooked and mashed Red Kidney Beans
2 medium sized tomatoes (100 gms)
1 Large onion
2 cloves of Garlic
4 to 5 sprigs of Coriander leaves
Salt as required
2 to 3 tbsp of Chilli powder
1 tbsp of Amchoor powder
3 tbsp of Oil
1 tsp of cumin seeds
2 tbsp cumin seeds
2 tbsp fennel seeds
1 tbsp fenugreek seeds
1 tsp mustard seeds
1 tbsp Nigella seeds
Soak both the beans overnight, with a bit of Baking Soda, then wash it well, and cook it until soft, Actually they do not become too soft as the Green grams.
I had these large Aubergines, you can also use any other Aubergines/Brinjals available, cut them into small pieces (not too small, they become too soft otherwise and become mushy)
Chop Onions, Tomatoes, mince garlic, and keep aside.
Take a wok heat oil, add cumin seeds once they splutter and chopped onions and garlic, saute then add the chopped tomatoes and saute few more minutes until they get cooked.
Then add the chopped Aubergines and saute for few more minutes, until they are cooked soft.
Meanwhile Grind Red kidney beans into a paste ( smooth or coarse however you wish), I grinded it into a coarse paste.
Add the cooked canellini beans with water and the ground Red kidney paste and add 1/2 cup of water.
Then add 2 to 3 tbsp of the Masala powder, and 2 to 3 tbsp of chilli powder and Amchoor powder (use chilli powder as much as you like your dish to be spicy) well, and allow it boil and add salt as required.
Garnish with chopped coriander leaves.
The Masala Powder gave the Gravy a different taste to the dish, well, it was well taken with the kids and we all liked it.