I love baking so much, I can't resist baking even for a day, but I need to remember myself is it alright to feed my family with loads of Baking powder, Baking soda, Yeast, Butter, oil etc.., When I was in India, even though I come from a family of bakers, I never used to buy Bakery stuff, it was always like a treat to my kids.
I always tried to cook everything from scratch at home. Never used to visit hotels, restaurants often, Baking became an obsession only after coming to the UK.
Baking has brought me into lot of things I am learning - Come to think of it I should  say people living in those climates need those particular kinds of diet I suppose, which is good for that kind of living environment,  every country has its own Original recipes suitable to the climate probably, Ancestors might have thought and cooked food the way it was provided by the nature to them may be.
Only now we have changed too fast food and takeaways always, for a fast life, sometimes a lazy life, that we don't want to do anything from scratch and try to take shortcuts....
These food blogs and cookery shows have changed a lot of things in our outlook of healthy eating I think I love
Jamie Oliver's
show, he is really trying hard to change the food habits of our future generation.
Maybe in India we don't get to see people doing lot of taking away as for lots of reasons, basically living in a joint family where you have people helping in everybody's day to day living, having household help (maids), too many channels showcasing about good food and healthy eating, lot of cookery shows, trying to get best out of everything even from waste ( I mean to say for example like using peels of vegetables etc..,!), sometimes we get people come and cook for us !, that's even better  right ? I think its totally the social set up I suppose.
If we ate 2 to 3 days continuously in hotels or restaurants my parents would get upset and complain that we are consuming lot of soda, which is not good for health, they even said, people in hotels and takeaways add BP,BS and loads of oil to make it much tastier and for longer shelf life which is no good!, I was brought up with these concepts every day, Now I get confused and it concerns me, when I bake.
Once, long time before my Hubby came home and said that they have banned using of Baking soda in cooking in his office canteen as it is bad for health, and causing health concerns for its employees!. Anyway as always It is said in the end minimal use of anything and everything in consumption is not a big cause of concern I suppose.
Well, whatever I have said here is merely my thoughts, I am not offending anybody's food habits or cooking habits in particular.., so please don't take it in any wrong sense.
Sorry I don't know why I went away from the topic of baking these goodies!, I started with my cupcakes and drifted somewhere else!, well, coming back to this recipe, One day when I was googling about something I got hooked to this recipe.., well, you definitely would know why if you are an Indian by origin.., It's the spices of course.
I have come to know by googling and from books that a lot of Persian cuisine use spices just like us, or should I say we started using them, as they came to India too..., anyway I am not deep into this subject again, as I am not an authority on these lines.. :).
I fell for this recipe completely..,
Azita
says this recipe takes its name from the city of Yazd, the capital city of Yazd province in central Iran.
This cupcake is so delicious in flavour you will fall for it, My daughter having one bite said it tastes something she knows, she kept telling me it's that sweet you make mum! the round golden brown balls....,  I kept thinking too and suddenly it flashed - Yup its tastes like Gulab Jamoons! only baked version!
She has adapted this recipe from a cookbook by M.R.Ghanoonparvar's ''Colucheh Yazdi'' recipe in his first cookbook
Persian Cuisine: Traditional, Regional and Modern foods
, check out this link if you are interested.
I found another
website
showcasing the same recipe but she has adapted from another book by Najmieh Batmanglij from his cookbook
New Food of Life: Ancient Persian and Modern Iranian Cooking and Ceremonies.
Once I got the recipe, I have to tweak it to my liking so I had to make it eggless, but I halved the recipe, that's all I did.. changed it into an Eggless cupcake.., I have already made it many a time and taken it with me to friends and family who fell for this lovely cake..
EGGLESS YAZDI CUPCAKES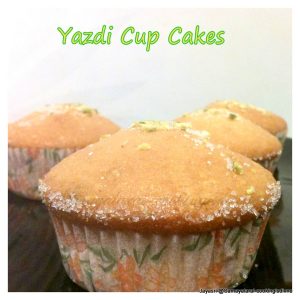 INGREDIENTS:

1 Cup All Purpose flour/Maida
1/4 Cup Rice Flour
3/4th Cup Sugar
1/2 Cup Plain Yogurt
1/4 Cup + 2 tbsp of Unsalted melted butter
1 tsp Baking powder
1 tsp Baking soda
1/4 tsp Cardamom powder
1 tbsp Rosewater
1/4 tsp Vanilla essence
2 tbsp finely chopped Pistachios
2 Eggs (optional - I just omitted)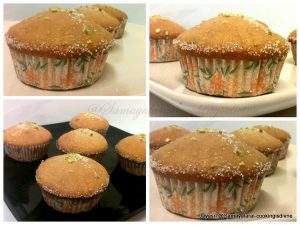 METHOD:
Preheat heat the oven to 180 degrees/Gas Mark 4/350 d Fahrenheit.
Mix all the dry ingredients together, plain flour, Rice flour, Baking powder, Baking soda, powdered Cardamom and sieve them together at least twice
Then in a large bowl take the wet Ingredients together....
First of all take Sugar and a bit warm melted butter to this add vanilla essence, Rosewater and beat it together the sugar dissolves (do not worry if not completely) for 2 minutes then add the yogurt mix well together with one tbsp of chopped pistachios and immediately add  your sieved dry ingredients to it in batches.
Sometimes the butter might start to harden up maybe because of the cold temperature here, so that's why I said to add yogurt to the end and then the sieved flour immediately in two or three batches as the quantity is very small it won't take too many batches, don't try mix too much, mix in circles and blend it in with no lumps.
Line cupcake trays and cupcake liners and spoon the mixture into them, fill them 3/4th and bake in the oven for 20-25 minutes or when a toothpick inserted comes out clean
These cupcakes need not be frosted as they are lovely just as they are...
VARIATION:
You can add 2 Eggs with the above-said recipe to make this cupcake with eggs.
The cake turned out perfectly with lots of flavours in it and as you can see it was soft and moist, it would crumble quickly if left for long (maybe 2 days).
I am sending this to
Vardhini's Bake fest #1, Kalyani's 100 day global food festival, Srav's culinary concept - festive food.