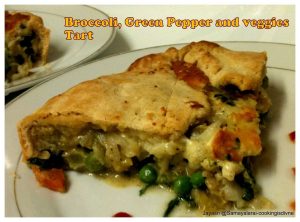 You must have noticed that my baking is always to please my kids.., My whole cooking and baking is involved with my kids..., they are my inspiration to create whatever I do.. , My eldest is my greatest inspiration as she loves to try out every dish possible (only vegetarian) .
My kids love these Tarts and pies and keep asking me to bake them. That was when I started these journey on Tarts and pies from plain tarts to different kinds of tarts lot of experiments I have indulged myself in!!
I have baked these tarts many a times and Just because my kids and of course my hubby loves it too....., sometimes I bake them as brunch on weekends or sometimes as their snacking time, coming from school they are always very hungry....
Basically baking this kind of Tart started one day when there was an argument between my two girls, My eldest doesn't like these french fries, chips etc.., she feels that they are very oily to her taste, even though they are baked ones, only when I make them she likes as she mum wouldn't use too much oil but she loves eating cheeses though!.
My second one loves potatoes to the core, she has already told me, that on her birthday and of course her twin R's D-Day I have to make, cook and bake only potatoes her list was too long, I just had to ignore her.
so coming back to the recipe she wanted potatoes in her tart and the eldest said I should not use it with other veggies in the tart.
When I saw both them together, an idea came to my mind!, why not use them both in flours satisfy and both the girls. so here goes my recipe...
WHOLE WHEAT AND POTATO VEGGIES TART
FOR THE TART:
INGREDIENTS:
1 cup whole wheat flour (atta)
1/4 cup plain flour
3/4 th cup peeled, cooked and Mashed potato
salt to taste
6 tbsp of Chilled butter
1/4 cup cold water ( use when needed)
Cheese for the topping of the tart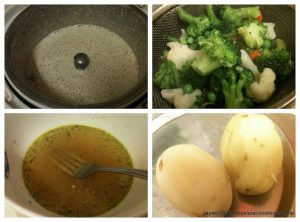 FILLING FOR THE TART
INGREDIENTS:
1 Green bell pepper
1 yellow pepper
100 gms of Broccoli florets
100 gms of Cauliflower florets
1 cup chopped spinach
1/2 cup peas
1 Onion
1 Carrot
1 tsp salt
100 ml single cream
1 tbsp Flax seed meal
1 cup of vegetable stock ( I used 1 ready made cube, gently warm water and add the stock cube).
50 ml single cream
1 tbsp Corn starch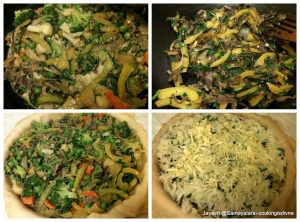 METHOD AND SAUCE FOR THE TART
You can use an Egg in the sauce recipe but I have baked an eggless version...
First of all sift both the flours, with salt.
Cut all your veggies, cook broccoli, cauliflower, peas and carrot set them aside, don't cook too much.
Beauty of the veggies might become too soft and become a mess
Mash the cooked potato blend it with butter, once those two are ready, start adding the flour, to make it into a dough consistency. Rub the flour with your finger tips, just add 1 or 2 tbsp of cold water make it into a nice dough, knead it well so it forms into a ball.
wrap this dough in a plastic wrap and chill that in the refrigerator for at least 30 minutes
Meanwhile soak in a 3 tbsp of hot water flax seed meal.( around 10 minutes)
preheat the oven to 200 degree centigrade/Gas mark 6)
In a large wok, add 2 to 3 tbsp of Ginger-Garlic paste, once sauted add chopped onions, and pepper finely sliced and saute them too..,
Now add pre-boiled broccoli, cauliflower, carrot etc.., into the wok then add the vegetable stock and allow it to boil with Pepper powder.
Now blend these flax seed meal first and then add corn starch without any lumps and single cream blend well together again, keep the flame low, pour this into the cooking veggies, adjust salt and allow it boil for few minutes stirring continuously once it starts thickening keep it aside to cool.
Take out the dough roll out into a nice big round, then press this pasty ball into the tin, allowing any excess to hang over the side, you can roll a rolling pin over the tin and cut the excess slices for a good looking pasty case or like me just leave it aside.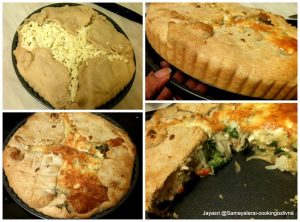 Prick the base with a fork, reduce the heat to moderate 180degree C, (Gas Mark 4) and all the fillings on to it then grate some Cheddar cheese top it over close all the hanging out extra bits of the pastry to cover it up and bake for 35 to 40 minutes until cheese melts and turn light golden in colour.
Serve warm and let the kids enjoy.
MY TIPS: To get a more crispier base you can trim of the extra dough, cover the pastry case with baking paper then add baking beads place the tin on a baking tray and bake for 15 to 20 minutes. Remove the paper and beads reduce the heat add the fillings and cheese bake further 25 to 30 minutes or until golden.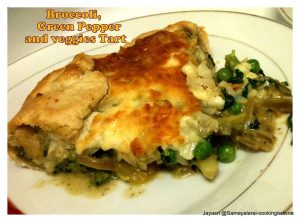 Check out the Blogging Marathon page for the other Blogging Marathoners doing BM#14