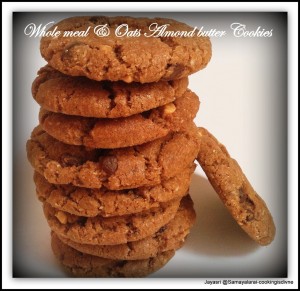 Hi everybody back again, this will be my second post of the day!, and today is SRC, every month checking out recipes from one of the bloggers and deciding what to do is a big question, feel like trying out everything, and this month I was paired with Wholesome RD :)), isn't it interesting, shall I say very interesting, I love cooking and baking without eggs and with wholesome goodness!, and here is a blog who seems to be having the same notion like me, So, So, I was in such dilemma which to choose, asked my kids and they wanted to try these cookies, as they are the ones who enjoy the most of what I do.., they wanted to try out this Almond Butter Cookie Dough Balls. As Erin Lerner says if you like cookie dough this recipe is for you!, I have 3 cookie dough monsters so here we ended up with this recipe.
Erin Lerner, is a wonderful blogger with healthy recipes, she is awesome with all those activities she participates and working and manages a very healthy life style, by cooking and baking with whole some goodness, she has got some vegan and vegetarian recipes too. I wanted to try her Meyer Lemon and poppy seed cake, I have Book marked it. as my daughter loves anything tangy, I have never used poppy seed in baking so I would love to give this a try. Thank you Erin and suzanne for this lovely blog.
Here is how the recipe goes...
The things I changed in this recipe is I have used whole wheat flour and not whole wheat pastry flour, as I didn't know where I could get it, and used oats instead of All purpose flour and I don't know where I could get almond butter so I have just used almonds powdered and I haven't found any peanut butter chips so I have used peanut butter. Hope you all like it as did we...
EGGLESS ALMOND BUTTER COOKIES DOUGH
Recipe adapted with minimal changes from Wholesome RD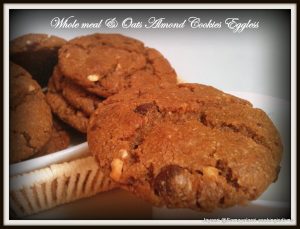 1/2 cup butter
3/4 th cup creamy almond butter
1/2 cup brown sugar
3/4 cup powdered sugar
1/2 tsp vanilla extract
1 tsp Baking powder
1/2 tsp baking soda
1 cup ( 150 gms) Whole wheat flour
1/2 cup (50 gms) Oats
1/2 cup peanut butter chips
1/2 cup chocolate chips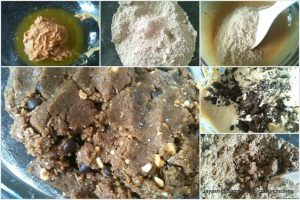 Preheat the oven to 350 deg/ Gas mark
Using a mixer beat all the butter, sugar, vanilla extract together until everything is well incorporated.
In an other bowl, combine all your flours, salt, Baking soda and powder.
To this dry Ingredients add the wet ingredients and combine them well together,
Then add your chips and combine once again , If you find that the dough is not coming together as a ball add a tbsp of water at a time.until they all combine together.
Chill this dough in the fridge for 30 minutes
Make small balls out of it, and place them on a cookie sheet giving space for them to expand then bake them in the preheated oven for 15 to 20 minutes,
Do not over bake them they might look soft but they are going to be fine.
Leave them on the sheet for few minutes then take it out and leave them on the wire rack.
Enjoy them..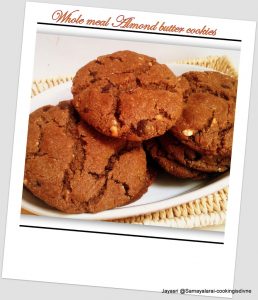 Did I tell you, you need to check her blog for all the nutritional facts on every recipe she makes.
Check out all the other bloggers who joined me in this SRC marathon with me....