I know, you must be thinking, that I am baking a lot, I do keep thinking I need to stop baking for a while.., but well, I really can't so I have switched to more healthy baking, I am posting this a little late as there were no photos it was in my laptop, I was out yesterday to my sis's house to my nephew's little party and just came home and i had to do this now!, My apologies to Anu.., and whoever visited my blog...
You must have noticed that I use lot of
Rye Flour
in my baking, I have a few more baked goods in my draft using rye flour, I will post them soon.., I love this flour it is gluten free so it is said, check out this website for more information.
This was a gorgeous recipe adapted from
Bakeat 350
, This was such a recipe, wherein I was not given a chance to reduce it to 6 Muffins as I always do with every Monday Muffins.., Do you know why because my sous chef was my youngest daughter, who loves all my bakes, my critic, my sous chef only whenever there is chocolate in it!, who has the sweetest tooth!, and actually baked these Muffins herself, I had to just instruct and changed the recipe to my kind of baking means which she was not too happy about - because I made it eggless even that was ok for her but changing the flours in the bake was a bit upsetting.., but the result was - you will be shocked as I was, and I had to restrict them from eating it as I had to take photos and I wanted to take it to my Sister's place..., when they came out of the oven they couldn't stop eating them she said it was the best one! and said I needed to add more chocolate in it :))
And And.., My little Niece Ayra walking down the Birmingham temple told me, I love these muffins Jayasri Aunty they are very nice.., after going home she told that I was the best cooker ever :)).., hahaha Yay!! that's cool right ?
I was the happiest one as I fed them a healthy bake, with lots of goodness in it....
This month Baker street sent this recipe for our Muffin Monday...,
EGGLESS WHOLE WHEAT TRIPLE CHOCOLATE MUFFINS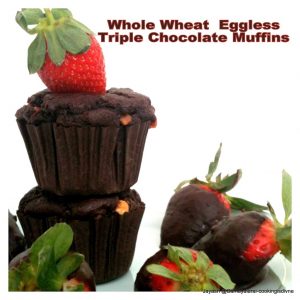 INGREDIENTS:
Adapted minimally from Bakeat350
Makes 12 Muffins
1 Cup Whole wheat flour ( Pillsbury Atta)
1/2 Cup Rye flour
1/4 cup Barley flour
2/3 cup Dutch Process Cocoa
1 and 1/4 Cup soft brown sugar
1 tsp Instant Espresso powder
1 tsp Baking powder
1 tsp Baking soda
3/4 tsp salt
1/4 cup Milk Chocolate chips
1/4 cup Fudge (my daughter's addition to this)!!
1/2 cup dark Chocolate pieces (70% cocoa slab)
1 tsp Pure vanilla extract
1 Cup milk
2 tsp white Vinegar (used Rice vinegar)
1/2 Silken Tofu ( substitute for 2 Eggs)
1/4 + 2tbsp of Oil (sunflower oil)
METHOD:
Keep all the ingredients ready
Line Muffin tin with 12 paper cups. Preheat the oven to Gas Mark 4/ 180 degrees just 10 minutes before
Take all the flours with BS, BP, Salt, Cocoa and the coffee powder until well blended ( sieve at least 3 times) and keep aside
In a mixie/ blender take Tofu and milk blend well and keep aside
Take a large bowl with all the dry sieved ingredients said above and make a whole in the centre.
Take a large bowl to this pour oil, sugar, blended Tofu and milk, vanilla extract and vinegar andcombine well to this add the chocolate chips.
Pour this wet ingredients to the dry ingredients in a circular motion, and mixing it up from beneath so all of them is well incorporated properly do not mix too much.
Pour this batter into the lined muffin tins and bake them for 20 to 25 minutes.
Insert a skewer or tester, if they come out clean that means your muffins are ready to go 🙂
I had some strawberries I dipped them in chocolate dip and presented my muffins..,
MY VERDICT:
The muffins were not too moist as I had reduced the fat content in it, the muffins were quite chocolately, they were not too sweet as I had used golden brown sugar, they were very soft.., If you want it more moist you can use an other extra 1/4 cup oil, Actually I wanted to substitute the Eggs with Apple sauce, as I had run out of it I had to use Tofu try it out with Apple sauce and tell me how it turned out then no need to add vinegar as the sauce has already vinegar in it.

Variations: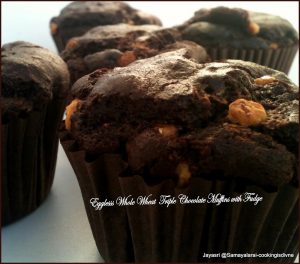 If you are a vegan you can substitute with soya milk, carob powder, vegan chocolates and Lo! you have a wonderful Triple chocolate muffin
If you want to make Gluten free, try with half the quantity of this recipe using Rice flour, Chickpea flour, Rye flour,
Few more things you can find out about vegan chocolates for Indian Chocolate Lovers 🙂
check out these websites...
http://vegan-india.blogspot.com/2011/05/namdharis-fresh-vegan-friendly-store.html
http://yellowpages.sulekha.com/bangalore/retail-shopping/department-stores/koramangala/nilgiri-s.htm
http://www.jantareview.com/Bangalore/Frazer-Town/biz_140138/Thoms-Bakery-&-Stores
Check out the first website she will tell you lot more about vegan food store out lets..
Hope you all like these Muffins do try out and tell me....
Muffin Monday is an initiative by Baker street. Her culinary journey of sharing a wickedly delicious muffins every week on a monday!, do drop her a quick line to join her on her journey to beat the glum monday morning blues week after week...
These square bakes go to
Monthly Mingle #2 ''Almond and Ginger '' of Kalyani's
Valentine fest - ''served with love'' by Kalyani
Healthy eating event - HITS by Sangee
priya's easy n tasty recipes kid's delight
Chocolate Mela by srivalli
Vardhini's sweet luv - anything sweet
Radhika's let's cook # 12 - sweet somethings
Sumee's Bon Vivant moments
Anzz's Valentine's Day special
love lock with sweets by vidya
Pari of Foodelicious - ''Only Oats'' event