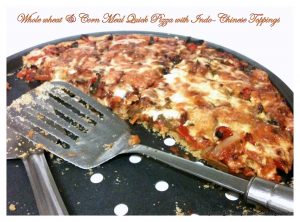 I really did not know what to call this so I wrote the things I have used in this recipe, this was a great hit at home, my kids and Hubby just loved it. They were saying it was really so tasty.., If you have eaten in India chinese food you will love this.., May be if you don't like the flours I have used you can go for plain flour. As I love to bake with whole grains, flours all the time…, this was quite a twist, I was a bit worried that how my kids would take this, but to my astonishment they just loved it and said they could go for second helping, well, but as I had made only one as an after school snack !!. I made these a week back, look out for my other recipes with Whole wheat and corn meal, Hope you would like it.., Mixing up of these two flours and trying out new recipes was purely because of Magic Mingle #3, when Kalyani announced I took this as a project !!, I made a few things and still am going to try a few more as I am so hooked with it.. Thanks to kalyani, hope you like and enjoy it too.., as my family did.
Everyday entering the door the first question they ask me is, what have you done mom ?, we are hungry.., and if I say I have Dosa, Idli they make a face, they don't like to eat the same thing consecutively for 2 days!, they like to eat something new everyday !, I do tell them that my kitchen is not a restaurant and I am not a chef.., they are not too bad though.., they adjust and when I not feeling good and they don't mind eating corn flakes .., But it is me…. as my family say, I go to lengths to do something everyday because I love cooking !!, well 3/4th of it is true and my children enjoy whatever I do.
Anyway coming to this recipe.., it all started that my kids wanted me to make pizza, everyday I forgot, I was quite upset and then I was planning that day morning but again I forgot as it was already 2 O' Clock, kids will be back from school around quarter to 4, taking no chance with yeast and weather, then and their I decided I will make some pies or tarts so I started of with the project I weighed my flours and other Ingredients then simply changed it to make it as a quick pizza, The shape, toppings, cheese and given a name can make the dish delightful to kids right ? so here goes my recipe…
QUICK PIZZA WITH INDO-CHINESE FUSION TOPPINGS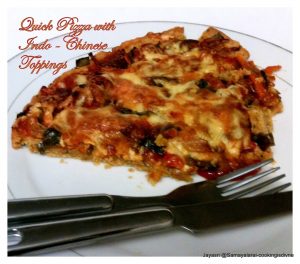 INGREDIENTS:
FOR THE BASE FOR QUICK PIZZA
100 gms Whole wheat flour
100 gms Corn Meal flour
100 gms plain flour
4 tbsp of flavoured Olive Oil
1 tsp of Italian dried Herbs
1 tsp Salt
1 1/2 tsp Baking powder
1/4 Cup yogurt (home made)
Water as required (I can't remember exact quantity may be 1/4 cup I think )
METHOD
Sieve all the flours with salt and Baking powder at least three times, so they all blend well together, then add oil and yogurt and rub it well until all the flour is coated then start adding water, as I can't remember how much add water as required to make it into a dough, Knead for 10 minutes until it is soft it might not be exactly like a pizza dough, that is not too elastic may be.., Cover it with a cling film or in a sealed box and leave it for an 1 and 1/2 to 2 hours.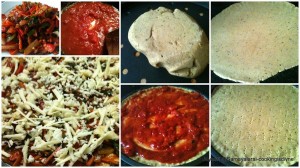 FOR THE TOPPING
300 to 400 gms Tomatoes
1 and 1/2 cup of assorted vegetables
(The veggies I used were French Beans, Carrot, capsicum (Green and Red peppers), Cabbage, Mushrooms)
1tbsp Soy sauce
1 tbsp Rice Vinegar
1 tsp of Pepper powder
2 to 3 Green chillies
1 tsp of Ginger paste
2 to 3 cloves of Garlic chopped
1 tbsp Tomato Ketchup
1 tbsp Tomato Puree
1 tsp hot chilli sauce (optional)
salt as required
2 tbsp of Chopped Coriander
1 bunch Spring Onions
METHOD:
Wash and chop all the vegetables into thin slices, Take a Big wok add 2 to 3 tbsp of oil, when it is very hot add finely chopped Garlic and ginger paste with finely chopped chillies saute for a minute then add the vegetables and quickly stir fry the veggies in high heat, this means the veggies will be more crunchier than becoming very soft, say around 10 minutes, twisting and tossing in a very quick motion, to this add salt, pepper powder and sauces for a few more minutes ( about 2 to 3 minutes), Finely add the chopped Spring Onions (Scallions) and coriander leaves toss twice and switch of the stove., Mix them well taste and adjust the seasonings. Allow it to cool until needed
TO MAKE SAUCE
300 gms Tomatoes ( I used tinned Tomatoes)
1 stove top roasted Red Bell pepper
150 gms of Tomato puree
salt to adjust
1/4 tsp of sugar
1 tsp Pepper powder
1 tbsp Olive oil
1 tsp each of fresh herbs (Thyme, Oregano, Basil )
2 cloves of garlic (finely minced)
METHOD:
Puree the tinned tomatoes and Bell pepper in a mixie (Indian) /or food processor, so there would be no chunks.
Take a pan heat tbsp of olive oil, add finely minced Garlic, then pureed Tomatoes and Tomato puree, let it start boiling, until most of the water is evaporated, when it is getting thick, add finely minced herbs, salt, Pepper powder and sugar, to taste and adjust to your liking. Boil for few more minutes so it becomes more sauce like and the water content is mostly evaporated. (Soggy sauce that is if the water content is more the base becomes too soft)., Now your sauce is ready keep aside.
ASSEMBLING AND BAKING PIZZA
Preheat the oven to Gas Mark 5 / 400 degree F, place your pizza stone, I sprinkle water and leave it in the oven for preheating process for around 10 to 15 minutes.
After 2 hours of resting the dough is ready now, Meanwhile prepare everything as said above the veggies and sauce and keep them ready and cool.
Knead the dough an other time and spread the dough on to the pizza plate nice and thin prick with a fork and bake the just the crust for 10 minutes, remove it from the oven then spread the sauce evenly on it all through then spread the ready Veggies on top of it, Next grate some Mozzarella cheese ( add as much as you want !), covering the top of the veggies and bake this in a preheated oven for 10 to 15 minutes, until the cheese bubbles and the edges of the crust start browning.., I think that would be perfect, Take it out on to the wiring rack allow it to cool cut into pieces and serve on individual plates, makes around 7 to 8 servings with Tomato Ketchup. Enjoy…..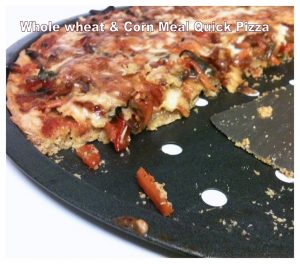 MY VERDICT :
Kids said it was fantastic, It was a blend of East and Western spices!, the baked dough was not holding too stiff, it was a bit crumbly, I had to be very careful, when I had to lift them on to the plate, but it turned out to be a very wanted recipe at home..
Stay tuned what else I did with Whole wheat and Corn meal flour with the same dough check out tomorrow…
I am sending this to