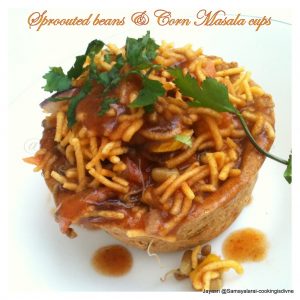 I did not know what to call this so I wrote everything I used in the recipe, I mean the main Ingredients.., I started of to do something and ended up doing something else.., I know why I am still posting whole wheat flour and corn meal, I am like going on these two flours spree, actually this recipe started with something and I ended with something else.., so when you go through and lot of things you might modify.., Please go through my shortcut method in my notes below if you want to try this recipe, as it might save some time and energy!
Please do check out my Notes

, before trying out this recipe.., but I will write what I did rather than changing the recipe...,
This is how I did this...
I have joined this week's BM#14 (Blogging Marathon 14) started by Srivalli, I will doing 7 weeks of Whole Grain foods..., so you will be seeing some of whole grain recipes here all through this week, hope you will enjoy.
WHOLE WHEAT AND CORN MEAL CUPS WITH SPROUTED CHAT
2 tbsp finely chopped coriander
Water as needed (sorry I did not measure I think i used around ¼ cup + 2tbsp)
Potatoes and Spices
2 Peeled and grated potatoes, 1/2 tsp of salt, 1 tsp chilli powder, coriander leaves.
First of all sieve all the flours with the dry ingredients at least thrice, which ensures the blend of all the ingredients properly with enough water to make it into a stiff dough. Let the dough be stiffer than the chapati dough.
Then wash and peel potatoes, grate them in a large holed grater when you are grating put these grated potatoes in a bowl of water this helps in potatoes not changing colour, Wash these grated potatoes at least twice this will remove some of the starch which helps in potatoes getting mushy (sticky). Drain the water completely and leave them for few minutes, to this add all the other ingredients listed under Potatoes and spices.
Now both the things are ready to be mixed together, that is mix this potatoes into the ready stiff dough. this makes the dough very soft, keep kneading for few minutes, keep rice flour next to you, dip your hands in it once take it out, this helps in gathering the dough well enough for kneading and helps the dough not sticking to your hand.
Take 2 to 3 tbsp of rice flour, coat the dough with it and leave it until needed say around an hour or so.
After an hour knead it all well together again, Take a 12 cup muffin tin. Grease the tins with little oil; pinch a small ball out of the dough (may be 15 to 20 gms) Press this dough into the Muffin tins like cups, Prick the dough completely so that the dough when baked will not rise up.
Put some baked beans in each of the cup and bake these cups in Gas Mark 4 for 20 minutes.
Take it out, after 5 minutes; remove all the baked beans from it, press down the baked dough once again, spray little oil on top of each one of the cups and bake again for another 5 minutes, you can see they are well done now.
Remove the cups after they are done and keep aside.
1 Cup Sprouted beans (I have used moth beans)
1 Cup sweet corn (I have used frozen)
1 tsp Chat masala (optional)
½ tsp Kitchen king masala (optional)
1 tsp Ginger-Garlic paste
In Micro wave or in a pan/vessel or in a cooker cook Sprouted beans and sweet corn with a ¼ tsp of salt.
How I cook in a cooker (I have a little one) is I poured just 1 cup of water with both these sprouts and corn in it with salt closed the lid with weight on it, then I keep it in a low flame for around 10-12 minutes, then I switch off, this helps in the veggies not becoming mushy.
If it is not completely cooked when I put it in the pan it gets completely done by absorbing all the Masalas added to it.
Once the veggies are ready take pan heat oil, add Ginger-Garlic & Green chillies paste, sauté for a minute, then add sprouted beans, sweet corn and all the masala powders to it, sauté for a few mintues so all the ingredients are well combined, Keep the stove in a low flame, close a lid for another 5 minutes always steam cooking this way ensures everything gets cooked perfectly with the veggies absorbing all the Masalas in it. Always taste and adjust the seasonings as you like it as everybody's tastes differ. Remove the lid and keep the curry dry. Once the curry is ready keep it aside.
EXTRA THINGS FOR THE FILLING
1 to 2 Red onions (or Indian onions also called Bombay onions here)
2 to 3 tbsp of Coriander leaves
½ tsp Chilli powder (use it as you need)
Remove the seeds from the Dates, Boil ½ cup of water and soak these dates and Tamarind in it for 10 minutes. Then grind these dates and Tamarind into a smooth paste. Take a bowl take remaining water mix this smooth paste into it with Jaggery, Filter this liquid into a vessel, Keep this vessel on a stove on a medium flame, boil it for few minutes till the raw smell disappears, then add all the Masala powders to it, taste and adjust the seasonings to your liking.., it will start thickening, so be careful keep stirring continuously so it becomes too thick and get stuck to the bottom of it. Add extra water if needed to decrease or increase the gravy consistency.
ASSEMBLING THE MASALA CHAT CUP
Take a large bowl add chopped onions, grated carrots, chopped coriander leaves, and the sprouted & Corn Chat Masala curry into this, Mix them all together until well combined, Taste and adjust salt and Chat masala if necessary.
In each plate arrange cups (I arranged 3 cups in each plate), fill up the above said sprouted corn chat masala into them and garnish them with Sev and serve each plate with Date chutney.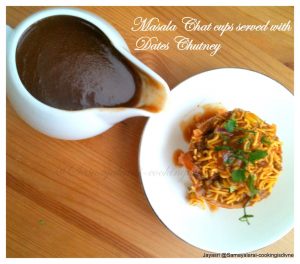 MY NOTES :
As I had no idea when I started what I was doing and started adding ingredients, I made a long process for my masala cups, what I would suggest to you is sieve all the flours ready add the right amount of seasonings, then grate the potatoes (just make sure to do all the things I have suggested for the potatoes,), add these also to the flours, mix them all well together, leave it for few minutes, so potatoes are giving out water, you would know how much water you need to add to make it into a nice pliable dough, knead it for few minutes and keep it aside for an hour, then carry on with the rest of the process as said above.
VERDICT: My kids and hubby just loved it, they said it was different and very tasty.., only Son said I could have made it more spicier..
Check out My friends who are running this Blogging Marathon with me.
Blogging Marathon page for the other Blogging Marathoners doing BM#1
This BM#14 with whole grains is run with me by Harini and Sangeetha , check out their blogs too...
I am also sending this to Magic Mingle of Kalyani's which is Whole grains and corn this month...