When I was going through Harini's blog she had posted an article about Sukham Ayuh and she was saying about the whole green gram dosas, I had commented to her that I always cooked whole moong dal dosas, but I had posted them still, This time when I made them I remembered to take some pictures and decided to post in the blog.
In that Harini talks about the goodness of the whole green gram dosas and how good it is!, I usually made it when some body was really not feeling well, I had heard from mom that these dosas are easily digestible and as we all know green gram brings down the heat from your body.
In my In-laws house my MIL used to cook paitham paruppu (green gram/moong dal) most of the time, I started using different vegetables in them, she also used them in the dry curries with vegetables like beans, carrot, cabbage, beetroot etc.,
well let me come back to the recipe…
WHOLE GREEN GRAM DOSA OR PESARATTU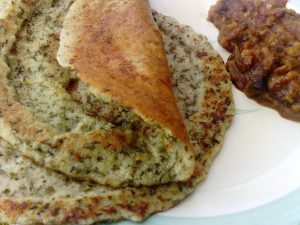 1 cup Raw rice
1 cup whole green gram
salt as required
Soak rice and green gram dal for 5 to 6 hours and grind it, It usually doesn't grind itself into a very smooth consistency like the ordinary dosas.
These dosas need no fermentation and you can make dosas immediately
You can spread these dosas nice & big pour oil flip over and cook on both the sides and serve it chutney/podi or anything you wish like.
You can grind the above ingredients by adding onions, a piece of ginger, green chillies, a tsp of cumin seeds, and 6 to 7 sprigs of coriander leaves and make dosas out of it.
Or you can chop onions, ginger, green chillies, coriander leaves & curry leaves finely and spread it over the dosa just as we do in onion dosas.
Sometimes when I am do not have stock of whole green grams I use husked green gram instead and the taste is just the same, that time i use

2 cups of husked green gram

instead.