How do you feel when you just sat their with a cup of tea, and your kids do the cooking!!, yup, that's right this saturday night, My kids (my girls) said I have to be out of the kitchen and they would take over, and this was what they cooked for 7 people. isn't that fantastic, here are the recipes which they cooked by the book!!
For a starter they made water cress soup, Main course - Vegetarian Paella, for the side spiced Roast potatoes, and a dessert (don't know what to call - you can choose one for me!!), and Garlic bread (bought from the store). They used 2 books
1. Vegetarian Cook book by parragon books
2.Vegetarian book by Rebo productions.
WATER CRESS SOUP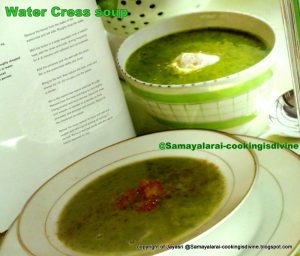 200gms of watercress, thoroughly washed
40 gms butter
2 medium sized Red Onions
225gms potatoes, peeled and roughly chopped
2 1/2 pints vegetable stock /water
1/4 tsp of Nut meg
125 ml ov creme fraiche to garnish
salt and pepper to taste
Remove the leaves from the stalks of the watercress and set aside, roughly chop the stalks.
Melt the butter and in a large sauce pan over a medium heat, add the chopped onion and cook, stirring frequently, for 4-5 minutes until softened but not browned.
Add the potatoes and mix well with the onion. stir in the water cress stalks and stock.
Bring it to boil, then reduce the heat, cover and simmmer for 15-20 minutes until the potato is tender.
Stir in the water cress leaves and heat through, Remove form the heat and leave to cool slightly, using a hand blender, blend the soup until smooth, and return it to rinsed-out saucepan.
Reheat the soup, season t taste with salt and pepper and add a good grating of nutmeg if desired.
serve in bowls with creme fraiche spooned on top.
They made croutons by cutting the bread into cubed pieces and fried them in oil and placed them on the kitchen towel.
To be continued.............,
As always she took the clicks.......... !!