This is first cake I baked and it really came out well, Coming to England and starting my baking with this cake seems very apt right ? One of the most easiest of the cakes and one of the basic one for many different kinds of cakes I suppose, Basically this cake was named after Queen Victoria, as she loved this cake with her afternoon tea, This cake is soft and is sandwiched with raspberry Jam and fresh cream.
Of course most of you must have baked this, I am going to write this recipe again....
VICTORIA SPONGE SANDWICH CAKE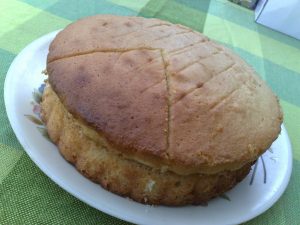 150

gms

/ 6 oz - Softened butter/Soft Margarine
150

gms

/6 oz - Caster sugar
150

gms

/ 6oz - Self Raising flour
3 Eggs
2 tbsp Jam
Prepare two sandwich tins, grease and line them
Set oven to 180 degrees C/ Gas Mark 4/ 350 degree F
Cream butter and sugar together until very pale in colour, light in texture and fluffy
Beat in whole eggs, one at a time, adding a tbsp of flour with each
Gently fold in remaining flour with metal spoon
Transfer to prepared tins and smooth tops with knife
Bake in centre of moderate oven for 30 to 40 minutes (or until well risen, golden brown and firm)
Insert a skewer or knife to check, if it comes out clean then your cake is cooked
Take it out, leave in the tin for 2 to 3 minutes, Turn out on to a cooling rack, leave it to cool
Spread Jam on one of the cakes and sandwich together.
Now your cake is ready to serve
PS: You can substitute with fresh double cream whipped with sugar until thick and fluffy , spread it on the cake and sandwich them.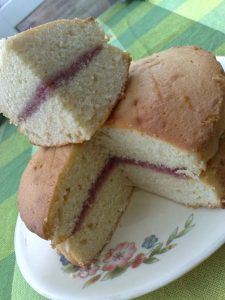 After baking this cake I really got very confident in baking cakes and soon enough i will be posting some more cakes soon.....
Now I really am enjoying baking but, cakes are so tempting and I have to watch myself not to gorge on them, I always had a soft corner for cakes.., cakes have always been my favourite, That too..... the pastries that is what they are called in
Nilgiris
in Bangalore are my favourite...., I love pineapple and honey cakes which they sell in the Bakeries in Bangalore.
O' let me stop at this....see you soon with more baking.....