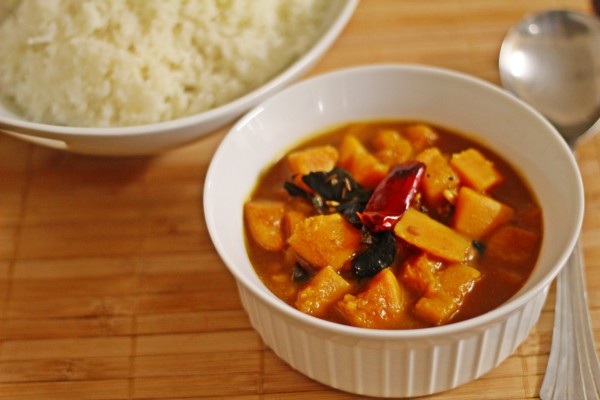 This is a kind of Sambhar, which I learnt from my Mom-in-law, and the most easiest and very tasty dish with a tsp of oil, it just tastes like puliyogari, Once my sisters's daughter had come to stay with me, I had prepared this dish with OKRA, she just loved it so much, my sister always tells me her daughter pesters her to prepare what amma jechi (that's what she calls me) had made on that day which tasted just like puliyogarai, she was too small then as she did not remember the name of this dish. Anyways, here is the recipe a quick sambhar with out hassels.
MENTHI KOLUMBU (FENUGREEK/METHI SAMBHAR) WITH BUTTERNUT SQUASH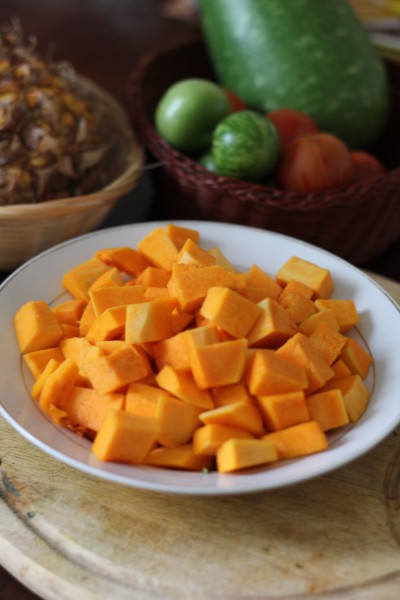 INGREDIENTS:
1/4 Kg Butternut squash
1 tbsp methi seeds (Venthyam / Fenugreek)
1 tsp channa dal
1 tsp urad dal
1 tsp tuvar dal
2-3 red chillies (optional)
1 sprig curry leaves
Lime Size Tamarind
Marble size jaggery (optional)
a pinch of asafoetida
3-4 tbsp oil
2-3 tsp of Rasam Powder
3 to 4 cups of water
1 or 2 tbsp of Rice flour
VARIATION: 
 Instead of Rasam powder you can substitute it with Red chilli powder  and a tsp of Coriander powder. Tamilians use Gingely oil instead of other oils in their cooking which gives a special flavour to the dish. In India people usually use different kinds of oils.  Most of them I think have adapted to  from which state they have come from.  People from Tamil Nadu use Gingely oil in their cooking.
I do not exactly know why they use it is it because of a very warm temperature or Humid conditions do not know exactly why? If anybody know about this do enlighten me about it.
METHOD:
Soak tamarind in warm water ( 1 cup), squeeze and take out the clean extract and keep aside.
Take a wok, add oil, when it gets heated up add methi seeds  add all the dals and  chillies and saute until a nice aroma comes out of it and  they would have changed colour too.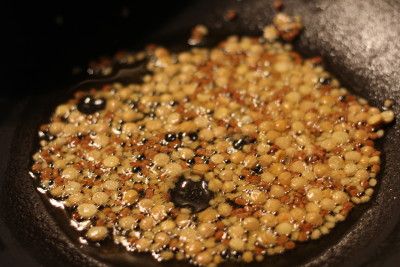 Then add the diced squash and saute it for few minutes with the curry leaves, Keep the stove in a low flame, add a tsp of salt and close the lid the vegetable will cook fast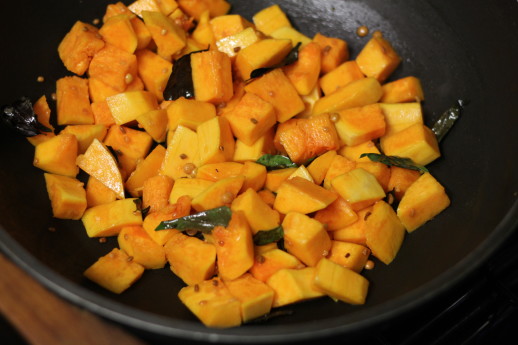 Once the vegetables are evenly cooked add the tamarind juice, add some more water and allow it boil for some minutes, until the raw smell ceases.
Add 2 to 3 tsp of Rasam Powder allow it to boil for few more minutes, If it is becoming very thick add more water, add jaggery and allow it boil, for 2 to 3 minutes.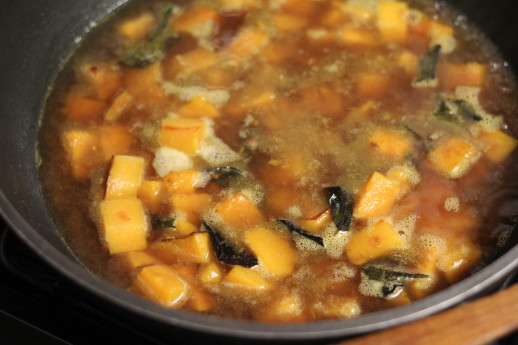 If u find the sambhar is very watery, Take a tbsp of rice powder dilute it in water and pour it into the sambhar, within minutes the sambhar gets thickens.
Serve it with hot rice & a tsp of oil
NOTE: you can increase or decrease the quantity of Rasam powder as you like it because you might be using a different kind of Rasam powder, Always change the quantity of the powders to your liking of taste for spiciness. I have mentioned optional to chillies and jaggery because some of us do not like the taste of sweetness in their food.  If you  like to have it very spicy they can omit this, If you wish to add Rasam powder more in replacement of chillies then that is also fine.
Add water boil for few minutes dissolve rice flour in little water and add it to the Kuzhambu this will thicken the gravy.
NOTE: When using fenugreek in any recipe do not over fry since it becomes bitter, add at the very end or fry in a low flame so by the time all the other spices this will change  into golden brown in colour.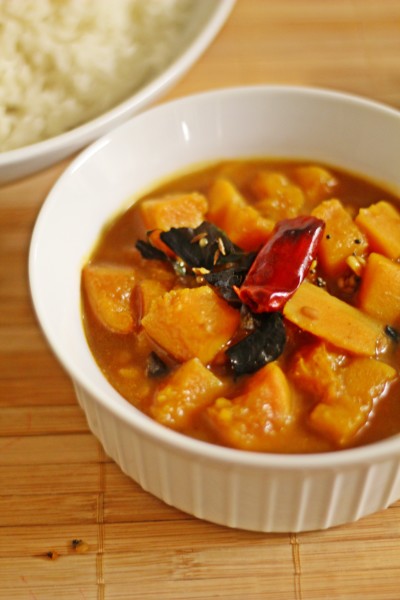 VARIATIONS:
You can cook this recipe with all these vegetables:
Okra
Violet Brinjals
Yellow or Sweet Pumpkin
Squashes
Tomato and onion
colocaesia
Vatrals  of all kinds
Vatrals are Vegetables and seeds which are sun dried and preserved. These kind of Vatrals are vastly available in Tamil Nadu, well, now a days you get it in all Indian stores too. Vatrals like Ladies finger, Manathakkali, Cluster beans, Sundaikai, Bitter Gourd, Karamani
Venthya Kuzhambu (Fenugreek sambhar)
A Sambhar from Tamil Nadu which is not just tasty but is a combo of sweet and tangy as well
Ingredients
1/4

Kg

Butternut squash

1

tbsp

methi seeds

Venthyam / Fenugreek

1

tsp

channa dal

1

tsp

urad dal

1

tsp

tuvar dal

2-3

red chillies

optional

1

sprig curry leaves

Lime Size Tamarind

Marble size jaggery

optional

a pinch of asafoetida

3-4

tbsp

oil

2-3

tsp

of Rasam Powder

3 to 4

cups

of water

1

or 2 tbsp of Rice flour
Instructions
soak tamarind in warm water ( 1 cup), squeeze and take out the clean extract and keep aside.

Take a wok, add oil, when it gets heated up add methi seeds add all the dals and chillies and saute until a nice aroma comes out of it and they would have changed colour too.

Then add the diced squash and saute it for few minutes with the curry leaves, Keep the stove in a low flame, add a tsp of salt and close the lid the vegetable will cook fast.

Once the vegetables are evenly cooked add the tamarind juice, add some more water and allow it boil for some minutes, until the raw smell seizes.

Add 2 to 3 tsp of Rasam Powder allow it to boil for few more minutes, If it is becoming very thick add more water, add jaggery and allow it boil, for 2 to 3 minutes.

If u find the sambhar is very watery, Take a tbsp of rice powder dilute it in water and pour it into the sambhar, within minutes the sambhar gets thickens.

Serve it with hot rice & a tsp of oil
Notes
you can increase or decrease the quantity of Rasam powder as you like it because you might be using a different kind of Rasam powder, Always change the quantity of the powders to your liking of taste for spiciness. I have mentioned optional to chillies and jaggery because some of us do not like the taste of sweetness in their food. If you like to have it very spicy they can omit this, If you wish to add Rasam powder more in replacement of chillies then that is also fine.
Add water boil for few minutes dissolve rice flour in little water and add it to the Kuzhambu this will thicken the gravy.
NOTE: When using fenugreek in any recipe do not over fry since it becomes bitter, add at the very end or fry in a low flame so by the time all the other spices this will change into golden brown in colour. VARIATIONS:
You can cook this recipe with all these vegetables: Okra
Violet Brinjals
Yellow or Sweet Pumpkin
Squashes
Tomato and onion
colocaesia
Vatrals of all kinds
Vatrals are Vegetables and seeds which are sun dried and preserved. These kind of Vatrals are vastly available in Tamil Nadu, well, now a days you get it in all Indian stores too. Vatrals like Ladies finger, Manathakkali, Cluster beans, Sundaikai, Bitter Gourd, Karamani