We had a lovely dinner day before yesterday, but only today I had the time to post it, We all really loved it so I had to definitely wanted to share it. This Lunch menu I planned was because of an event in the blogosphere, Regional Cuisines of India is a very Interesting event this month it was Chettinadu Cuisine, I have come to know that Chettinadu is a wonderful cuisine and is a very popular too, They also have both vegetarian and Non-vegetarian dishes, Chettinadu I called up my sister to get me some recipe, her sis-in-law lived in coimbatore for quite some time, she keeps a book like me, writing out all the recipes if we find it interesting and asking mum,chittis,perimmas, mannis and even cooks etc., She looked into her recipe and gave me these two recipes but she doesn't know where she got it from!!!.
Here are the recipes:
VENDAIKAI MANDI: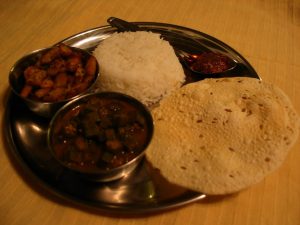 Ingredients:
1/4 Kg Ladies Finger (Okra/vendakai/Bendekaayi)
1 cup Small onions (peeled)
2 Green Chillies
2 Red chillies
1 tbsp Red chilli powder
5-6 pods o Garlic
2- Tomatoes
Tamarind- small lemon sized
1/2 cup of Thick coconut extract
2 tbsp oil of frying
salt as required
Seasoning:
1/2 tsp Mustard seeds
1 tsp Black gram dhal/Urad dhal
1/4 tsp Fenugreek seeds
1 sprig of curry leaves
METHOD:
Soak Tamarind in warm water, Then wash and drain out water from okra, and taking a cloth wipe them clean, Then peel and slice onions &Garlic into small pieces.
Cut Okra into 2 inch pieces and chop the tomatoes and keep aside.
Take a wok, pour a tbsp of oil add the seasonings, then add the broken Red Chillies and Slit Green Chillies, fry then add sliced onions till transparent and stir in the tomatoes until they becomes soft.
Then add Ladies Finger pieces and fry for few minutes
Add Tamarind extract water and cook okra until it becomes soft and some more water to increase the quantity of the Sambhar.
Add salt and a tbsp of Rice flour and cook till the gravy becomes thick,
Mix coconut extract just before removing from fire & garnish with coriander leaves.
Serve this with hot Rice &I think it might go well with chapati too.
BANANA VARUVAL (DRY CURRY)

Ingredients:
2 Raw Bananas
1/2 tsp Turmeric Powder
1 & 1/2 tsp Chilli Powder
1/4 tsp Aniseed (saunf)
4 pods of Garlic
3 to 4 tbsp of 1 sprig of curry leaves
Salt as required
METHOD:
Peel the outer skin of Bananas and cut them into four lengthwise and again cut them into thin slices
Mix salt, chilli powder & turmeric powder and marinate these with the banana slices and leave it for an hour or so.
Heat oil in a wok or a pan, once the oil is hot add nicely crushed Aniseed &crushed garlic pods and then add the marinated Banana Slices
Fry in a medium flame until the banana gets cooked and turn into a golden brown in colour, adding more oil gives a good crunch in them!!
It was a great dinner and we all loved it with oven baked jeera papads and Vegetable pickles, Thanks to srimathi for hosting this cuisine, I had never used Aniseed like this and it was really very nice. My family loved it very much.
This Recipe I am sending to RCI: Chettinadu Vegetarian Cuisine, event announced by Srimathi of Fewminutewonders.