Hi everybody, it's been a long time I said hello to you all, we are already in December, I have missed you all from almost 2 to 3 months , hoping to be more active in this part of the world, I know I have become dormant but not with cooking or baking they are still doing well, it's just that I haven't shared anything with you  at all, I love to thank you my new followers on face book and Google+, I have to say this you are all my inspiration to come back soon and start to share my creations...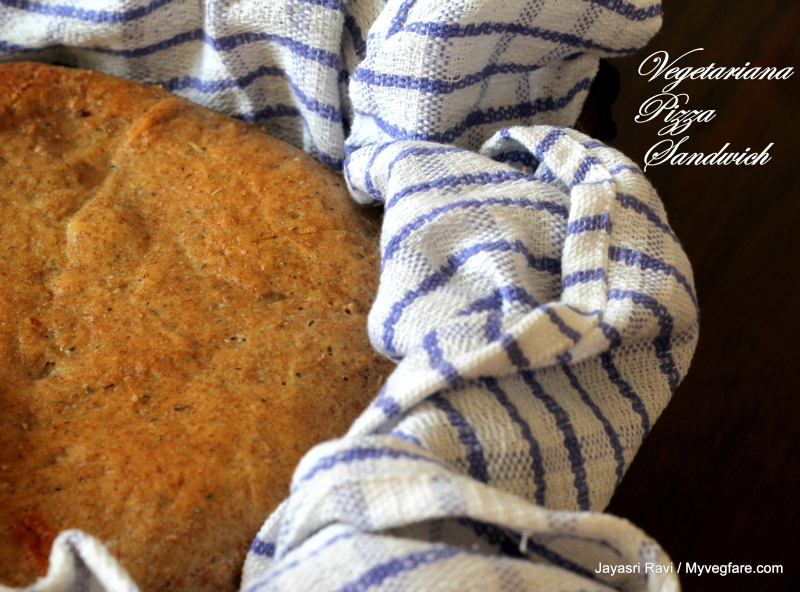 Well you must be wondering why I am here today, Last year I had a wonderful time with my few blogger friends who was headed by Champa the lady who blogs at the Versatile Kitchen, like every year she does Bake-a-thon, that is baking the whole month of December, and I have enjoyed participating so here is an other year of Bake-a-thon enjoy the bakes you will see three times a week..
Here I go with my first Bake-a-thon..., these are as always for my Monday morning for their Lunch boxes, easy peasy pack them in kitchen foil and they love it.
I got this idea from Gino D' Acampo's, so I have been making different types of these, Long back I had made a Maffuletta bread which my kids loved, I had this in mind and Gino's pizza recipe turned it into these kind of Sandwiches.
VEGETARIANA PIZZA SANDWICH
Recipe : inspired by Gino D' Acampo
Serves: 4 to 6
This makes 2 Pizza bases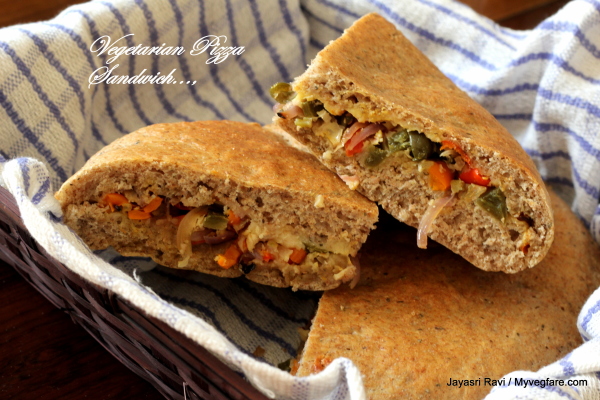 INGREDIENTS
200 grms of Strong Whole meal bread flour and extra for dusting
7 grms (2tsp) fast action dried yeast
1/2 tsp salt
3/4th Cup of warm water nearly
of warm water
2tbsp of Extra Virgin Olive Oil
1 tbsp Italian Herbs

FOR THE TOPPING
1 Green Capsicum/Pepper
1 Red Capsicum/ Pepper
1 Large Onion
1/4 cup chopped Kalamata Black Olives
6 to 7 Jalapenos (I used one in Jars)
1 tbsp of Extra Virgin Olive Oil
100 grm Passata
Salt and Pepper to taste
1/4tsp Red Chillies
Mozzarella cheese as much as you need 🙂

METHOD
Prepare the dough first, In a large bowl take warm water add yeast then add salt, Oil, Italian Herbs and flour toss them all together then pour water first 1/2 a cup mix well then start adding water until you make a dough then turn the dough onto a well floured surface and start kneading with your hand until it is smooth and elastic.
Next make your filling, First of all pour 1 tbsp of oil and heat it in a frying pan over a bit high flame, fry the Onions and  Capsicums for a few minutes switch off the stove add Jalapenos and Kalamata Olives chopped add salt , Pepper powder & chillies mix well and keep it aside to cool
Place this dough in an oiled bowl then brush the top also with oil and leave it in a warm place with a covered clingfilm for 30 to 40 minutes depending on the temperature.
Preheat the oven to Gas mark 5**/ 180 degrees
As I baked this in a 12" round cake tin I lined the cake tin with Parchment paper
Once the dough is rested and would have swollen up, take it on to the floured surface and divide it into 2 parts.
With the help of your hands push each one out from the centre and make 2 round disc, place one of the disc into the prepared tin to this apply Passata then spread the filling evenly then spread the grated cheese on it, now slowly place the other disc on top of it, and tuck them completely into the other one nicely then brush the top with milk. Bake it in the preheated oven for 20 to 25 minutes until a skewer inserted comes out clean or the bread is browned nicely on top.
Take it out on to cooling rack for few minutes, take it on to a board cut them into how many wedges you want and serve them or like me I packed them in their lunch boxes.
NOTES:  I could have used capsicum & onions just like that with other ingredients, but sauteed them as capsicum tends to give out water and the bread becomes gooey and soft, which my kids don't like so fried them both used them in the filling.
Hope you make it love it and enjoy it...
take care
c you soon....