Continuing from my last post, This was our Main course!! Vegetarian Paella, The colour might not be same as the book because they used fresh tomatoes, canned tomatoes give a rich colour to the tomatoes, I think they add some colouring agent in them. The rice had a different spiciness and taste because of the Italian herbs in it!!
Totally it was quite tasty and I was proud of my kids!!, I just thought if I fall sick my kids can manage to cook something for me and for themselves.
VEGETARIAN PAELLA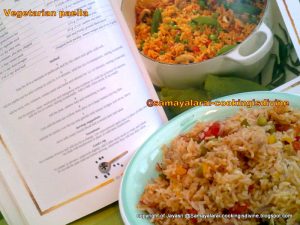 4 tbsp olive oil
1 large onion chopped
2 cloves garlic, crushed
1 tsp Paprika (the book called for 1/2 tsp)
350 gms Long grain brown rice
1 1/2 pints Vegetable stock ( store bought cubes)
6 oz dry white wine ( skipped)
400 gms can tomatoes, plus juice, chopped (used fresh chopped tomatoes with juice)
1 tbsp tomato puree
1/2 tsp dried tarragon
1 tsp dried basil ( used 2 sticks of fresh basil leaves)
1 tsp dried Oregano
1 Red pepper seeded and roughly chopped (used yellow pepper instead)
1 Green pepper seeded roughly chopped
2 sticks celery finely chopped
225 gms Mushrooms sliced
55 gms Mangetout chopped
115 gms Frozen peas
55 gms cashew nut pieces
salt and freshly ground black pepper
chopped fresh parsley,
lemon wedges and olives to garnish ( we were out of these)
METHOD:
Heat oil in a saucepan or paella pan and fry the onion and garlic until soft
Add the paprika and washed rice and continue to cook for 4-5 minutes until the rice is transparent , stirring occasionally
Add the stock, wine, tomatoes, tomato puree and herbs and simmer for 10-15 minutes, stirring occasionally.
Add the peppers, celery, mushrooms, peas and Mangetout and continue to cook for a further 30 minutes, until the rice is ooked, stirring occasionally, add little extra stock, or water if necessary.
cook until everything is well cooked (we closed the lid of our pan to cook)
Sprinkle parsley and Basil leaves and fried cashews to garnish and serve Vegetarian paella with lemon wedges and olives.
The book says you can use Apple juice instead of white wine if preferred, and mixture of brown and wild rice for a change.
Kids mixed all the veggies and spices together close the lid and cooked it like pilauv/pilaf, we ate it with cucumbers and sliced red onions., the dish was full of colourful veggies, and quite an interesting taste.