Hi, 
This is different kind of uttapam, well, even though the recipe for uttapam is same, I did just a little bit of alteration as I had to make it ferment quicker because my son was not ready to wait, He is an ardent lover of dosas, any time is Dosa time, if you ask him what do you want to eat, he says Dosa.  Well, on Saturday morning I told him that he had to wait till the evening may be it would ferment by then because even the weather was not promising , as i was grinding for the batter just then, he was not at all happy.  I was quite upset as he started his tantrums, I was looking around the kitchen and putting things in their places I saw this packet of bread, when I opened it they had left the first and the last of the bread slices in it and had finished all the rest !!, Sometimes my husband eats it but most of the times I have to pester my children to eat it or I throw them !!.  That's it,  I just got an Idea, as the grinding was in process, I just soaked these two slices of bread in for a minute and put them in the grinding machine, and got my Dosa batter ready and within an hour my Dosa was ready to go on the tawa !!,  Then I decided to make it into a vegetable uttappam and here i am with the recipe…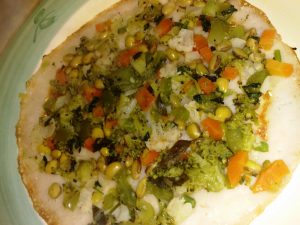 1 cup – Raw Rice
1 cup – Easy cook Rice or Kusabalakki
1 fist ful – Urad Dal 
1 tsp – Fenugreek seeds or Methi seeds
2 tbsp –  Tuvar Dal
salt to taste
oil to fry
For the topping :
 You can use what ever you want, just –
Onions + green chillies + coriander leaves + curry leaves + grated ginger
Any single vegetable + chillies + coriander leaves + curry leaves
Mixed vegetable + rest of the above ingredients
As Usual you have to soak all the Dosa batter ingredients for 6 to 7 hours and grind them to a smooth paste consistency, to this batter add required quantity of salt mix well and should be kept aside for at least 15 to 2o hrs, depending on the temperature, so that it ferments very well, If the batter ferments very well then the Dosa will come very soft and fluffy, these kind of Dosas are called Uttappams.  This is the regular way uttappams are done.
As I already mentioned earlier I wanted it to ferment soon so I could do the Dosas soon enough I added to slices of Bread, The Bread slices which have yeast in them did make the trick I think!!.
I have used carrots, peas, cauliflower, broccoli, Green capsicums, Lilva-papdi beans (Averekkai – guess what I did not know that these Lilva- papdi beans are, they are nothing but averakkai, I just bought them in Asian shop in a frozen packet,  They are absolutely good to taste, they even cook very fast as they are quite tender ).  I cooked all these vegetables directly on the stove & drained the water and used it in my Sambhar later on !!, I poured 1 full ladle of the batter on to the tawa, spread it slightly and spread the cooked vegetables pressed them down a bit and cooked them by closing the lid for 2 to 3 minutes, used some oil on the dosas once they got cooked I did not flip them but put it straight on to the plates and served them with onion chutney.
I always try not to use the same vegetables when I am making 2 or 3 dishes as I do not like the same taste in everything , I had not used onions, So, I made onion chutney with them…., everybody just loved it as it was also looking very colourful too…..
You can serve with wonderful coconut chutney or whatever combo you like ur uttappams with.
Have a great day and hope you do enjoy my recipe…