Vegetable Puffs reminds you of what, It reminds me of India and the Iyengar Bakeries in Karnataka, which is wide spread now everywhere, it has become more commercialized and lot of other people have started making them in different names, Bakeries were usually the Iyengars who had all the bakes and cakes going in their little shops, Even today they are still famous, I have come to know that the way the puff pastry done in these bakeries are way different than the ones which are done here, As I can never get them here I used to miss them a lot, they are not what I could eat everyday, it is a treat for once in a while, when I was shopping in a supermarket I noticed these puff pastry blocks, that was when I thought let me buy and see how it works, this was my first baking I did when I came to UK, then I was not even blogging, I used the filo pastry and puff pastry and baked vegetable puffs and spring rolls.
I used to store my pan and woks in my oven when I moved here, I did not think of using them when I saw these puff blocks I was interested in seeing how it works out, I don't really miss veggie puffs anymore now, I keep changing the fillings now. My family enjoy them.
As somebody was saying in her blog God knows who created them bless them!, we can make our own puffs! just like we get in the Bakeries in India!, The photos of are not very beautiful, I made quite Big puffs so that they will not ask me to do it again!, But, I was wrong my kids asked me for some more and I did have enough, I nicely divide it between them! (To tell you the truth I was really lazy to bake some more).
VEGETABLE PUFFS USING PUFF PASTRY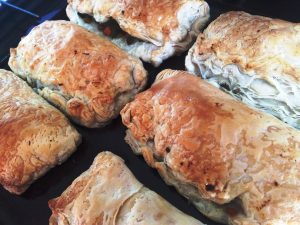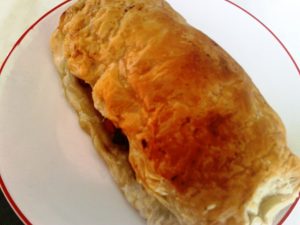 I used this JUS-ROL PUFF PASTRY BLOCKS to make these Gorgeous puffs.....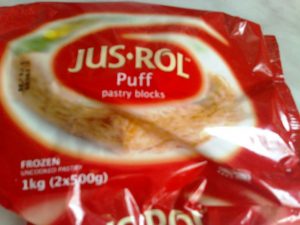 Jus-Rol puff pastry Blocks (as shown above)
2 carrots
5 to 6 beans
1/2 cup of green peas
1 small beetroot
1 onion
1 tbsp Ginger-Garlic paste
2 tbsp oil
1 tsp mustard seeds
2 green chillies
1 tsp red chilli powder
1 tsp coriander powder
1/2 tsp cumin powder
2 tbsp of chopped coriander and curry leaves
salt as required
The puff pastry blocks are quite big and have 2 of 500gm each, follow the instructions just as written in the cover of the blocks, you need to take them out from the freezer the night itself and keep it in the fridge.
Then you have to take it out from the fridge and keep it out side 2 to 3 hours before you are going to use them.
On a floured surface roll them out into square big block and cut them into any desired shape you want it.
Mean while when they are thawing you can prepare the subji or the vegetable dry curry for the filling and leave it cool, before using it for the filling
I used the above ingredients to make the vegetable dry curry, cooked all the vegetables then added the tempering and masalas and cooked them into a dry curry with coriander and curry leaves for garnishing and it really smelled good.
cut out the puff pastry blocks into small squares put in 2 to 3 tbsp of the filling by allowing the sides to be free for pasting them together with the help of little water and glaze it with milk.
Put it in the oven on Gas mark 6 for about 25 to 30 minutes or until you see the top of the puff turns golden brown in colour and says that it is done!
Take it on a platter and just savour the taste by indulging yourself in the nice and spicy beauty of it!. You will just love it!