Everyday, I think what shall I make when my kids come home from college, but from today I will have a rest for few days from these haunting thoughts.., They start their Christmas holidays from today, no more bread baking for few days, can make other kind of breads now :)), But, when I started writing I was thinking of only kids going to school, suddenly I realized oh! my they will be home all the time, so more cooking as they will be home all the time and I have to keep feeding them...,
These are one of those things they like the most, I keep changing the Ingredients and try out new fillings in the pies. This is one of my kids favourite, It's very simple and easy to make..
This creamy curry with lots of vegetable goodness makes the pies more delicious and delectable to the eyes and of course the palate too..,
Eyes, Nose and the Tongue become active when you see, smell and taste the richness of the food you eat. Coconuts and Cashews are one of those Ingredients which make your gravy not only tasty but makes it thick too.. and incredibly tasty...
VEGETABLE PIES WITH COCONUT AND CASHEW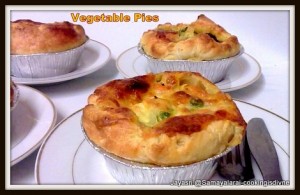 INGREDIENTS:
FOR THE VEGETABLE SAUCE
2 to 2 and 1/2 Cups of Assorted Vegetables ( I have used Cauliflower, Broccoli, Peas, Carrot, French Beans )
2 Green Chilli **
1/2'' Ginger
1/4 cup or 2 fist full of Fresh Grated coconut
8 to 10 or fist ful of Cashews
1/4 cup Milk
1+ 1 tsp Jeera / Cumin seeds
1/4 tsp Coriander seeds
1/4 tsp Turmeric
1/4 tsp Pepper corns (optional )**
3 tsp Oil
1 Block Ready made Short Crust pastry (You can even make it at home which I will post soon on how to make it, you can even use puff pastry )
METHOD:
Thaw the Pastry by keeping it out of the freezer before starting the gravy as directed by the suggestion on the cover.
Soak Cashews in warm milk till you get all the vegetables cut and get them ready. Wash all the veggies and then Chop Beans, Carrots in chunks and Cauliflower and Broccoli in florets,
In a Kadai / Pan heat oil to this add 1 tsp of Jeera / Cumin seeds then add all the vegetables mix them well and cook them in a low flame with 1/4 cup of water and closed lid.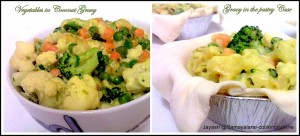 Meanwhile in a dry pan lightly roast cumin, pepper and coriander seeds, In a blender or mixer grind roasted cumin, Pepper, coriander, coconut, Ginger, Chillies, turmeric and soaked cashews into a fine paste with the help of soaked milk and some water.
Once the vegetables get cooked 3/4th add required amount of salt and the ground paste and mix thoroughly, taste and adjust the salt.
Let the gravy be in a semi solid consistency. That is not too thick nor too thin. Allow this to cool.
Preheat oven to Gas Mark 5 / 180 degrees
Take your thawed short crust pastry, dust some flour on to the surface, cut the block into 4 equal pieces, flatten each one of them into a slightly round shape, Now using Pie Cups, I have used the foil ones as you can see in the picture fold in the pastry base to line the foils.
Fill the pie cups with cooled down vegetable sauce equally then top them or cover them over with hanging pastry cases completely.
Then make some cuts here and there and bake these cups until well browned.
Remove it from the oven and keep them on the wiring rack for it cool a little bit then serve.
Serve the Pastry cups in wholesome on individual plates with any sides you like. Just remember they will be quite hot inside and be careful when eating.
The vegetable pies have Indian taste and a great look as well...
** You can either use green chillies or Peppercorns, I have used both, you can increase the quantity of coconut if you wish to make it more rich.
Optional : If you want you can use Eggs in this, I would say after the curry is done and cooled down a bit you can break two eggs mix it with the sauce, adjust salt and pepper mix well with the curry then fill up the cups and Proceed as indicated earlier.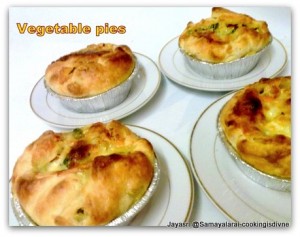 Sending these wonderful and yummy pies to Champa's Bake-a-thon event, which had to be posted Yesterday, my apologies for being late.., for reasons happened unexpectedly. Check out my blogger friends Preethi, srivalli, Priya and sumana for their wonderful virtual treats...
And don't forget to tune in tomorrow to what I am going to post for my Bake-a-thon series...
Enjoy make them and tell me of how you like it...