This was a wonderful dish which we all loved it, I started with something and ended with something!, My children wanted me to do chapati and some nice subji, So I browsed through my fridge and saw I had little beans, carrots and methi/fenugreek leaves and little spinach, Of course i have always a stock of green peas in the freezer,etc., So, I started of my subji this way…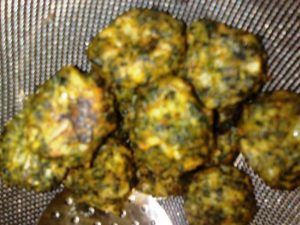 1/4 Kg Beans
2 Carrots
1 cup Green peas
1 Bunch of methi/fenugreek leaves
1 Green pepper
1 Red pepper
1/4 Bunch coriander leaves
200ml single cream
2 tbsp of grated coconut
5 to 6 whole cashew-nuts
2 tbsp chilli powder
1 tbsp of coriander powder
1/2 tbsp cumin powder
1 tbsp garlic powder
1 " Ginger
3 to 4 pods of Garlic
2 medium sized onions
2 to 3 Green chillies
salt as required
FOR KOFTAS
1 bunch of spinach leaves
3 medium sized potatoes
3 to 4 tbsp of Besan (gram or chickpea flour)
salt as required
a pinch of turmeric powder
1/4 tsp amchur powder
1 tsp of red chilli powder
1 tsp coriander powder
1/2 tsp of cumin powder
1 tbsp of garam masala powder
oil for frying
METHOD
Wash all the veggies required, peel the skin of carrot, chop all the vegetables and keep aside
pressure cook spinach & potatoes, Once they are well cooked, drain the water completely in a sieve so that all the water is gone from them, mash them well together and keep aside
Take a wok, heat a bit of oil fry the chopped green chillies, onions & garlic in it, until they are transparent, then take them aside.
Once it is cool grind it into a smooth paste with coconut and cashews
Take a wok, heat 4 to 5 tbsp of oil, then add the ground paste and fry for few minutes then add all the chopped vegetables & washed, finely chopped methi leaves & mix well, add a tsp of salt and cover the lid, bring it to a low flame, within few minutes they all get well cooked
mash all the vegetables well with the help of masher and add a cup of water
Then add all the masala powder into them except for the garlic powder mix well and allow it to boil for some time in a low flame , cover a lid over it so that the masala powders mix well with all the veggies
Now to make the Koftas
Take the cooked spinach & potatoes drain all the water completely you can even squeeze the water out of the spinach
In a bowl mash spinach & potatoes nicely, then to this add the masala powders mentioned under the koftas ingredients mix well
Then add Besan flour according to the requirement, that is the koftas should form into a firm ball ( There must be no water content felt when you are making it into a ball that is it should not be soggy)
If it is soggy then when frying them it takes too much oil so, be careful
make lime sized balls and fry them in the oil and drain them out on a kitchen paper and keep them aside.
Coming back to the recipe when it is boiling nicely and is turning into a gravy add the garlic powder, I always have a bottle of this powder with me and use it when ever I want it. (below I have mentioned how to make this powder).
Then add the deep fried koftas slowly, mix them well and allow it cook for further few minutes in a low flame then add the single cream slowly mix well so that the koftas don't get mashed and leave it on the stove for a few seconds, garnish with the fresh coriander leaves and it is now ready to serve.
How to make Garlic powder:
15 garlic pods + 6 Guntur red chillies + 4 Badgi chillies + 1 fistful of Roasted peanuts
Method: Dry roast the peanuts and remove the husk fry chillies with it and grind them with the garlic pods, into a coarse powder if you add a little bit of salt you can even mix it with rice & eat.
OMG! I got so tired by the end. As I started of with something simple and kept on changing the recipe and ended doing this, I was completely flat, my hubby & kids just loved it !! They said it tasted like a restaurant made dish !!
I thought it was all worth the trouble taken….,