Hi, I know I have been baking too many cakes these days, I fell in love with this recipe when I first saw it in Madhuram's blog, she said she got this from Vaishali of Holy cow's blog, she had given the link and here I was, what a beautiful she has got!!, and here I am with my Vegan Eggless Mango cake, I didn't do any frosting, we just had the cake. I should say even though I eat very little when I bake !!, I ate a good lot of this one!!
VEGAN EGGLESS MANGO CAKE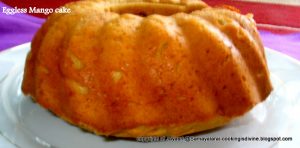 INGREDIENTS:
1 and 1/2 cups All purpose Flour
2 tsp Baking powder
1/2 tsp salt
1 tsp Cardamom powder
1 and 1/2 cups Mango puree
1/3 cup canola oil
2/3 cup Granulated sugar
1 tsp vanilla essence
First of all take the first 4 ingredients in a bowl and sift them together and keep aside.
In an other bowl, mix all the other ingredients and beat together until well mixed.
Again mix both these well, do not over mix or over beat ( did as she had said!!), when well incorporated, pour it into Muffin cases for small cup cakes as Vaishali has done or as I did I poured all the batter into a fluted tin made it into one big cake!!
Preheat the oven to Gas Mark 4/350 degrees, and bake for 30-35 minutes, depending on your oven, it is always best to check by inserting a tooth pick and see if it comes out clean, that's it, the cake is done, cool on a wire rack and then serve it as you wish.
Check out her blog for a vegan Mango butter frosting!!
An other click of my Mango cake.