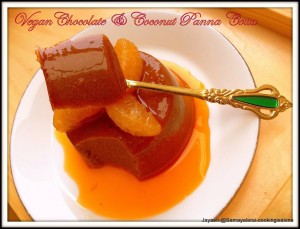 Hi, everybody it is SRC time again, I am sorry for not linking my blog right on time, My laptop, froze and as I had not scheduled my post to go on time just because , I was planning to publish as I was at home. well, I am really sorry about this but, definitely here is my post.  I would never miss SRC as I love this secret club, It makes me delighted and going through the blogs I get assigned to every month, I get the whole month browsing every recipe and wonder which one should I choose.
Suzanne my hostess assigned me to Judie's blog – Gluten Free with Judie, An to  A-Z   gluten free blog, there is not a second thought to it. You want to know anything and everything about Gluten Free and lot more things she has it right their in her blog, I have bookmarked so many pages to study about lot of things, I had not decided what to try out from her blog, and decided at the last minute that's yesterday!!.  I had invited my friends, she is pregnant and would be leaving to India soon and made this little dessert – Panna Cotta to her with a whole some menu of Indian food and made International Italian dessert !!Only with  less sugar, as she doesn't like anything sweet. I have increased the amount of sugar when writing it here with a 1/4 cup more so do need to check out before you like to increase the sweetness in it.
Coming to the recipe, I made it vegan, and made a Orange syrup to go with it, which was perfectly delicious, Chocolate and Orange is a fantastic combo.
Thanks Judie for this wonderful recipe.., everybody at home enjoyed it…, Here is how the recipe goes…
VEGAN CHOCOLATE AND COCONUT PANNA COTTA WITH ORANGE SAUCE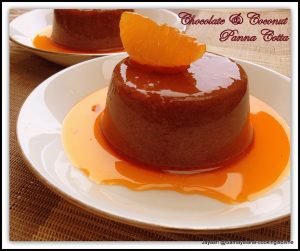 Recipe Source: Judie's Blog with Changes
2 cups of Fresh thick Coconut milk ( you can even used coconut cream )
1 cup Soya milk
3 tsp Agar – Agar Powder
2 tbsp Warm water
3 tbsp Coco powder
1 tsp pure Vanilla extract
1/2 tsp Cinnamon
3/4 cup Fair trade Palm sugar / brown sugar
Recipe Source: Original
ORANGE SYRUP
1/2 Cup Orange juice
1/4 Cup Sugar
A Pinch of Orange colour
METHOD:
Soak Agar – Agar powder in the warm water from few minutes, Meanwhile In a bowl take coconut milk and soya milk and heat them whisking continuously with sugar, vanilla extract, cinnamon powder and dissolved coco powder.
Add soaked Agar – agar powder into the bowl and keep stirring for few more minutes and boil in a medium flame and immediately put them in individual Ramekins.
Once it comes to the room temperature place them in the refrigerator for 2 to 3 hours to set.
To Make Orange Syrup: 
Meanwhile make your Orange Syrup, In  a bowl add all the Ingredients under Orange syrup and simmer it in a very low flame for 15 to 20 minutes in becomes slightly thick and your syrup is ready it has a tangy Orangey taste to it.  Once done keep it covered until needed.
After 2 to 3 hours place the Ramekins in a hot water for few seconds and with a sharp knife or fork turn it around the inside of the ramekins just to release them from the ramekins then tilt it over on to a plate, Place few Oranges I placed clementine slices and poured the orange syrup over them and served them..
My kids felt it was good but not too good as it was not very sweet as they have a horrible sweet tooth, and when ever I use brown sugar it doesn't give you much sweet so you need to increase the quantity of it, that's the  way they  like it!!, so you can increase the sugar level if you have a very sweet tooth.
It turned out really well and came out clean without any trouble at all..
Do please check out her blog for the original recipe, she uses gelatine, as being a vegetarian I did not want to use gelatine, Agar- Agar acts just like gelatine and can be used instead of it in any recipe which calls for gelatine, you can find these in any Asian or may be health wise shops.
Agar – Agar is made from a sea weed and is a best substitute for gelatine and suitable for vegan and vegetarian recipes..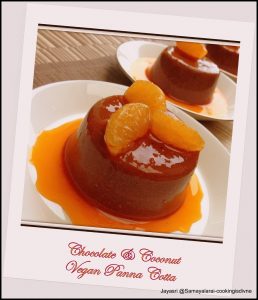 Check out all my other SRC members below who have created so many recipes..some of them you might want to book Mark!!
Sending this to Ayesha's cook eat delicious desserts – milk started by Raven
and to Vardhini's Kitchen Chronicles – only Vegan event started by Kalyani
Update:  I won a cookbook from Raven for this Dessert Yay!!,