Hi back again, I know you must all think I am completely mad, I am so tired now!, but If I do let myself in to that, I will not be able to post, well, tomorrow is weekend, and I can relax so back to blogging and stop rambling my monologue.
Here is the recipe about vada curry....,
She
had made this curry with meat, as being a vegetarian I had to search for an alternative, so I substituted with Soya Mince, which I had in store, from quite sometime, I thought this was perfect, as my kids and H don't like soya I was thinking of using it somehow without their knowledge, when I saw this I thought this was just perfect, I have taken the recipe as it is with a littlle change as you have noticed.
VADA CURRY (SPICED SOYA MINCE AND CHANNA DAL FRITTERS IN TOMATO GRAVY)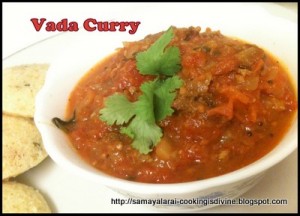 INGREDIENTS:
TO MAKE VADAI OR FRITTERS
100 gms Soya mince ( I used frozen)
150 gms Channa dal
2 to 3 Dried Red Chillies
1/2 tsp Fennel seeds
Curry leaves
1/2 tsp Garam Masala
1/2 tsp Turmeric powder
Oil for frying
FOR THE GRAVY
2 Medium sized Onions
750gms of Chopped tomatoes ( I used tinned tomatoes)
100 ml Coconut milk
1/2 tsp Ginger - Garlic paste
1 tsp Chilli powder
1 and 1/2 tsp Coriander powder
1/2 tsp Garam Masala powder
1 stalk Mint leaves
2 stalk of Coriander leaves
1 tbsp of oil
Salt as required
SEASONING:
1'' Cinnamon stick
1 Bay leaf
1/2 tsp Fennel seeds
1/2 tsp Mustard seeds
Curry Leaves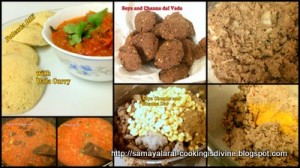 METHOD:
FOR THE VADAI/FRITTERS
First of all Soak Channa dal for 2 hours, As I had used frozen Mince I left it for sometime to come to normal temperature, when both were ready, I Grinded soya mince, dal, fennel, red chillies, into a coarse paste, then I added turmeric, chopped curry leaves, salt to taste, Garam Masala and mix them well together.
Heat Oil in a kadai, take small portion and drop it in the oil, within few minutes if it comes up sizzling then the oil is ready, take a small portion of this mixture, make small patties and deep fry them until they are well done, they all come to the top and sizzling reduces, then they are readyto be taken out.
Dry them out on a kitchen towel, until to use later.
FOR THE GRAVY
Take a large pan Heat oil, when mustard seeds splutter, add all the Ingredients under seasoning then add onions and G-G Paste, saute for few minutes until onion goes soft and lightly brown in colour (if you add a tiny bit of salt to the onions it cooks faster), then add chopped Tomatoes and fry until they cooked, you can close the lid and leave it for few minutes they become soft.
Then add the Masala powders and a cup of water allow it to boil for few minutes.
Then crumble the vadas and add it to the gravy, it starts becoming thicker, Finallly add coconut milk, chopped mint leaves and salt as per taste.
Then close the lid and cook it further few more minutes, then the gravy is ready, Garnish with coriander leaves and serve it with Idlis or Dosas.
My Verdict: It was a very nice dish, only next time I thought I will still reduce the quantity of soya or use something else!, kids thought vada had a weird taste!, never told them, They ate with Idli and later on with Rice, it went quite well with rice actually.
Thanks for this lovely recipe, I need to go to her blog as I have Book Marked few recipes which I would like to try especially the sweets!
sending this to Tried and Tasted event of Zlamushka's being taken care of by Lakshmi of Kitchen Chronicles and now guest hosted by Oh Taste and see Tried and tested event from Taste of Pearl city
Of course another look at my vada curry I know you all wanted to see it right ?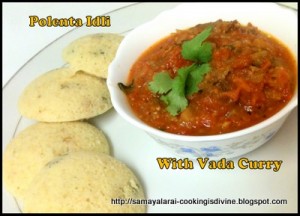 take care c u soon ... not anymore posts today, may be tomorrow, Hope you are all cooking for my event from Raks Kitchen....