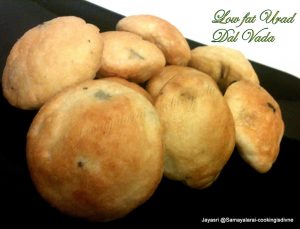 Hi everybody, you must have heard of the famous south Indian Healthy breakfast Idli and you know its most delicious accompanist , Yup two of them One is healthy but the other one is unhealthy because its fried in Oil otherwise the ingredients in it are very healthy too.. Idli always goes with Vada and Sambhar.
I don't think any south Indian would say no to this dish its a favourite dish of the Indians..,
Best part is when you are sick Doctors prescribe medicine and ask you to eat only Idlis and Bread…, so you know why Doctors prescribe Idli too in their prescription :), Idli is healthy because it is steam cooked.
Well, of course we are not talking about Idlis today in this page we are talking about the best friend of Idlis which are the Vadas.., Even though it is made of Dal, very health conscious people prefer not to eat as it is a deep fried snack.., well, now you can be rest assured with this recipe you can have at least a few of them…, I can guarantee you.., you will love this recipe…
Last Sunday I had made Idli, vada and sambhar for breakfast, every time when I make them.., I just eat only one vada, I control myself even though it is so tempting, (which is too hard)!. you know what I mean.
That too., when the doctor says your cholesterol level is on its first step!. , if people look at me they would never believe . But, unfortunately it is true…, that was when I decided I will try to cut down on my snacking fried goodies. This was just a sudden thought and I tried this method.., I thought if it is doesn't work, I can always deep fry it!, So, tried this method it worked absolutely fantastic. The taste was their, not too crispy as when you deep fry them.., but I can really enjoy.., what more can you ask for right ?
So here is how I made it, and my kids loved it.., I was happy as kids said mum you could making this as an evening snack when ever we want it., and you don't have to worry any more thinking that you are making your kids eat deep fried snacks.. as they are totally guilt free…
Hope you all like it and and enjoy it as we do…
This recipe is for the Blogging Marathon – Kid's delight – under 30 minutes
URAD DAL VADA – A GUILT FREE SNACK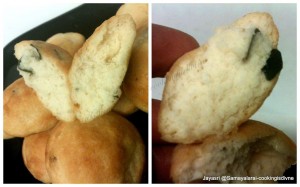 INGREDIENTS:
1 Cup Urad dal (I used unsplit)
2 tbsp Channa dal
2 to 3 green chilies or 1/2 tsp coarsely crushed Pepper (optional)
A pinch of Hing/Asafoetida
1" Ginger
1 stalk curry leaves
1 and 1/2 tsp salt
A big pinch of Baking soda
Oil
Guntapanganalu skillet /Aebleskiver Pan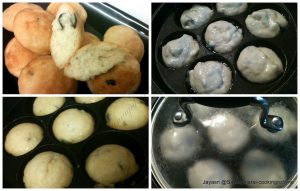 METHOD:
Soak Urad dal and channa dal for an hour or two, Grind into a smooth paste.
You can Grind chilies and Ginger also with the dals or chop the green chilies and grind the ginger with it.
If you are going to use Pepper crush it coarsely and add it to the batter.
Chop the Curry leaves and add salt as required.
So hope you understood..
Now mix them all well together, and keep the batter ready.
Heat the skillet on the stove top brush it with oil, pour the batter in each of the holes and close the lid, cook undisturbed for 6 to 7 minutes remove the lid and with a spoon or a small stick comes with the skillet turn them over add a little oil into each hole around the vada that way it talks to the bottom of the skillet this makes the vada more crispier.
That's it your urad dal vada is ready to gobble with out guilt….
Sorry guys my clicks are not doing justice..
You too make this, eat , enjoy…, and do tell me if you tried and how it turned out…..did you like it..?
Check out the Blogging Marathon page for the other Blogging Marathoners doing BM#14