This is one of the Uttara kannada variety podi or pudi which goes very well with Rice and even with dosa, idli, chapati and rottis , This time when i went to India I brought it with me, I bought it on the route to Ghati Subramanya, where the farmers were selling them on the road, so I can say these are organic Ucchellu!!. I have tried my best to take a photograph of this kind of Til, I do not know if it has got any clarity in it, which shows the difference between the black til and Ucchellu. I use this in lot of my recipes. Right lets get back to the recipe then....
METHOD I
Ingredients:
100 gms or 1 cup ucchellu (a kind of black Til)

15 to 20 gms or 1/4 cup Channa Dal
4-4 Red chillies (Guntur-Badgi)
3 to 4 flakes or marble sized Tamarind
a piece of Jaggery
oil to roast
1 to 1/2 tsp of salt or salt as required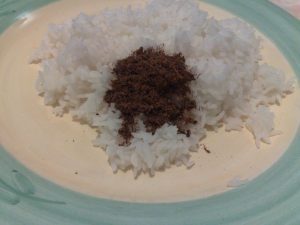 METHOD:
First of all clean the Til or Ucchellu seeds and dry in the sun for some time then fry them a little until they are quite warm
Then with little oil roast chenna dal, red chillies and Tamarind
when they are cool with required quantity of salt grind them in the mixer to a fine powder consistency in the last round add scrapped jaggery and give a final grind.
mix together and now it is finally ready to serve, put it in a air tight container for a long shelf life.
METHOD II
Ingredients:
1 cup of Ucchellu

1/4 cup peanuts
a pinch of asafoetida
2 tbsp of dry coconut or copra or dessicated coconut
a marble sized tamarind
salt to taste
1 tbsp Urad dal
4-4 Red chillies (Guntur-Badgi)
oil to roast
a little piece of jaggery
METHOD
Clean the Til and roast it in as you roast the til seeds

With a tsp of oil roast urad dal, chillies and tamarind and keep aside
Dry roast the peanuts or if u get roasted peanuts u can use them or you can also use the roasted & salted peanuts too, but just be careful when adding salt as peanuts already have salt in them !!!.
After roasting the peanuts dehusk them and remove all the outer covering. Now it is ready to use.
When I was writing this Recipe I was quite feeling hungry as i had not had my breakfast and I thought what am I going to eat, Just then I remembered this song from an old Kannada film, The song was like this I do not remember the name of the film but used to remember the first two lines of it all the time I keep murmuring it now & then ! The song is - '' Raagi rotti ucchellu chutney thandiv nan magne, moogina matta jadidu malago kalnan magane.......'' it means I have brought Raagi Rotti and Ucchellu Chutney eat till u fill up to the nose and sleep well....I think that fellow was an useless idiot who was whiling away his time, I haven't seen the movies, its a long time ago so must ask my hubby about this tonight when he is back and find out what it is !! well anyways, I just decided I am going to eat the same thing and here is palate of Ragi Rotti and Ucchellu chutney pudi.
Hoping you would also make and enjoy this uttara karnataka dish and eat it.