I got this rasam variety from my sister's book when i went to India, she said she has a collection of some Manglorean dishes from her friend, She is a Dental Doctor, and a lovely one too…, My sister has always had been lucky to have different regional friends, I think staying away from your own place, you would be meeting lot of people and interact in various kinds of subjects. That way my sister had a good chance, when she got married first she was in Ghaziabad, then moved to  New Delhi, then to Umbergaov (gujarat) and now she is in Pune. The other thing was she always lived in Flats and that means it just becomes like big family, She has friends from different cultures and knows about their style of cooking and their religious practices too!. 
The best part some of them still visit her or sometimes she goes to visit them, This time when I went to visit her I wrote so many recipes from her book. More than her, I am trying them all as my Brother-in-law doesn't fancy anything which has garlic cooked in his kitchen!, well, he loves the pulav I make but I am not supposed to use garlic and even north Indian dishes if we prepare we cook them without garlic !!.  It doesn't mean he doesn't eat!, he takes us to restaurants and he eats their but somehow he doesn't like us using it in the house.  well, this is one dish from sis's book.
As I had written to many of fellow bloggers, I always cook only in the night and most of them say 95% of the photos I take are in the night!  Sometimes I do not get them very well,  I am not saying that my clicks are good even thoughsome of my lovely friends who comment on my blog most of the time with their wonderful and encouraging words say so,  I do not believe them!,  as any lay man would say, that mine or uncomparable to their clicks.   I do not know if I could ever reach to their mark, they really do a good job and show such an enthu and interest in their blogging they do it with step by step instructions and photos, I sometimes think I should stop blogging I am really no good to this world of cookery blogging, I really take this opportunity to congratulate each one of you and hats of to you with your blogging and do keep up the good work.
Well let me come back to my recipe, so this is one such photo I just took it from my container in which I made the rasam! 
TOMATO RASAM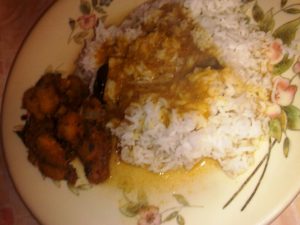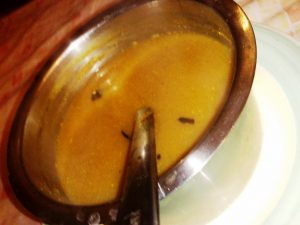 Ingredients:
3 to 4 Tomatoes medium sized
2 sprigs of curry leaves
2 tbsps of fresh grated coconut
1/2′ fresh ginger
a little bit of jaggery
2 green chillies
2 Red chillies
1/2 tbsp cumin seeds
1 tbsp coriander seeds
2 flakes of Tamarind
1 tsp mustard seeds
oil for seasoning
5 to 7 sprigs of fresh coriander leaves
a bit of asafoetida
salt as required
Take tomatoes, green chillies ( use chillies according to your taste buds and check the spiciness of the chillies), Red chillies, coconut, cumin,coriander seeds, ginger and Tamarind flakes in a mixer and grind them all into a smooth paste.
Take a container and add the smooth paste with enough water to make it into rasam consistency and allow it to boil until the raw smell disappears.
Then add asafoetida and jaggery and required quantity of salt.
Take a wok,heat oil and then add mustard seeds when they began to splutter turn off the stove and add the seasoning to the rasam
Add finely chopped or whole curry leaves and allow it to boil for 2 to 3 minutes and put off the stove
Now it ready serve it with hot rice and a spoon of desi ghee !
PS: Just remember, please do use the chillies according to your taste, because the taste depends on every individuals taste buds, my recipes might be spicy to some of you.