This Recipe I learnt from my friend swapna's mother when she had come here for her daughter's delivery. A and  S have got a beautiful daughter Khushi. well, S is basically from Hyderabad and her mother can only speak Telagu, I had a lovely time learning her recipes by speaking with her in my broken Telugu, as I had told earlier I love Andra Vantalu (Andra cooking) as they are very spicy and delicious.
TOMATO CHUTNEY (ANDRA STYLE)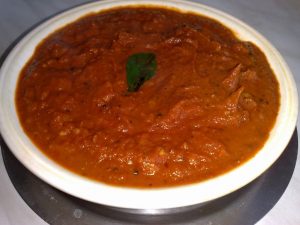 INGREDIENTS:
1/4kg Tomatoes
4 to 5 (rekaalu)leaves of Tamarind
salt to taste
4 pods of garlic
3 tbsp of Red chilli powder
2 tbsp of oil
SEASONINGS:
1tsp mustard seeds
1tsp channa dal
1tsp urad dal
1 sprig of curry leaves
a pinch of turmeric
METHOD:
Boil the tomatoes with water and tamarind in little water, once they are cooked drain them, take the tomatoes and peel of the skin
when it is cool grind tomatoes with salt, tamarind, chilli powder and garlic into a nice paste.
Take a wok or kadai, heat the oil, add mustard seeds, when they splutter and the remaining seasonings and fry them till golden in colour with a pinch of turmeric
Then pour the paste into it and fry them for a few minutes until the raw smell seizes and it is now ready to serve.
If you add more oil and fry for few more minutes it stays for a week.
It can be used as a side dish to mix with rice and eat or goes well with chappatis.