Bisi (Hot), Bele (Lentils - Tuvar) Huli (Tamarind) Anna (Rice) or Bath (Mixed Rice), such a long name when I write it in English, Bisibelebath also called B - cubed in south Karnataka is a very famous Rice variety, absolutely delicious, to all the 5 senses, If you ever visit Bangalore you should definitely try this out!!, you will fall for it. Bisibelebath is served with Boondi in Hotels and usually with a raitha or crisps or papads in Homely way!!, However it is served this a one pot meal and Gorgeous!!!.
Basically Bisibelebath is made of Rice, Tuvar dal and Tamarind, Adding Vegetables is becoming an interesting addition and also this addition helps kids eat more vegetables with lot of side dishes to go with it!!, So you must be wondering why I called it Tomato Bisibelebath because I have substituted Tomatoes in place of Tamarind and it was so colourful to look at and also to our taste buds.
It's so funny, I have never posted a Bisibelebath recipe till today, I have never been able to take a good click of it!!, I definitely make it once in a week or by fortnight!!, as it is the quickest I can muster up when I am in a hurry!!, you wouldn't believe would you!! but that's true..
This time I had loads of tomatoes and didn't know what to do..,
TOMATO BISIBELE BATH (TOMATO AND LENTILS SPICED RICE)
I couldn't get a good click of my Ingredients....
1 Cup Tuvar Dal
3/4th Cup Rice
1 Cup Mixed Vegetables
450 gms of Tomatoes
1 tsp Turmeric Powder
Salt as Required
5 to 6 Cups of Water
MASALA SPICE TO BE GRINDED:
1 tsp of oil
2'' inch of Cinnamon
2 to 3 Marati Moggu
1 Cardamom
1/4 tsp of Black Pepper
1/4 tsp Fenugreek Seeds
2 tbsp of Chenna Dal (Bengal gram dal)
2 tbsp of Urad Dal
4 tbsp of Dhania or Coriander seeds
6-6 Dry Red Chillies (6 Guntur and 6 Badgi Dry Red chillies)
2 to 3 Flakes of Tamarind
1/2 tsp of Asafoetida (If using hard fry them with other ingredients)
1/4 Cup of Dry Copra/Kobbari
1/4 Cup of Fresh Grated Coconut
If you cannot find Dry Copra or Kobbari you can substitute with Dessicated coconut
3 to 4 Tbsp of Ghee or Clarified butter
2 Sprigs of Curry leaves
1 tsp of Mustard leaves
2 to 3 Tbsp of Cashewnuts Broken
First of all In a Pressure cooker Add around 5 cups of water and then add turmeric powder and washed Tuvar dal and allow it to Boil when Tuvar dal is 3/4th cooked, Add all the chopped vegetables ( Peas, carrots, Beans, Double Beans, Avarekkai (vaal Beans/Papdi Lilva Beans), Broad Beans, Soya Beans etc., ) and then around 450 gms of peeled and chopped Tomatoes which I made it into a puree in the mixie and allowed it to cook until they were 3/4th done.
While they are cooking in an other stove, take a wok add a tsp of oil when it is hot add fenugreek seeds (fry until reddish or golden brown in colour), cinnamon stick, Marati moggu, pepper and cardamom and fry with broken red chillies in a low flame and keep it aside, then again add a tsp of oil when hot add the dals and Coriander seeds and fry them in a low flame unitl nice aroma comes out and the colour of the dals change take them out and keep aside. Allow all the roasted ingredients to cool.
If you are using
Dry copra
fry the grated copra without any oil in the wok until golden brown in colour and keep aside.
Once the Roasted Ingredients are cool grind them in a mixie to a coarse powder then in the last round add the roasted Copra and fresh coconut and grind them into a fine paste, and keep aside.
If you want you can only use Dry Copra or Coconut or Dessicated coconut which will be in the form of a fine or Coarse powder as you like to Grind it and this can be kept for a long time and can be used when ever you want to prepare Bisibelebath.
If you use Fresh coconut you have to use the Powder immediately.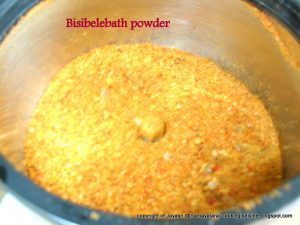 When the Dal was 3/4th done I added turmeric and the pureed tomatoes allowing it to cook so that the raw smell of the Tomatoes disappear.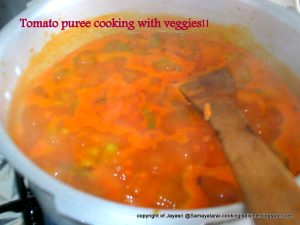 When the Tomato puree, Tuvar dhal and vegetables are cooking, Now with another cup of water mix all the Grounded ingredients dissolve it well, so that their is no lumps and add it to the 3/4th cooked Tomato puree, dhal & veggies. mix well and allow it boil for a few minutes then add washed rice with required amount of salt mix well and close the lid, with the whistle to the pressure cooker.
Keep the stove in a low flame around 15 to 20 minutes exactly by then Rice cooks well with all the other ingredients, sometimes it whistles sometimes it won't but you can just put of the stove exactly after 20 minutes.
Once when the cooker cools down open the lid and mix well and keep aside.
In a separate wok heat Ghee then add mustard seeds once they splutter add the chopped cashew nuts and if need it is optional you can add one or two dry red chillies and once they change colour put of the stove add curry leaves saute for a second pour it on to the Ready Bisibelebath mix well and serve hot with a dollop of Ghee, popadums/ crisps/ Raitha.
One more tip:
This tip was given to me by our cooking contractor, who was a regular at our house for most of the marriages and functions told me adding a 1/4 Kg of
Seegumbala kaayi / Red pumpkin / Gumadakayya / Parakikaya
to the BBB, which gives a natural sweetness to the dish as the veggie itself is sweet to taste, than adding jaggery in it!!, I have told 1/4 Kg that is depending on how much quantity you are cooking, I just told you as he told me as always they speak in large quantities, so, you can use this vegetable in small quantity depending on quantity you are preparing.
One more thing you should know is that if you find that BBB has become thick you can always boil a cup of water, and mix it and serve, In Hotels they serve BBB like a gravy!!