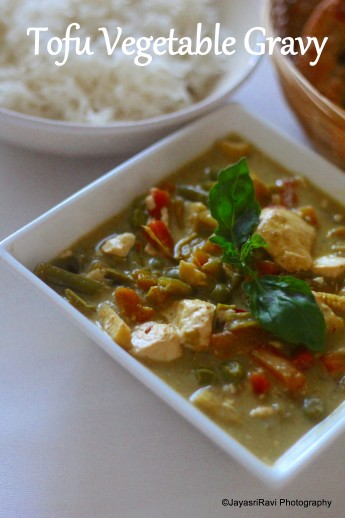 This is simple Tofu & vegetable gravy I made with chapatis, Of course, I do not need to tell that Tofu is a very healthy soya product.  As we know soya is rich in proteins, soya milk is made into Tofu. Tofu is quite firm like paneer and absorbs  all the spices in which it is used, my children like Tofu more than paneer, Particularly my son always tries to throw paneer in his subjis.  I feel Tofu is something of acquired taste,  not everybody likes it  Here is the recipe….
TOFU-VEGETABLE GRAVY
1 packet of Tofu(250gms)
1 red pepper
1 green pepper
cup of green peas
cup of cauliflower florets
1 tbsp Ginger – Garlic paste
8 to 10 cashew nuts
1/4 cup  soya milk ( or  milk)
5 to 6 sprigs of coriander leaves finely chopped
2 to 3 tbsp of oil
1 tsp Garam masala powder
1 tsp Dhania/Coriander powder
1/2 tsp of Cumin powder
1/2 turmeric powder
1 to 1 & 1/2 tsp chilli powder
1/2 tbsp Kasoori methi
METHOD:
Open the package of Tofu and drain out the water and press them between kitchen paper & cut them into 1" cubes.
Soak Cashewnuts in milk.
Take a pan and Heat oil in it & add a little bit of turmeric powder and fry Tofu few at a time into Golden in colour and keep them aside.
In a pan heat remaining oil, add chopped onions then ginger and garlic  paste and fry for few minutes until they are transparent. Add turmeric powder. Then add all the spice powders and fry until the raw smell disappears, add chilli powder according to your liking you can increase or decrease spicyness.
Next add the chopped peppers and fry with the peas ( I have used frozen peas)
Cook cauliflower florets in water with little salt in it and once when it is nearly done drain out all the water and leave it for some time.
 Allow it cook with the vegetables. add a cup of water and cook.
Grind soaked cashew nuts into a smooth paste with 1/4 cup of milk.
Add the fried Tofu, mix it well and cook the gravy add salt for another 5 to 10 minutes by closing a lid.
Open the lid and add the ground cashew paste within few minutes the gravy will thicken.  If it becomes too thick add little more water so that it will be in a gravy consistency.
Add some Kasoori methi to flavour the dish.
Once it is all done you can season it with chopped coriander leaves and serve it with hot chapatis or pulkas.
You can also add a tbsp of lime juice in the end which gives a good flavour to the dish.