hai,
You must be wondering, why I have published Thondekaayi Bhath again!!, well, I love this vegetable its crunchiness, I love making baath out of it, Uma got this vegetable for me, she asked me to do something….Here I go again I made this baath but only with a little difference, I got bored of using my vangi bhath powder again, I wanted a change of taste, so…. I peeped into somebodies kitchen. Lo! that was it, I got this powder from one of our Lovely bloggers who is great with her amazing photographs & has a lovely Blog too…., This Vangi Bhath powder I felt was a little different, and cooked with a fusion of piluv & Bhath powder, I took this Recipe from Raaji of Raks Kitchen, I tried & tasted it was very good, My whole family liked it even Uma, Thanks Raji for the recipe.
 TINDORA VANGI BHATH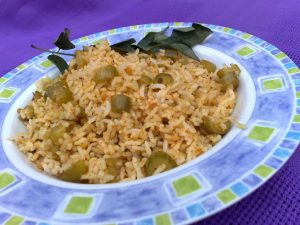 As you all can see I have not used Vangi (Brinjal) but I have used Thondekaayi which is also called Tindora/Dondanga, I have used Recipe just like what Raji has done except for the change of vegetable & the quantity of the ingredients as I made it for 2 to 2 & 1/2 cups of Rice. But, here I will write just her recipe. But, I had to alter a little as I did not use Brinjal,  Tindora takes little longer time to cook. Here goes the recipe……
Ingredients:
1/4 Kg Thondekaayi
1 cup of Rice
Tamarind Gooseberry size
1/4 tsp Turmeric powder
2 Green Chillies
1 to 2 sprigs of curry leaves
1 tbsp curry leaves
salt to taste
1" Ginger
1 tbsp oil
2 cloves
2 Elaichi
1 or 2 Bay leaves
1" cinnamon
To Grind
1 tbsp Channa dal
1 tbsp Urad dal
1 tbsp Coriander seeds
5-7 Pepper Corns
3 Nos. Red Chillies
2 tbsp Coconut
Seasoning:
1 tbsp of oil
1 tsp mustard seeds
1 tbsp Channa dal
1 tbsp Urad dal
METHOD:
Wash the rice but did not soak it as Raji said as I did not have time!, Take a wok heat Ghee add elaichi, cinnamon, bay leaves fry add rice and cook it with salt.
Meanwhile Roast all the ingredients under to grind, in a pan you can roast coconut lightly and when cool coarsely powder it and keep aside
Cool the cooked rice, and keep aside.
Cut the Tindora into 1/2" pieces and cook them in a pressure cooker for 2 whistles with very little water.
Drain the water but do not throw away the water and soak Tamarind in the same water and heat it for a minute and squeeze the tamarind juice out of it. do not add more water.
Take a wok, heat oil and add some seasonings fry them, add the finely cut ginger, lengthwise cut green chillies and add the tamarind juice and allow it to boil for a minute or two.
Then add the cooked vegetable with required quantity of salt.
Then add the Ground coarse powder and allow it to stay in the wok for few more minutes all the water gets dried up.
Add the already cooked rice mix well and close a lid and leave it for a 4 to 5 minutes it gives time for the rice to absorb the masala into it.
Your Thondekaayi Bhath is ready to serve. you can serve it with any raitha of ur choice!!.
In case of Brinjal Raaji says add the brinjal which is cut in lengthwise 1 to 1/2-inch size to a tbsp of oil in a wok and cook it separately until soft and keep it aside, Then add this cooked Brinjal at step 7 and continue with the above said process and your Vangi Bhath is ready.