Rice is one such grain which is a staple ingredient in many countries, and one such country is India!!  Here I come with a Rice variety. I love eating varieties of Rice.   In South India rice is a staple food, people love eating rice in different ways.  We use many different kinds of Vegetables to make many different kinds of Rice items, each vegetable gives a different taste to the Rice, and one such vegetable I have used here is Tindora.
These resemble like little cucumbers my MIL used to love eating it raw and now my daughter loves eating it raw. This vegetable is called Tondekaayi/Kovakkai/Dondekaayi in different South Indian languages.
This vegetable looks more like a midget cucumber, doesn't taste anything like cucumber, some people eat them raw when they are very tender, It is called Coccinia Grandis and belongs to the family Cucurbitaceae, It has a good source of several micronutrients including Vitamin A and C (information: Wikipedia).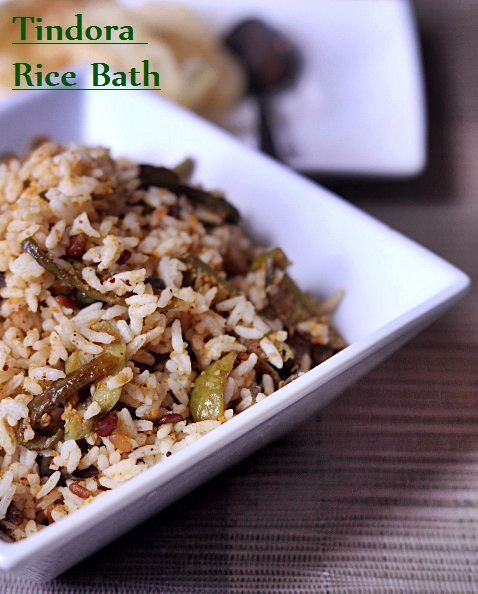 Select nice tender ones wash and  cut them into 1/2'' pieces
Ingredients:
Cooked rice from 1 and 1/2 cup Raw Rice
1/2 kg Tondekaayi/Tindora
2 tbsp of thick Tamarind Extract
5-6 tbsp oil
1 sprig of curry leavesTamarind - size of gooseberry or lime
1/2 copra or dry coconut or kobbari
cashewnuts (optional)
salt to taste
Grind together
2 tbsp chana dhal
2 tbsp urad dhal
3 tbsp coriander seeds
1 pinch of hing/asafoetida
5-5 red chillies (guntur-badgi)
1'' cinnamon sticks
1 marati moggu
1tsp turmeric powder
2 to 3 cloves
seasonings:
1tsp mustard seeds
1tbsp chana dhal
1tbsp urad dhal
METHOD:
From the grind together list, Roast all the above ingredients except Copra with a tsp of oil, you can roast them separately for much better taste or fry them together until they all change colour and a nice aroma comes out.  Allow them to cool, grind them into a coarse powder.
In the last round when grinding add the gratings of copra and grind again. Don't grind too much they will become sticky because of the oil in the copra.  Once done remove and store it in an airtight container. This powder can be used 3 to 4 times to make this kind of Vegetable rice mixes with different vegetables.
Take a kadai/wok/pan, add oil, put the seasonings, a pinch of turmeric, then add the cut vegetables and curry leaves mix it up and allow it to cook until soft by adding a little water now and then. (I do not use too much oil when I make my dishes even though I know they will taste their best, so I always cook dry curries like this with adding water now and then cook them until soft
Tondekaayi is really difficult to cook till soft, you can cook them in a pressure cooker with less water and then drain out the water and then add them to the seasoning's and continue as given below.
If you are cooking directly, you have to keep note that there should be no water left in the kadai once they are all cooked then add salt to taste and  then tamarind extract and allow it cook for 5 more minutes and then the ground powder around 3 to 4 tablespoon as required to your taste, mix well and leave it for few more minutes. and now it is ready to mix it with rice and serve it as a Tondekaayi bath or a side dish with rice & rasam.
You can use lemon juice in place of tamarind but add them at the end.  You can fry some cashews and some curry leaves at the end for decorating.
Little Tip:
If you have used this vegetable you must have noticed it is a bit time consuming to cook this veggie so, what I do ? Let's see what I do then...
It is a bit tough one to cook directly in a wok and takes a long time, so I always want to make sure that it is cooked well before I use it in any recipe.  For this what I do is cook it in a pressure cooker with sufficient water as much as the vegetables are covered for just one whistle, drain the water out and use it as needed in any other accompanying  dish, so do not throw away the water use it in any Rasam, Sambhar or Gravies etc..,
If you want to cook it directly in the wok, you need bit more oil than usually used and keep sprinkling water now and then so it doesn't get stuck to the Kadai, but would definitely has a different taste and it will be awesome, though 🙂