Hi everybody, It's been a long time I came here, I would really like to thank all my readers who have been in constant touch with my blog even though I haven't been able to update for such a long time.  To start with,  I was not blogging for a reason,  I am in the process of changing my blog hopefully I will be able to do it by next month.  I would also like to thank few of my blogger friends whom I have been associated with in some events which I love so much,  have patiently been waiting for me to post my recipes.  Once such event is
Baking partners by Swathi of Zesty south Indian Kitchen
.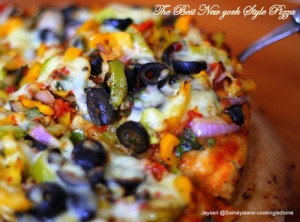 Who doesn't like Pizza, I think that's everybody's favourite, especially kids, I don't eat cheese for 40+ reasons, I mean as I am 40+ and... I have reasons!! , but I love cheese in my pizza, I am no way better than a kid when it comes to pizza I just love it with the gooey cheese on it Just love it..., I have tried and still trying  different kind of pizza dough to get the perfection, one more which I have to still try is the OO' grade flour to make pizza and see the difference.
Coming back from my disastrous holiday which was only for 2 weeks which later part of the 2 week  got ended up with one week of food poisoning, ended up with a migraine. That was when I remembered I had to do the Baking Partner Challenge and decided to make the dough and thought will make it the next day when I come back from work, funnily..,  God knows what happened,  even though my mind was ready to accept as always my body wasn't ready to accept that I was Jet lagged and poorly,  coming back from work, cooked something for my kids and hit the bed It's been such a long time and I have never slept like that for almost 7 hrs till 10 O' clock in the night and kids woke me up  and telling me that they were hungry!!, I cooked up something and went back to bed again!!  I had an overdose of sleep I think, through all this I had completely forgotten about my resting dough in the fridge, so decided to make it the next day, without my knowledge I had rested my dough for 72 hours and the result was really amazing, that was an awesome pizza, Three of our friends from our group asked us to bake Pizzas, I chose Pam's recipe which she had adapted from 2 blogs one for Pizza crust and one for Pizza Sauce.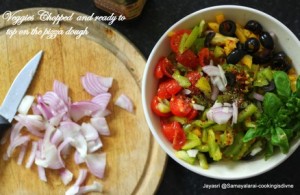 PIZZA TOPPING:
1 Small Green Pepper (Capsicum)
10 Olives
1 Small Yellow Pepper
1 Small Pink Onion
7 to 8 Vine Tomatoes
3 to 4 sprigs of Basil leaves
1 tsp Chilli flakes
1 tsp Italian Herbs
Salt to taste
Grated Mozzarella cheese
-----------------------------------------------------------------------------------------------------------
Reading through many blogs and books,  when I first started baking pizza at home I used to bake with plain flour , then I started using Bread flour and mixture of flours for healthy baking, I have yet to use OO' grade flour, will surely do once I get hold on it and want to see the difference.  I have come to know that the Italians use this grade flour to make their pizza's!.
Coming back to this recipe, I too make the same kind of sauce changed it our family taste a bit, I made it a bit spicy so increased the chilli flakes,
NEW YORK STYLE PIZZA SAUCE
Recipe Source: http://www.seriouseats.com/recipes/2010/10/new-york-style-pizza-sauce.html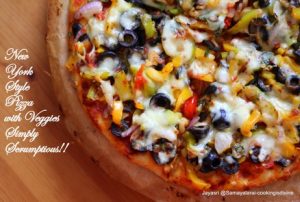 INGREDIENTS:
28oz / 3 Cups Peeled Tomatoes
1 tbsp Olive Oil
1 tbsp Butter
2 Cloves Garlic
1 tsp Dried Oregano
1 tsp Red Pepper flakes
1 tsp Red chili flakes
Salt as required ( If using tinned, there will be salt already so check before you use)
2 sprigs of Basil leaves
1 medium yellow Onion peeled
1 tsp Sugar
In a large bowl of water cook Tomatoes with their skin, after few minutes drain the water and keep aside, peel the skin of the tomatoes, chop and blend them in a food processor in a coarse consistency, It should not be very smooth,
Chop Onion and Garlic blend them to a coarse consistency, heat oil and butter in a deep pan add Red Pepper flakes, chilli flakes and dried oregano to this add coarsely blended Onion and garlic fry for few minutes stirring frequently keep an eye not to brown it but the raw smell disappears then add the coarsely blended Tomatoes stir well, to this blend add chopped Basil leaves and sugar, bring the flame to low and cook until it reduces to half for about an hour, season it with salt.
Once done store it in an airtight container stays well for 2 weeks.
THE BEST NEW YORK STYLE PIZZA
Recipe source: http://feelingfoodish.com/the-best-new-york-style-pizza-dough/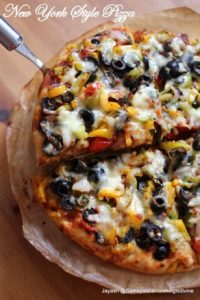 INGREDIENTS:
6 Cups ( 28 oz or 780 grms bread flour) All purpose Flour / Bread flour / OO' Grade Flour
2 and 1/4 cup (17.4 oz) water
1 tsp Instant dry yeast
2.5 tsp salt
3 tsp olive Oil
METHOD:
1.    I used only half of the Ingredients and made half the dough, I halved the recipe on everything even yeast.
I used 390 grms of flour, In a large bowl take yeast add couple of tbsp of warm water to activate it, within a few minutes you can see the bubbles, this is to make sure your yeast is active.
2.    Now to this add all the dry Ingredients mix well, Now add water enough to make it a dough consistency**  (see notes), then add oil and bring it to pliable dough, The dough actually will be a bit on the stickier side,  knead the dough for 4 to 5 minutes hand kneading if the dough is kept for 72 hours But, if you are using it the next day that is for 48 hours knead the dough 8 to 10 minutes.
3.    Add oil at the end and bring the dough together, I halved the dough into two then place it in a large bowl and cover it with cling film and leave it in the refrigerator for 48 hrs or 72 hours, I left mine for 72 hours.
4.    The day you are baking take it out of the fridge and leave it for 1 or 2 hours for it to come back to room temperature.
5.    Meanwhile preheat your oven with your pizza stone for an hour, at the highest temperature, she asks to preheat at 550 degree. I just kept my oven at Gas Mark 4 for almost 1 hour (I was a bit worried about my pizza stone as I did not how good it was).
6.     Once the dough comes to room temperature, take one part of the dough with help of flour flatten it on to a parchment paper by pressing it around flatten it out thinly using more flour.
7.     Take another piece of parchment paper sprinkle semolina*(see notes) on to it, then place the flattened dough on to the surface
8.    Apply pizza sauce on to the surface, get all your chopped veggies top them on the sauce then grate Mozzarella cheese on to it, spread evenly  on the topped vegetables.
9.    Slide prepared pizza spread on to the preheated pizza stone and bake pizza for 6 to 7 minutes, cheese starts melting, just keep an eye that it doesn't get burnt.
10.   what else to say, take it out, slice them out take a bite and Enjoyyyy...., !!!
NOTES:
Important thing always weigh your flour, as each brand is different from each other.
As I said earlier I had halved the recipe the water was a bit extra for my dough so had to discard a bit, but the dough was a bit stickier in consistency.
The author of this recipe says we had to heat the oven to 550 degree but my oven only Gas Mark 9.
I was watching a TV show in which Chef was saying sprinkling semolina on to the surface of the pizza base ensures nice crispy bottom
VERDICT: Pizza was totally awesome, the first one I made was only with Tomato sauce, I mean the pizza sauce with cheese, my kids really relished it, next day I made with veggies topped with cheese, kids were totally bowled out, they loved it very much..,
I have planed to try out the base with OO' grade flour and will update here soon enough.
Thanks to swathi and Pam for this wonderful recipe.