Hi everybody, I just disappeared again for a few days , struck with Headache, neck and back problems as usual, well, had to be back again, and posting late even though I cooked on time!, this of course is for
Blog Hop Wednesdays
of
Radhika's of Tickling paletes
, I was paired with
Vaishali Sabnani of Ribbon's to Pasta's
, A lovely blog with simple and beautiful recipes and some authentic punjabi Recipes, check out her blog.
Sorry Radhika for posting late, please do forgive me dear, First of all I need to thank Vaishali for this wonderful recipe, My kids told me to tell you that it was very good, for a good look of photos visit her blog please.
As you all know what Tawa is - Tawa is a Iron girdle for making chapatis, which you can see in my photo, that is my new Prestige Tawa, I bought it for making Dosas :), But the Tawa what vaishali talks about is a big flat one, for Tawa delicacies in Indian cooking for this photo again check her blog.
I got attracted to this recipe as I was looking some gravy to go with my chapati/pulkas, and this had loads of veggies, which was my great attraction., so I went ahead with this.., I just tweaked it a little bit...., here is the recipe, because as she says you can add any veggies and spices as you like.
INGREDIENTS:
FOR THE GRAVY PASTE:
800 to 900 gms of Tomatoes
3 Garlic Cloves
1 small Carrot
1 Bay leaf
5 to 6 Pepper corns
2 Medium sized onions
1'' Ginger
4 Green Chillies
3 Cloves/Lavung
a tiny tiny piece of star anise
1 tbsp Kasoori Methi
1/2 tsp of Cumin seeds
2 tbsp Oil
1 Cup of water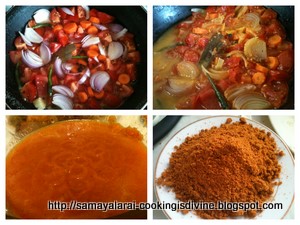 TO MARINATE VEGETABLES:
My tweaked version - for the original version check here
1 and 1/2 tbsp of Red chillies Powder
1/2 tbsp of Coriander powder
1/2 tbsp of Cumin powder
1 tbsp of Ginger-Garlic paste
1 tbsp Garam Masala powder
1 tsp Ajwain powder (cauliflower, Brinjal)
1 tsp Amchur powder ( Lady's finger/Bhindi)
3 to 4 tbsp of Curds
Almost 1/4 cup Besan flour/Chick pea flour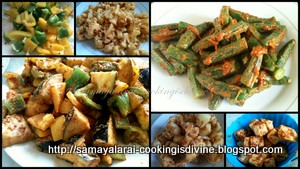 VEGETABLES:
I had around 3 to 4 cups of Vegetables
what I used in this Subzi were:
2 Green peppers
1 Yellow Pepper
1 Big Aubergine
1 Small Cauliflower head
Nearly 1 Kg of Bhindi/Lady's finger
5 to 6 Medium sized potatoes
150 gms of Paneer
Around 1/4 to 1/2 cup oil for cooking veggies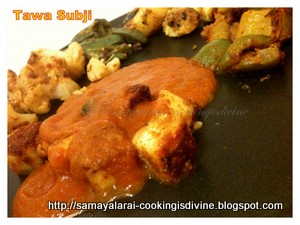 METHOD:
Cut the cauliflower into little florets (cook them in water with a bit of salt for 10 minutes), cut the capsicums (peppers) into slightly big chunks, Aubergines into big chunks too (once cut keep them in water until you use them), cut the Bhindi/Lady's finger into 2'' pieces and give it a slit in the middle, peel the skin of the potatoes, cut them into chunks (keep them in water until use).
Mix everything under Marinate well enough with a tsp of salt.
Drain water from the cauliflower florets and leave it for sometime so the water drains completely.
In a bowl take capsicums, potatoes and Brinjal/Aubergines chunks add 2 to 3 tbsp of the spice powder for marinating, mix well and keep aside, then do the same with all the veggies, just add Amchur powder to the Bhindis/Lady's finger.
Keep all these vegetables for 2 hours using up all the marinating spice completely. If left over add this to the Tomato gravy ( I had a bit left over I put it in the gravy and it helped in thickening the gravy too because of besan flour, just make sure about the spiciness but)
When the veggies are marinating in a wok, heat 2 tbsp of oil, add pepper corns, bay leaf, a tiny piece of star anise, Cumin seeds, ginger, garlic, chillies and onions then fry until they turn transparent then add chopped tomatoes and one carrot, with a cup of water close the lid and cook until well done in a low flame, check now and then that the curry doesn't dry out add some more water if needed ( I did not add any water as it was good to go).
Meanwhile while the Tomato gravy is in process, Take these marinated veggies, some of them like cauliflower and Baingan (aubergine) might have given out some water, you may add a bit more Besan flour to make it more stiff than gooey and fry them with 2 to 3 tbsp of oil, one by one, when you are cooking capsicum fry them in a high heat that gives a crunchiness, Add potatoes to the oil first fry for few minutes until it is semi cooked then add Aubergines mix well and close the lid with a tsp of salt and cook them in a low flame, mix now and then, until well done.
Now make the Tomato Gravy: when you are in the process with the veggies, Tomatoes would have got cooked really quickly, with everything in it, take it off the stove and allow it to cool. Using a blender/mixie, removing the Bay leaf blend everything well together into a smooth paste, filter and take the pith squeeze out all the juice and blend it again then add 1/4 cup of water and blend it again, filter again and throw away the left over pith.
Heat a pan with oil, Add this Tomato gravy to the wok taste it, adjust salt add Garam Masala, chilli powder and I added a tbsp of Pav bhaji masala for an extra kick to the dish, add finely chopped coriander leaves, mix well boil it for a few minutes, taste again for the right taste... Mmm..., that's delicious ready to go on the plate with all the roasted vegetables.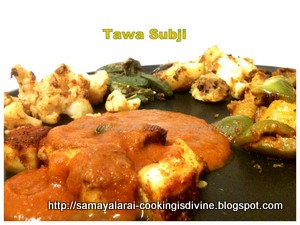 This is how you have to serve says Vaishali...
Arrange all the vegetables (Check out her blog for a good click of what she says) in a circle, pour the tomato gravy either on top of it or in the middle or in a bowl and when serving on your plate take the veggies and the gravy to top it and enjoy it with your choice of Naans, parathas, rotis or pulkas etc...
It was fabulous definitely give it a try..,
will see you soon with the next blog hop wednesday ( it's day after tomorrow!)