I had to write this post, as I have already posted a recipe with this method of baking, I have fallen in love with this method of Bread baking and you can see wonders, I actually did not try it with the actual way exactly but changed it with different flours, which still gives wonderful results, the bread always turns out to so so good.., you will not believe it.
Go for it try it out and you will be amazed with the results..,
I first found this method of baking in a chinese blog, I have book marked it, I was not able to find it today, but definitely post the link, once I trace it, as quite sometime back, when I was planning to bake this way I couldn't find it then I found christine's blog, I have baked so many breads with this method but I have never used the Original recipe that is using Bread flour.
I wanted to try out with other flours and wanted to see how it works out like I have used Corn flour in this Eggless Coronets, I use this method when I have to substitute eggs in bread baking and works out fantastic.
As I will be posting all my bread recipes using this method with different flours I thought I need to post this as a separate thread so I can just say how I made this bread with this method of baking and not go deep into the recipe with every post :), Don't think I am lazy but it's just that my post will be very long...
Coming back to this method of baking.., Christine says -
Basically few years ago this method of bread baking was introduced Yvonne Chen 陳郁芬......


who wrote an amazing method of making this kind of soft and fluffy bread was introduced by Yvonne Chen 陳郁芬 who wrote a Chinese book, entitled "65°C湯種麵包" (Bread Doctor). In her book, tangzhong "湯種", is described as the "secret ingredient" which is originated from Japan, to make soft and bouncy bread. It's actually a kind of "flour paste"(aka water roux starter), cooked 1 part of bread flour in 5 parts of water to 65°C. So it's very natural and handy to make. The Chinese community has been fascinated and crazy about this bread making method ever since.


Why does tangzhong 湯種 (flour paste) work so amazingly that can produce fluffy bread and stay soft for many days? At 65°C, the gluten in the flour and water mixture would absorb the moisture and become leavened. When tangzhonog is added into other ingredients of the bread, the bread dough will be heightened and produces softer bread.

Read more: http://en.christinesrecipes.com/2010/03/japanese-style-bacon-and-cheese-bread.html#ixzz1un46H5xB
I fell in love with this Idea of Bread baking because I do use this method as I think most people in south of India use this method in making Kozhukottai, Ubbu rotti and lot of other recipes I make using this method.
So, I just plunged myself into this idea, and I regularly bake breads with this method.
Basically Tangzhong (water roux ) method according to the book is
50 grms / 1/3 cup Bread flour
250 ml /1 cup water ( or 50 milk and 50ml water)
METHOD:
Mix both together and put it a thick bottomed bowl and cook it in a low flame, continuously stirring it with a wooden spoon or spatula.
You will see within minutes the flour mixture turning to thicken, and you can see trails on the bowl showing that is nearly done,
For the first time use a thermometer to tell you when it has reached 65 degrees, remove it from the stove and leave it to cool down then transfer it into a bowl, cover it with a cling film for not allowing it to dry up.
This can be kept for 2 days or discard when you see it is changing colour.
According to her she keeps it over night to get the best result and later on carries to say she uses them the same day too...
My take on this is, I have kept this in the fridge upto 3 to 4 days, and nothing has happened, sometimes I have made it and froze it for a week, take it out, thaw it ( not by putting it in the microwave) and measure what I need and I have put it back again in the freezer.
The other thing is I have changed many times the measurement like used 1/2 cup and 1 and 1/2 water until it reaches that consistency (65 degree ). I remove it, allow it to cool and use it immediately and still it works out fine.
I have used the same method with
TANGZHONG (WATER ROUX) METHOD USING RICE FLOUR
1/3 Cup Rice flour
250 ml / 1 Cup water ( or 50ml milk and 50ml water)
TANGZHONG (WATER ROUX) METHOD USING CORN FLOUR
1/3 Cup Corn meal flour
250 ml / 1 Cup water ( or 50 ml milk and 50 ml water)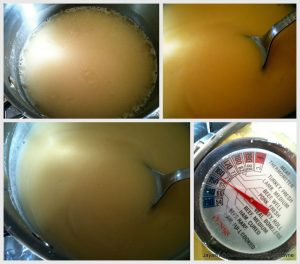 I have not followed any recipes when using this but I have just used it approximately, so you also try and enjoy baking soft and lovely breads.
I have also used this in Bread Machine Baking and it has turned out so well, with larger and softer loaves.
I have used these methods in baking in these recipes : I will update this page when ever I post a recipe using this method:
Eggless Chocolate Coronets ( used as eggless in this baking )
Carrot and Raisin Bread - Whole meal and Oats
Paneerand Mint Flavoured Garlic Rolls ( Eggless)