Hi one more recipe from
Raks kitchen
, It was quite different from my Iyengar puloiyogarai I usually make, my kids love puliyogare, so I chose to do this and try how it tastes, Mmm.., It was so nice and we all enjoyed. Thanks for sharing this recipe Raji.
TAMARIND RICE /PULIYOGARE WITH PULIKAACHAL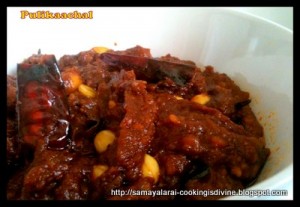 INGREDIENTS:
1 big lemon size Tamarind
1/4 tsp turmeric
1/4 tsp Asafoetida
1 tsp Jaggery
Salt as required
1 and 1/2 cup water
curry leaves
1 fist full of peanuts/ground nuts
TO TEMPER
1 tbsp mustard seeds
7 to 8 Red chillies (she uses 10-15)
4 tbsp Urad dal
3 tbsp Channa dal
1/4 tsp Asafoetida
curry leaves
5 to 6 tbsp Sesame oil
TO ROAST AND GRIND
2tbsp of Channa dal
4 Nos Red chillies
3/4 tsp Fenugreek seeds/Venthyam
1 tbsp Urad dal
1 tsp Pepper
METHOD: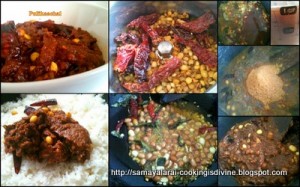 Take a pan fry all the Ingredients under to roast and Grind with a tsp of oil and roast them until the colour changes and allow it to cool, then grind to a smooth powder.
Meanwhile take the lemon sized ball of Tamarind in a 1 and 1/2 cup of water put it in a microwave safe bowl and microwave it for 1 minute. ( I always do this as it is so fast method when I am in a hurry to make sambhar, Rasam etc.., when I decide what I am going to make first thing I microwave Tamarind in water and allow it cool until I require it, by that time it would have a cooled for our hand to handle this is the quickest way to make the tamarind soft and easy to handle).
Squeeze the lemon juice and keep it aside filtering the pith.
Take a large pan heat oil and add all the things under the heading to temper when they change colour, add the Tamarind juice, allow it boil until the raw smell disappears.
Now add the powder to the boiling tamarind water, now keep a careful eye on it turn the stove into a medium flame and keep stirring it and it starts thickening and becomes like a paste (rather should say like lehyam).
Switch of the stove, now add it to the cooked rice ( with another 2 tbsp of oil).
I grated 100 gms of dry coconut and 4 tbsp of Black Sesame seeds (fry the seeds in a wok till it starts spluttering now take it of the stove) grind both of these into a powder.
Add this to the Rice with the Pulikaachal mix well with Rice.
Do not serve it immediately, leave it at least for 1/2 an hour, this helps the rice to absorb the paste well into it and it tastes gorgeous.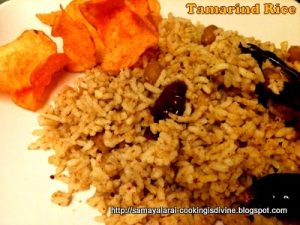 I am sending this to my own event Blogger Marathon from Raks kitchen....