style="clear: both; text-align: left;">I know you must be wondering, ha! she said she wouldn't take step-by-step photos, I really didn't take them, my kids were so excited at the smell, and they were so happy that I was doing a pasta dish, which is their favourite, the same rice and sambhar/rasam authentic food they love to eat pasta, which is not an exciting dish for me!!, As I like everything spicy. No wonder, I have totally spoilt my kids as my sisters say, you make so many dishes still they get bored !!, actually sometimes they annoy me when they keep saying ''pomma, ade saapdrdak bore adikardh''!!, can you believe, blimey, But, one thing I must confess is I can never satisfy them!!, do you think it is the same story in everybody's house ?. But of course, I must agree that my kids do not complain, and try out all the dishes I make. howzthat ? Thank God!, Bless them.
This one was an other creation of mine, it is not of course some signature dish, I, as always, wanted to use some of the veggies and fruits before they deteriorate in front of my eyes,
Here is my Recipe for Tagliatelle with Mango coconut spiced sauce.
TAGLIATELLE WITH SOYAMINCE AND MANGO-COCONUT SPICED SAUCE
This is the packet of Taliatelle which I bought it in WM Morrissons which is a pasta made with 100% Durum wheat.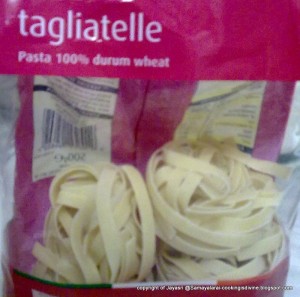 This is Tagliatelle which is in my Big wok ready to get cooked, just add water and cook it just like sphaghetti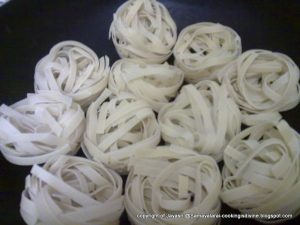 This is how it look once when it is cooked, I added 2 tbsp of olive oil, Once they were cooked and after I drained the water, which I did not throw and used it for cooking the vegetables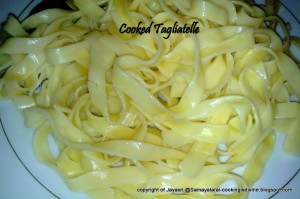 I used around 2 cups of all vegetables totally
Beans, carrots, peas, green peppers, red peppers, yellow peppers,
150 gms of Soya Mince (I used frozen )
few Basil leaves to Garnish
Cook the Tagliatelle as said earlier accordingly or check on the Instructions drain and glaze them with olive oil and saperate the strands and keep aside.
In a wok, heat 2 to 3 tbsp of oil and add the vegetables which are chopped and cook them or roast them , with soya mince adding water until well done,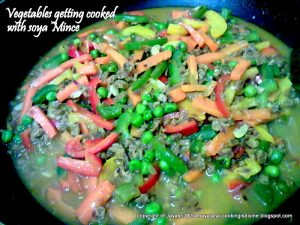 FOR THE MANGO AND COCONUT SPICED SAUCE
1 Large Mango ( Nearly 3/4th cup of pulp with the skin and seed it was around 375 gms)
1 Onion (Red /yellow)
1 1/2 ' fresh ginger
2 to 3 cloves Garlic
3 to 4 Red chillies (according to your taste or use 2 to 3 tbsp of chilli powder adjusting to your taste)
1/4 cup freshly grated coconut (do not press to fit the cup-loosely packed)
2 cloves
1' Cinnamon
1/4 tsp cumin seeds
1/2 tsp coriander seeds
Roast all the Ingredients in this order adding one by one in a tsp of oil, cinnamon, cloves, cumin, coriander, chillies, onion, garlic, ginger, cocnut (until it is light brown in colour) grated or thinly sliced Mango which is not too sour nor too sweet.
Then Mixie them as shown below into a smooth paste.
Then add the above Mango paste to the cooked veggies and saute them for few minutes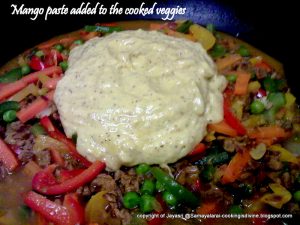 Once everything is gently mixed up close it with a lid and allow the vegetables and the soya mince to absorb the sauce into them and cook in a low flame for few minutes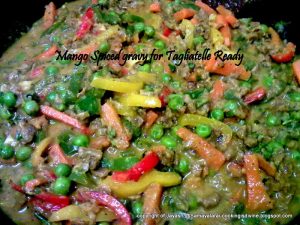 Now the Mango-coconut Spiced sauce is ready which is not too watery nor too dry that was my daughter's plate she wanted them served saperately and she would like to mix and eat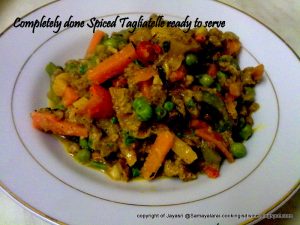 But we all ate like this mixed the sauce with Tagliatelle and my twins ate it with Tomato ketchup but we three and my friend had it just like that and was really very tasty. It was a thank God!!, everything is completely wiped out clean from the wok job!!.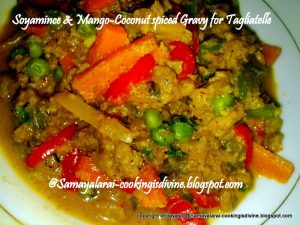 As always not an eye-catching photo sorry dears...., Garnish the sauce with torn Basil Leaves and serve with Tomato Ketchup or with cheese on top of it.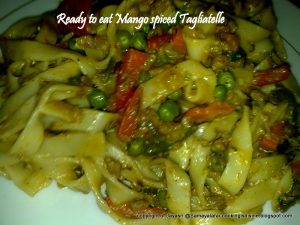 I would like to send this Pasta to
Jo of Panchpakwan
who is having pasta party in her blog till March 10th, check out her blog for some lovely dishes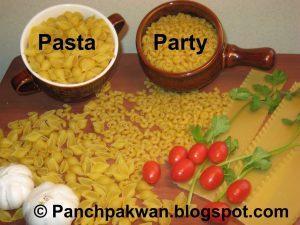 Hope you enjoyed my dish...........