Hi, I am sending this of to BBD#32, started by zorra which is hosted by Family & Food & other things. Hope I have not messed this month again and I hope she will count me in. I heard or rather Googled that Pugliese is a Italian Bread!, I did not know where to find the original recipe, so, when I was searching I came across this breadin thefreshloaf, where I do not understand lot of things about baking as they talk about in percentages and Hydration! which are like a big mystery to me, when I was looking through I came across this recipe and fell in love with it the clicks and the simpleness in the recipe made me that I could try this out! This person blogs in breadbakingbassplayer, check out his blog for a detailed description of the reicpe.
I came to know through blogging Italians love sweet potatoes as they love their breads and use this veggie in lot of their baking and cooking!
SWEET POTATO PUGLIESE BREAD
100gms Bread Flour
60 gms whole wheat flour (I used Chapati flour pillsbury)
20 gms Rye flour
493 gms of water
14 gms kosher salt
1 tsp active dry yeast
125gms Mashed sweet potato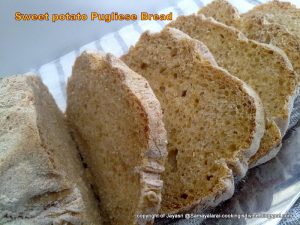 METHOD:
First of all peel sweet potato and cut them into into small chunks measure 125gms, Take these sweet potatoes in a bowl with just enough water to cover and bring it to boil until the chunks get well cooked, until it can be mashed easily.
When the sweet potato is well cooked drain the water into an other bowl, separate them but do not throw away the liquid preserve it. Let it cool.
Now take the cooked sweet potato with the liquid and process in a mixie or a blender until there are no chunks of sweet potato.
Taking the exact measurments of the dry ingredients place them in a large bowl and mix well with a spatuala or a wooden spoon then add the sweet potato liquid measure, and mix into the dough leave the dough for covered for about 20-30 minutes to autolyse.
After the first rest mix the dough again with the wooden spoon until the dough becomes smooth and wraps around the wooden spoon, (It was very sticky) Turn the dough onto to a heavily floured work surface, and knead as you always knead for your breads folding, stretching method and returning dough to covered bowl between turns. Repeat this at 20 minute intervals 4 times. At the last turn, let dough rise in covered bowl undisturbed for another 90 minutes or until it rises into double in size.
After the final rise, turn dough out onto heavily floured work surface, gently stretch and fold dough into thirds with the last fold overlapping the first and divide into two loaves.
Form the loaves by a overlapping fold and keep them seam side down on heavilly floured tea towels, and as he says not to handle the dough too much so the air pockets are preserved.
Flour the tea towels and cover the remaining bread with the towels and again allow it raise for about 45 minutes or until it is double in size, the dough should spring back when touched.
He bakes these loaves in a baking stone, as I do not have a baking stone I chose to bake them in a loaf pan.
Preheat the oven to 500 degree Fahernheit for about 45 minutes at least.
Turn the loaves seam side up and place directly on to the baking stone if you are baking his way, I just baked in the loaf tin when baking reduce the temprature 450 degrees Fahrenheit, and bake for about 40-45 minuts turning them to 180 degrees half way into baking time.or until a knife through comes out clean.
Once they are done, allow it to completely cool before cutting.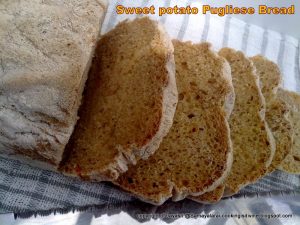 MY VERDICT:
I halved the recipe and used less water than said in the recipe as it too sticky for me to handle, but I want to try it out again the way he has done it, I was little worried about it!, But the loaves were still well done, soft in the centre and had a very crusty layer.
To tell you the truth, I did the first kneading and after that the 3 more 20 minute interval kneading was done by my son, with the help of a wooden spoon!, as I had to go out for an urgent errand!, and he did not want to touch it as it was sticky even I reduced the quantity of water as he mentioned!!, after I came back I continued with the remaining process.
My Family enjoyed it with a garlic based butter, and they finished the whole loaf within an hour of baking!!
I also like to send this to Susan's yeast spotting !!
Please donot forget to check his blog for the Original recipe and a feast to your eyes when you see the bread and you will certainly understand why I insisted!!.
Happy Baking...