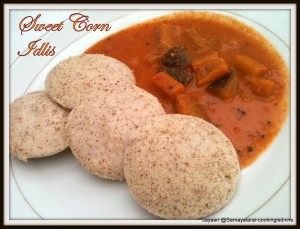 Idlis made with red rice and Kathrika Kadag puli
Hi, everybody.., hope you are all doing well, This post is for Group 2 day 2 of the Blogging Marathon with Fermented foods as my theme....
I chose fermented food because I do make a lot of stuff with batters. This recipe is very nice, it doesn't taste a bit like it has got sweet corn in it unless you tell them that it is made of Sweet Corn.
I have made this a few times and I have always paired it with Lata's ( of Favours and Tastes) Thengai masala Kozhambu.
SWEET CORN IDLIS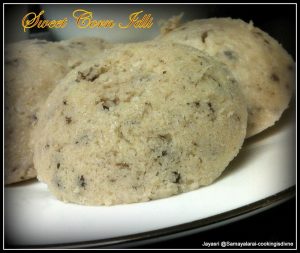 These Idlis were made with ldli rice and dehusked urad dal
INGREDIENTS :
3 and 1/2 Cup Idly rice / pulungarsi
2 Cups Sweet Corn ( I have used frozen)
1 Cup Urad dal (gotta/full)
1 tsp Methi seeds
1 and 1/2 tsp salt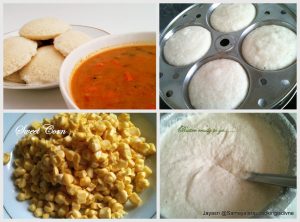 Idlis served with Thengai masala Kuzhambu
METHOD:
Soak Idly rice with methi seeds separately for at 4 to 5 hours , then soak urad dal too for the same time, then soak frozen sweet corn in a cup of water just an hour before grinding, this helps the sweet corn completely thawed and easy to grind.
Once all the basic ingredients are soaked as required, Drain water from sweet corn and keep aside.
Grind rice and methi seeds into a smooth paste or coarse paste, either way it works out well. Remove it from the grinding machine and keep aside and then now grind Urad dal with sweet corn together into smooth paste, when you pick up the ground urad dal batter it should come clean on to your hand.
The water in the sweet corn helps it to grind well, otherwise add a tbsp of water at a time, that is when required.
Do not make the batter too watery, just as you make for vadas :).
Mix both the ground batter add salt and keep aside for at least 7 to 8 hours until it is well fermented. you can see that it is slowly increasing in size of the battle
Be careful always to store Idli and Dosa batter after grinding in a big box / container anything you like as it usually doubles in volume.
Once your batter is ready Grease the Idli moulds pour up to the brim or 3/4th of the cup/ or of the mould as it increases in the volume once when it gets steamed other wise it goes stuck to the bottom of the top plate.
In a pressure cooker add 1 cup of water, place the Idli plates one below the other and close the lid and steam it for 12 to 14 minutes without closing the weight for the pressure cooker
Once it is cool take out the Idlis from the mould and serve them with your choice.
THENGAI MASALA KUZHAMBU
Please refer to the link here for the kuzhambu and will update my space with the recipe as soon as possible for my own requirement 🙂
This Kozhambu is a family favourite, The first time I made this my Husband kept asking me how I made this.. :). Thanks to Lataji for sharing this recipe in her blog.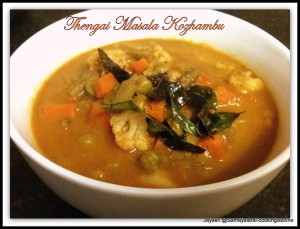 My Variation:
I have made these same Idlis with Red rice ( rosematta origin Srilanka ), will update with the brand name and product. It looks like white Idli rice, and when I tried making idlis with it, it turned out so well, My H and kids were especially very happy as they said the Idlis tasted very very delicious.
Then I have made it with dehusked broken Urad dal ( dal which still has husk in it ).
This is the rice I have used in most of my Red rice recipes, The cooked rice is so delicious it is so tasty with our everyday sambhar and rasam etc..,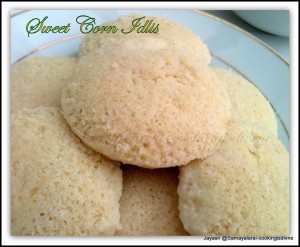 Check out my other blogger friends who are doing this marathon with me...
Check out the Blogging Marathon page for the other Blogging Marathoners doing BM#15