dir="ltr" style="text-align: left;">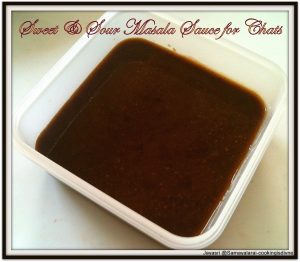 100 gms soft dates (around 12 to 13 )
20 gms Tamarind
10 gms Dry grapes
25 gms Jaggery
1 tbsp Coriander seeds
1 tsp Cumin seeds
20 gms (around 10 stalks) Fresh coriander leaves
20 gms (1/2 cup loosely packed) Mint leaves
2 Green Chillies
1 tsp Chat Masala (optional)
1 tsp Chilli powder (optional)
1 tsp of Salt
2 Cups water or 1 and 1/2 Cup Water**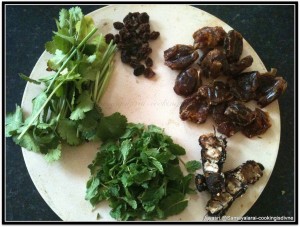 First of all soak Soft dates and dry grapes in hot water using 1/2 cup of water, for at least 1/2 and hour to 45 minutes.
Next soak Tamarind and Jaggery in 1/2 cup of water
Then in a dry wok roast coriander and cumin seeds and remove it on to a plate
Then roast Green chillies for a minute, then add coriander leaves and Mint leaves and dry roast for a minute and remove them on to a plate.
Grind roasted coriander and cumin seeds into a fine powder.
Grind Coriander leaves, Mint leaves and Green chillies into a fine paste, using a tbsp of water at a time, into a fine paste.
Once they are soaked well enough, Drain the water on to a cup, do not throw the water, grind the dates and grapes into a smooth paste, Mix this paste into the drained water and filter it into a bowl, so if there are any impurities they will get filtered.
Next squeeze the tamarind and Jaggery well enough and filter this water also into a bowl, so if there are any impurities they will get filtered.
Mix both the filtered Juices into a bowl with the rested of the Ingredients, Green paste, powders and salt and allow it to boil.
You might need an extra half cup of water when doing all this process.
Start boiling the Juices it starts thickening so keep on stirring so you don't want to end up with lumps.
Taste and increase or decrease the masala powders to your taste.
**I have indicated these stars to tell you...
If you are planning to make it into a sauce for any chats use 2 cups of water. But, if you are planning to use it in Breads like a chutney use 1 and 1/2 cup of water. It becomes much thicker or you can still reduce the water quantity and make it much more thicker but be careful stir continuously as it thickens and becomes more like a paste and you can apply for sandwiches.