Hi everybody, Hope you are all doing fine, enjoying the three days of pongal, I have loads of posts to post, starting you will be seeing two posts today..., Enjoy them...
Here is the first one, the first is for Baking Partners, this month swathi of Zesty south Indian kitchen gave us two pies one was an Apple Pie and the other one is Sun Dried Tomato Tart, Of course you would know which one I would choose, my kids love anything spicy than sweetness, and this Tart was perfect for me to bake, when my kids come home from college hungry and they love to eat something like this, I made 4 Tarts. Individually and they love it for their snack time.
This is how I made it...
This Tart was suggested by samantha, so, thanks to both of you we loved it..
SUN DRIED TOMATO AND ONION TART
Recipe Source: Martin Picard's Sundried Tomato and Onion Tart
INGREDIENTS:
1 Roll of Ready made Puff pastry
2 Medium Sized onions
6 tbsp of Sun dried Tomato Pesto (Home made)*
Chives and Onion flavoured Red Leister Cheese
few Basil leaves
1 tbsp dried Italian Herbs
salt to taste
1 and 1/2 tbsp Dijon mustard powder
1 and 1/2 tbsp Double cream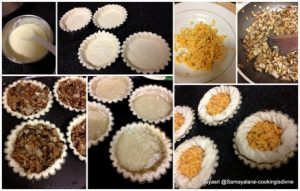 METHOD:
Thaw Puff pastry as indicated in the pack
Take a Large Pan heat 2 tbsp of Olive oil to this add chopped onions and saute until it turns translucent, add a bit of salt which helps to cook quickly.
Then add Tomato pesto, dried Italian herbs some more salt ( required quantity beware you have already added some salt to the onions and also you have some salt in your pesto )
Add chopped some fresh Basil leaves
In a bowl mix mustard Powder and fresh cream and keep it aside
Meanwhile  Cut your Puff pastry into 4 squares, press them on to the tart tins and cut the extras and keep them aside in the fridge until needed.
Preheat the oven to Gas Mark 4 / 180 degrees
Prick the bottom of the pastry and bake them in a preheated oven until the bottom becomes slightly brown. Take them out and leave it to cool.
Meanwhile your onion and Tomato filling would be cooled as well.
Fill the tarts with Sun Dried Pesto and onion filling to this add the double cream sauce into the four tarts.
Grate the cheese and top each of them with it.
Now take the cut out pieces from each tart, make them into long roll twist them to give a design join both the ends together and place them on each of the tarts and bake them now for around 20 to 25 minutes until they puff and start turning to golden brown.
Take them out once well done, on to a cooling rack, after 5 to 10 minutes slowly push  the bottom and release the tarts carefully and serve them on individual plate sand serve with some salad leaves and sauce or ketchup of your choice.
Totally awesome and my kids just loved it...
Will post my Home made Sun dried Tomato pesto Recipe soon..., stay tuned ...
This is Challenge # 6 Baking Partners