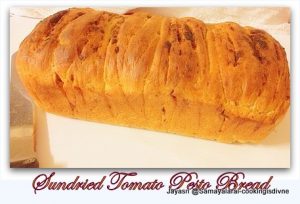 Hello everybody, Hope you are all in good health, good mood so we can talk about good food !!. Here I am with a good and yummy bread just baked for the
''Knead to bake''
, This is totally apt for me, if you are my regular reader you would know about my love towards baking breads, I love to try all sorts of breads, and when you have a chance to join a group of bakers who are like minded why not ?, yes I jumped at it quickly, for two reasons one the love for the knead to bake breads especially and for the love of my dear friend who is my inspiration in baking from the day one I started blogging, which I have mentioned many a times I think :)), in my lot of posts who wouldn't say no to me and always encourages me.  I am an ardent follower of her blog for inspirations, tips in baking.  I have to mention this
lady
too, who is always there for me when I write to them personally who give me support and advise, thanks to both of you.
Coming back to this post When
Aparna of My diverse Kitchen,
the lady I was talking about mentioned on fb about this we all joined hands who have the Knead to bake with her.  Hope you all Enjoy the virtual treat.. we have made just hop to Aparna's blog for the sweet and savoury versions.
I made three fillings got a bit carried away, which I will post one by one ( can't post all at a time as I am a bit... lazy/buzy/distracted).
Here is my first filling with my pull apart bread, Hope you all like it, as did my family..., I made minor changes as using more water than milk in this recipe for the dough
SUN DRIED TOMATO PESTO PULL-APART BREAD


INGREDIENTS:
FOR THE DOUGH
2 tbsp of warm water
1 tsp sugar
2 tsp Yeast
3 cups of Whole wheat White Bread flour ( nearly 425 gms)
1 tsp salt
3 tbsp Olive oil
1/2 cup milk (soya milk )
3/4 cup of water
FOR THE FILLING
Sun Dried Tomato Pesto as needed
( I used Home made Recipe here)
Cheddar Cheese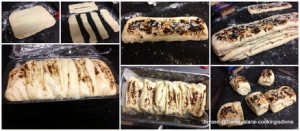 METHOD:
In a large bowl take yeast and 2 tbsp of warm water with tsp of sugar and leave it in a warm place for few minutes, you can notice bubbles forming up this shows that the yeast is active.
To this add all the other Ingredients said above under the Dough, mix them well, use a food processor or your hand and make it into a pliable dough, make it into a chappati dough consistency.
Once the dough is ready Knead the dough  for at least 10 minutes until it very pliable, smooth and soft, this helps in the gluten formation. Lightly oil the bowl and leave the dough covered for at least 1 and 1/2 hours or leave it until it is doubled in size.
Preheat the oven to 180 C / 350 F / Gas Mark 5*
Oil a loaf tin 9 x 5 sprinkle some flour and tap it down so there is no extra flour on it or place a parchment paper in the tin
Once the dough is proven deflate the dough dust the kitchen work surface with flour, flatten the dough into a square as shown, which you can do in two ways
1. Apply the Sun dried Tomato pesto on to the flattened dough and some grated cheese on top of it and cut it into 6 lengthwise strips and lay them one on top of the other and cut them again into 6 pieces with a sharp knife or a scrapper. stack the pieces starting with the seam side and in the middle you can have both the ends of the strip put together will make it look nicer.
2. Or as I did once you have made it into a square, cut them into 6 equal parts, start with the first layer apply the sun dried Tomato pesto filling and cheese on top of it, place the next one do the filling and continue with the rest of the strips then cut them into 6 pieces and continue as said above for stacking and continue with the rest of the process.
Once stacked cover it again with a tea towel or with a cling film for an hour or until it rises, do not allow it to rise too much as the first time round.
Brush the top of the bread with milk and bake it in the middle rack for 35 to 45** minutes or until the top is golden brown in colour or check it with a skewer when it comes out clean.
Take it out of the oven and leave it on a cooling rack for 10 minutes, release the bread from the loaf tin immediately after 10 minutes*** and leave it directly on the wiring rack to cool down completely.
Pull apart the bread and enjoy with a cuppa
or slice the bread as I did topped them with some salad leaves, cucumbers and tomatoes grill them or just make a sandwich and send it for Lunch box.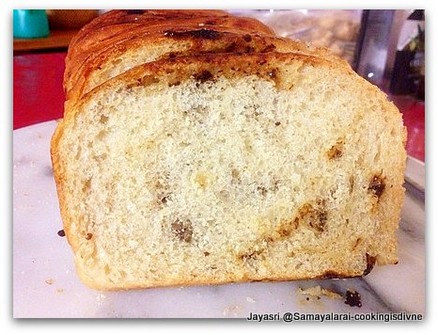 NOTES
* As I have always said my oven temperature is very high so I bake them at Gas mark 3
** My bread got baked by 40 minutes
*** I remove my bread immediately after 10 minutes the bread will be still very warm because of this the bottom side becomes soggy if left in tin for a long time this is my experience so I always take it out and leave it on the the wiring rack this helps the bread cooling down without a soggy bottom, sometimes I turn out  the bread place it in the loaf pan again and bake it for 5 more minutes this makes my bread has a crusty bottom as well :)).
You can add Honey, Maple syrup, Jaggery instead of sugar too..
VEGAN VARIATION: 
1. You can use Vegan butter, Vegan cheese in place of the Vegetarian Cheeses.
2. You can otherwise omit the cheese itself
3. In place of milk you can use Oats milk, Almond milk, soya milk or Just plain water
If you ever try these variations leave a note here so I would be delighted to know how it turned out.
Stay tuned for more stuffing to come in a bread baking spree with Knead to bake, thanks a ton Aparna and all my foodie friends who are on this venture...
This bread is also yeast spotted.