Another One from Asha's Gujarati cuisine, which was interesting to try out, She said that it was a Great and authentic Gujarati delicacy. whatever it is my H loved it as much as I did, don't look at her photo and wonder how does it ever compare with mine, I made it like a halwa and popped it into a plate, Check out her blog at the link above to look at this beautiful click of sweet carved out into a heart, then make it and eat it, it's really nice not too sweet and good for health as it is made with wheat flour!, searching for Gujarati recipes I stumbled into an other blog called Enjoy Indian food by Meera, who has got loads of Gujarati dishes dished out in her kitchen, and writes about the same sweet, and explains why it is called Gol papdi even though it is not Gol (round) in shape, she says Gol means Jaggery. Try out her version too…
SUKHDI OR GOLPAPDI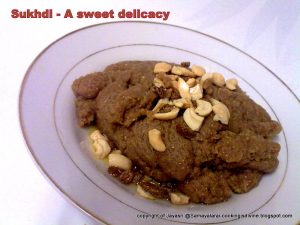 INGREDIENTS:
1/2 Cup Ghee
1 Cup Wheat flour
3/4th cup Brown sugar/ white sugar/Jaggery
1tbsp of poppy seeds
1 tsp of cardamom powder
METHOD:
Heat Ghee in a kadai, when hot add poppy seeds, then add wheat flour and start stirring continuously until you get a nice aroma of a roasted flour, then add the sugar and mix well, add cardamom and 2 tbsp of milk, it starts leaving out the sides, flatten it and cut it into squares and you can decorate with cashew, raisins or blanched almonds.
I removed it before it became more like a cake, It was a like brown mass, and later it became hard not to bite though, It was delicious. I used to both brown sugar and Jaggery to make this sweet
I am sending this to simply food who is hosting the flavours of Gujarat.